Graduating Senior Profiles: A Tale of Two Passions
By Amanda Leff
Issue Date:
April 27, 2008
Ciampoli is a gentleman, scholar, athlete...and nurse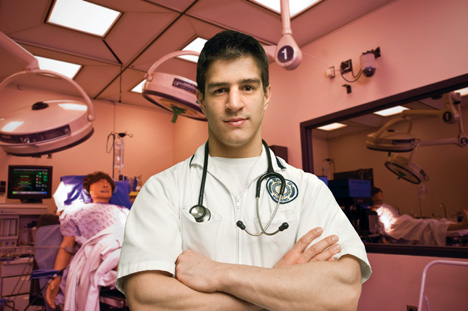 Whether he's wearing his wrestling uniform or nursing scrubs, Joe Ciampoli is always on top of his game.
He is a star Division I wrestler who, as of last semester, holds a 3.917 cumulative GPA—including 4.0s in five of his seven terms at Pitt. As a student, Ciampoli was named to the Pitt Director of Athletics' high honor roll each year, and he is the winner of the 2008 Emma W. Locke Award, which recognizes graduating seniors for high scholarship, character, and devotion to the ideals of the University. The listings could go on.
Ciampoli will graduate today from the University of Pittsburgh School of Nursing. He will leave the John M. and Gertrude E. Petersen Events Center armed with a Bachelor of Science degree, impressive academic and athletic records, a love of volunteering, and a hopeful vision for his future. But if his résumé exudes success, his passions scream contradictions.
Ciampoli is a compactly built, 149-pound wrestler who sometimes shows up for wrestling practice in his nursing scrubs. He is as comfortable pinning a wrestling opponent to the mat as he is gently placing an I.V. into a patient's arm. And while he has received ribbing for the nursing garb at practices, Ciampoli said he looks forward to beginning his career. "Nursing allows you to implement a strong knowledge, based on science, while helping people at the same time. It is the humanistic aspect of the profession," he says.
A wrestler since he was 5 years old, Ciampoli seriously began considering Pitt as he was being recruited for its wrestling team. He describes his decision to come to the University as a "no-brainer."
"Pitt's nursing program is nationally ranked," he says. The school's "curriculum offers a lot of opportunities that many other nursing schools don't offer—like simulation training and the clinical opportunities with UPMC."
Pitt professor Susan Albrecht, School of Nursing associate dean for Student/Alumni Services and Development, calls Ciampoli one of the school's top students and a role model for student athletes. "He carries one of the highest GPAs in his class," says Albrecht. "He's very committed to becoming an excellent professional nurse. He's received excellent reviews from his clinical instructors commending him on his professionalism and critical thinking skills when providing nursing care to others."
His wrestling record exemplifies similar excellence. For the majority of the past season, Ciampoli was a starter on Pitt's wrestling team. He contributed to the team's 23rd national ranking in the final regular season. The team went on to finish 16th at the NCAA Championships on March 22, with 33.5 points.
Though he concedes it wasn't easy, Ciampoli managed to juggle his schooling with 20 hours of weekly strength and conditioning sessions, intense afternoon wrestling practices, and personal training and travel for competitions. As part of the nursing school's curriculum, he completed 270 hours of clinical time, sometimes working 12-hour shifts, all the while maintaining excellent grades. Because the nursing school sets its students' course schedules, Ciampoli had to cross his fingers that his courses wouldn't conflict with wrestling practices. Inevitably, there were some conflicts, he said, but with his coaches' cooperation, he made up missed practices on his own time.
"It was pretty hectic," he says.
Ciampoli somehow finds time to do community service between his grueling conditioning and academic schedule. As a sophomore, he was awarded the Tony and Mildred Sherry Savino Scholarship in recognition of his academic standing and community service. "When there is an opportunity to do community service and I have an opening in my schedule, I like to take advantage of it," he says.
In particular, he enjoys volunteering at Children's Hospital of Pittsburgh, where he says he can tell that "I'm making an impact on the kids. I can tell that they look up to college athletes and are excited to meet us. By making the children smile, I know that I am taking the focus away from their illnesses."
He also has volunteered his time to encourage males to enter the nursing profession and has assisted the School of Nursing in recruiting prospective students.
"It makes sense to help attract people to a school that is such a great place to get an education in nursing," he says.
Ciampoli hopes to continue his education at Pitt in the fall of 2009 in the nurse anesthesia program. Because the competitive program requires candidates to complete one year in the field before being admitted, he already has accepted a position in the cardiothoracic intensive care unit at Altoona Regional Hospital. Ciampoli would like to be a volunteer coach for his former high school's wrestling team if his work schedule allows.
"I'm excited—with the understanding that there is a lot to learn and there will be difficult times," he says. "I know I'll need to rely on the more experienced faculty around me for information and direction."
Ciampoli acknowledges that experienced nurses have already taught him a great deal about the profession, and he hopes he can one day give back by doing the same for novice nurses.
He says that although his time at Pitt has been a challenge, it also has been rewarding.
"We're very proud of him at the School of Nursing," says Albrecht. "I know he's going to be successful at nurse anesthesia and whatever else he decides to do."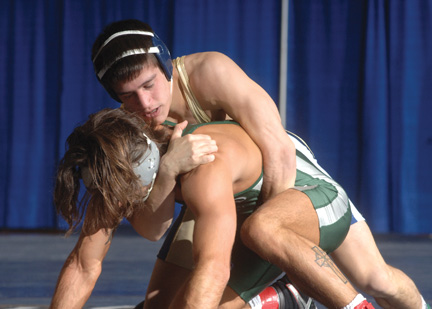 Other Stories From This Issue
There are no stories for the issue at this time.
On the Freedom Road

Follow a group of Pitt students on the Returning to the Roots of Civil Rights bus tour, a nine-day, 2,300-mile journey crisscrossing five states.
Day 1: The Awakening
Day 2: Deep Impressions
Day 3: Music, Montgomery, and More
Day 4: Looking Back, Looking Forward
Day 5: Learning to Remember
Day 6: The Mountaintop
Day 7: Slavery and Beyond
Day 8: Lessons to Bring Home
Day 9: Final Lessons