Graduating Senior Profiles: Zachary Grewe
By Micaela Fox Corn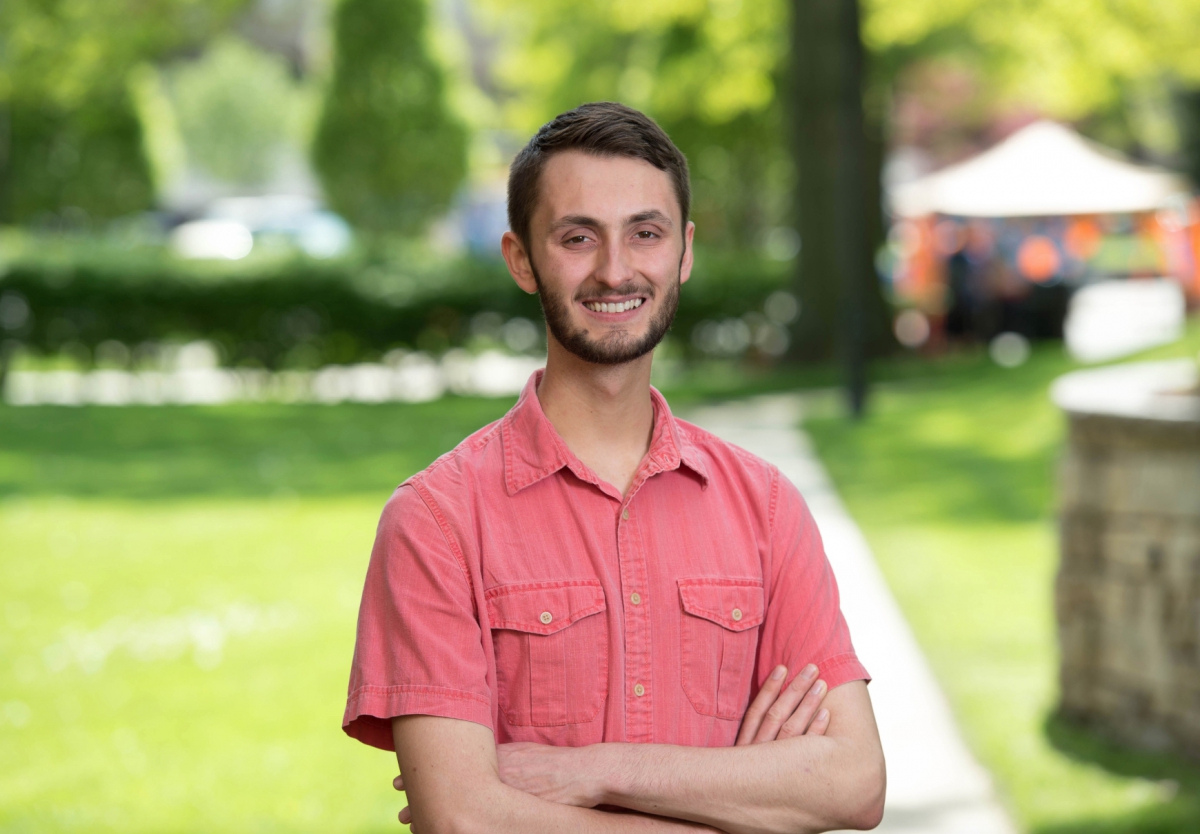 Zachary Grewe's bedroom is filled with boxes of old LGBTQ (lesbian, gay, bisexual, transgender and queer) ephemera from early 1970s and '80s Pittsburgh. Workers at the Gay and Lesbian Community Center of Pittsburgh's James Fisherkeller Library downtown were short on space and needed a place to store some of their materials. Grewe, a budding archivist, offered up his bedroom floor, and the library readily agreed. He began to sift through the old documents for hidden gems.
As a sophomore, a history of sexuality course piqued his interest in the subject. Inspired by a talk on local queer history the following year, he began combing through Pitt's special collections archives, reading old gay and lesbian newspapers and magazines, learning about the old bar scene.
Along the way, he became interested in the sense of nostalgia he felt for Pittsburgh's queer community in the '70s and '80s. Objectively, he knew that 30-some years ago was a harder time to be gay in this country than it is today. "The AIDS crisis was just beginning, there were much higher rates of police violence and incarceration, there were more restrictions on civil rights — all these things," he says.
Still, he couldn't help but feel that as LGBTQ individuals gained representation in mainstream culture and won significant battles for social change, it seemed the sense of solidarity in the gay community had shifted as well.
"I realized, as a queer person, I had never really talked directly to anyone from that generation. Reading those [library] newspapers was the first time I was really 'talking to' a queer person from the '70s," he says.
To be in conversation with the past through text was a rare privilege he felt compelled to share with others. It occurred to Grewe that people outside the Pitt community might also be interested to learn more about local queer history and social movements, so he applied for the University Honors College's Community-Based Research Fellowship to continue the work. At his job as a student employee in Hillman Library's special collections, he came up with ways to improve accessibility for rare documents, such as underground and radical newspapers, resulting in detailed bibliographies.
The Community-Based Research Fellowship also helped Grewe partner with the Gay and Lesbian Community Center of Pittsburgh. Activists from Pittsburgh's early LGBTQ community have since approached him, affirming and thanking him for his efforts. He's had the opportunity to interview two of them for a local queer community archive, which he plans to keep expanding. The goal is to increase access to these narratives.
"[Zach's] research at Pitt makes serious contributions to both queer studies and archival studies, but his work also has a local impact. His efforts to preserve Pittsburgh's queer history … have worked towards finding a permanent home for archival materials related to Pittsburgh's LGBTQ community," says Julie Beaulieu, a lecturer in Pitt's Gender, Sexuality and Women's Studies program and Grewe's faculty mentor for the Community-Based Research Fellowship. Beaulieu has worked on a number of projects with Grewe over the past two years, including Pitt's Archival Scholars Research Award and the London Field Studies Program. "We are very lucky to have Zach as a student in the GSWS program."
Originally from rural southern Indiana — "an hour from the nearest Starbucks," he likes to say — Grewe graduated from the Kenneth P. Dietrich School of Arts and Sciences with dual degrees in gender, sexuality and women's studies and psychology, with a global studies certificate, not to mention a reservoir of experiences that reflect an education rooted firmly in the classroom and the wider Pitt community.
As the music director of the Songburghs a cappella group for the past two years, he's maintained a years-long passion for music. To get a feel for nonlibrary research, he picked up a position as a lab manager for a psychology group looking at early development and prosocial behavior. Working with babies turned out to be as fun as arranging songs to perform with friends.
Regarding the archive, Grewe believes there is huge growth potential. Opportunities are rife for local community groups to partner with formal heritage organizations — he's got his sights set on the Senator John Heinz History Center for the moment.
Grewe understands that the history of social movements and the personal stories they carry are important resources to hang onto in times of prosperity, and even more so in adversity. "For queer youth, it can be a really isolating experience," he says. Grewe adds that having access to documents, newspapers, pamphlets, movies and first-person accounts of life as a member of a proud, yet sometimes silenced community, is invaluable, and isn't something to be taken for granted.
It's hard work that is never done — history is being made every day, after all — but "the importance of working to understand communities as dynamic and rooted in vibrant and complex histories," keeps it all in perspective for Grewe. The satisfaction of learning and contributing to the canon is more than enough to keep him going.
Other Stories From This Issue
There are no stories for the issue at this time.
On the Freedom Road

Follow a group of Pitt students on the Returning to the Roots of Civil Rights bus tour, a nine-day, 2,300-mile journey crisscrossing five states.
Day 1: The Awakening
Day 2: Deep Impressions
Day 3: Music, Montgomery, and More
Day 4: Looking Back, Looking Forward
Day 5: Learning to Remember
Day 6: The Mountaintop
Day 7: Slavery and Beyond
Day 8: Lessons to Bring Home
Day 9: Final Lessons