GSPIA: 50 Years of Grooming Global Leaders
By Amanda Leff
Issue Date:
October 6, 2008
GSPIA responds to changing needs of employers and students by expanding international focus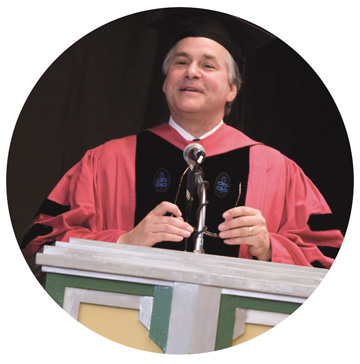 John T. S. Keeler
The University of Pittsburgh's Graduate School of Public and International Affairs (GSPIA) is no stranger to change. The school, which celebrates its 50th anniversary this year, has spent five decades keeping pace with globalization as well as global economic shifts and technological advances. Looking ahead to the next five decades, GSPIA is as nimble as ever, adapting to changing enrollment patterns, expanding the breadth of the school's educational offerings, and intensifying its fundraising efforts to meet today's global demands.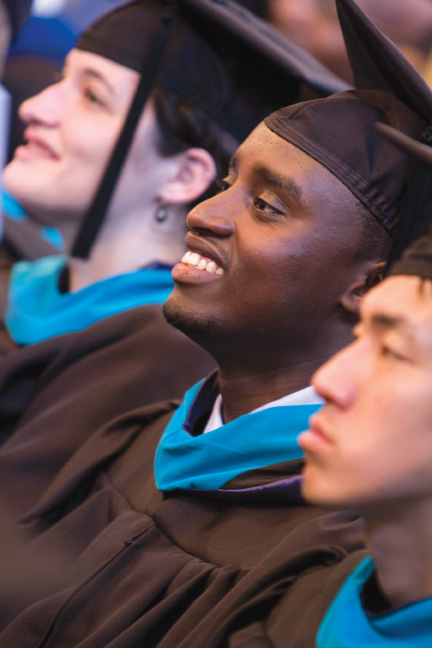 Since its founding in 1958, GSPIA has groomed leaders around the world. Many of its nearly 7,000 alumni—including such distinguished alums as the late General Roscoe Robinson Jr. ('64), the first African American four-star general in the U.S. Army; U. S. Congressman Jim Moran ('73) from Virginia; Neylan Bali ('63), former director of the Security Council Affairs Division of the United Nations; and Byong Hyon Kim ('68), former Korean Ambassador to China—have not only embarked on careers as ambassadors, members of Congress, top military brass, and officials at the United Nations, but also as governmental ministers abroad, university presidents, foundation presidents, and corporate leaders, among others.
As recently as the 1970s, about two-thirds of GSPIA's students earned degrees in public administration and urban and regional planning that were designed to prepare them for careers at the regional or national level, says John T.S. Keeler, dean of GSPIA since 2007. Today, three-quarters of the students set their sights on one of GSPIA's internationally oriented degrees: the Master of Public and International Affairs and the Master of International Development. As a result of that shift, GSPIA has necessarily focused more and more on training students for careers that demand graduates with a global outlook.
"Over time, there has been a very dramatic increase in the number of employers who expect our students to possess expertise in international affairs," says Keeler. "Our vision is for a school that will nurture and groom the leaders of the future, graduates who will be prepared to lead from a broad-based knowledge of the nations of the world and how they interrelate. This is what the world now demands, and we are here to meet that demand.
"In response to marketplace needs, more of our students now seek internships at the national and international level, rather than the regional level," Keeler adds. "And when it comes time for placement, we have many more students who hope to work in Washington D.C., New York, or abroad. That trend of employer demand and students focusing more and more on international positions in public and international affairs has compelled us to reinforce our school's emphasis on a global perspective."
International students make up slightly less than 20 percent of GSPIA's enrollment, down somewhat from a decade ago. As Keeler notes, the effects of Sept. 11, 2001, have made it much more cumbersome for these students to get approval to study in the United States.
Donald C. Stone, GSPIA's founding dean who served in that position from 1957 through 1969, encouraged his colleagues, students, and friends to improve government, make administrations more effective, and provide responsible leadership and stewardship for future generations.
Stone's remarkable public service career included developing procedures for the Civil Works Administration and planning and implementing the Works Progress Administration for FDR's New Deal in the 1930s. He helped draft the United Nations Charter in the 1940s, and his efforts were instrumental in the success of the Marshall Plan in rebuilding Europe after the Second World War.
Keeler says he is sure Stone would have been delighted by one of GSPIA's most important new initiatives, the opening of an office in Washington, D.C.
GSPIA places about half of its graduates in Washington, D.C., every year. "When I was hired, I knew that GSPIA students would benefit enormously if the school had a foothold in Washington," says Keeler.
Keeler says GSPIA owes much to Pitt Provost and Senior Vice Chancellor James V. Maher for making the school's presence in D.C. a reality.
"Originally, our plan was just to acquire one small office in D.C.—but the Provost decided he was willing to back a much more substantial initiative," says Keeler. "And that's a major reason why we now have the University of Pittsburgh Washington Center."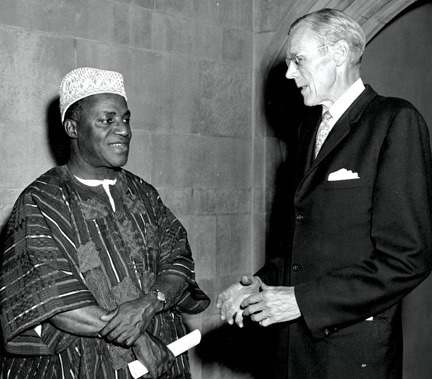 Chief S. O. Adebo, executive director, United Nations Institute for Training and Research, with GSPIA's founding dean, Donald Stone, Oct. 17, 1962.
Officially opened two months ago at 2025 M Street N.W., the center is a five-office suite in a larger office located at the edge of Foggy Bottom. Made possible by financial support from Maher, the center is a joint venture that serves Pitt's GSPIA, School of Law, Office of Student Affairs, and Office of Federal Governmental Relations. Key planners for the center were Keeler; Mary Crossley, dean of the law school; Kathy Humphrey, vice provost and dean of students; and Jeanne Stoner, assistant vice chancellor for federal government relations.
The center features two large seminar rooms, one of which is equipped with HD videoconferencing equipment to connect with Pitt's Oakland campus for instructional purposes.
With videoconferencing capability at its fingertips, GSPIA just finalized the hiring of its first Washington-based adjunct professor, Daniel J. Fiorino, a distinguished senior manager at the U.S. Environmental Protection Agency who will teach a course from the D.C. office in the spring. More Washington-based adjuncts will be hired in the future, according to Keeler.
"We have only just begun to explore the possible ways we can benefit from the center," Keeler says. "The prospects are exciting, especially because we can already envision synergies developing from collaborations with the law school and our other Pitt partners."
GSPIA's international push also includes a newly completed partnership with the University of Geneva in Switzerland and a developing partnership with Kobe University in Japan.
Former GSPIA Dean Carolyn Ban, who is a GSPIA professor, took the lead in establishing a double-degree program that will enable students to earn a GSPIA degree along with a Geneva MBA with specialization in international organizations, says Keeler. Several GSPIA faculty members have worked to establish a partnership with the Graduate School of International Cooperation Studies at Kobe. Students from Kobe University will come to GSPIA to pursue double degrees, while GSPIA will recruit students with backgrounds in Japanese or East Asian studies from around the United States to combine study for a GSPIA degree with coursework and internships in Japan. GSPIA also is in the early stages of developing similar programs in China and India.
While GSPIA expands its reach across the globe, it also is strengthening its ties regionally in metropolitan Pittsburgh and the Commonwealth of Pennsylvania.
"We're very proud of the fact that GSPIA has produced a mayor of Pittsburgh—Pete Flaherty ('67)—and has three incumbents in the Pennsylvania State House of Representatives," says Keeler. "We have approximately 25 alumni who are city, town, or municipal managers in the metropolitan area of Pittsburgh alone."
Looking ahead, Keeler says he is focused on development and fundraising. The school's current endowment is about $7 million. GSPIA used a portion of its funding from the Provost's Office to add six new staff members, including two in the alumni relations/development areas, two in career services, a grant administrator, and a special grant writer.
Other Stories From This Issue
There are no stories for the issue at this time.
On the Freedom Road

Follow a group of Pitt students on the Returning to the Roots of Civil Rights bus tour, a nine-day, 2,300-mile journey crisscrossing five states.
Day 1: The Awakening
Day 2: Deep Impressions
Day 3: Music, Montgomery, and More
Day 4: Looking Back, Looking Forward
Day 5: Learning to Remember
Day 6: The Mountaintop
Day 7: Slavery and Beyond
Day 8: Lessons to Bring Home
Day 9: Final Lessons