Hack-Attack: Pitt-CMU Team Wins Music Tech Competition
By Ervin Dyer
Issue Date:
May 2, 2016
In early April, Pitt undergraduates Laurence Putterman and Ritwik Gupta headed to San Francisco with their friend, Tiffany Jiang, who attends Carnegie Mellon University. The students weren't tourists. Instead, they were among a small group of computer programmers from top universities selected to compete in the first Red Bull Hack the Hits challenge, a hackathon to invent new music technology on a deadline: 24 hours.
Hackathons are popular events for idea-enthusiasts with entrepreneurial instincts. These events bring together avid computer techies and others to develop something entirely new, on the spot, in an environment of creative freedom.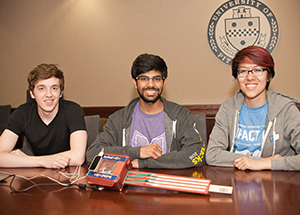 Senior Putterman and sophomore Gupta both major in computer science in Pitt's Dietrich School of Arts and Sciences. Their friend and colleague, Jiang, is a sophomore with a double major in design and human-computer interaction at Carnegie Mellon. In Pittsburgh, the two universities are next-door neighbors and often collaborate on research and innovation ventures.
The Pitt students met in an operating systems class, while Gupta and Jiang are MellonHeads, members of a CMU club that aims to make hackathons more interdisciplinary. Last summer, Putterman met Jiang, at—where else?—a hackathon, where they worked with two others to win New York's Grand Central Tech hackathon by creating a platform to track shoe donations. Soon, the three—Putterman, Gupta, and Jiang—were fast friends and in search of more hackathons to conquer. "It's cool," says Gupta, "to go to these events and campuses all over the place and make whatever is on your mind. It's for the love of creating things."
In the past few years, hackathons have grown in popularity. They have become fast-paced forums for self-expression and creativity to solve a problem, advance an idea, or create a product from scratch in 24 to 48 hours. Generally, what is created is some form of website, mobile app, or hardware. One notable example is GroupMe, a group messaging app that was acquired by Skype for more than $50 million. Others include the Facebook "Like" button and Facebook Chat, which were both first demoed at internal company hackathons.
Together, the Pitt-Carnegie Mellon trio became one of only five teams invited to the Hack the Hits challenge in San Francisco. At the 6,500-square-foot Folsom Street Foundry, the three-person teams gathered for their 24-hour challenge—create a new way to play sound. The other competitors consisted of teams primarily from Stanford University, UC Berkeley, and UC Santa Cruz. The Hack the Hits event was presented by RECESS, a "music and ideas" festival hosted at colleges around the country. There were industry mentors on hand from across the world, and judges included a computer-programmer researcher, an industry composer/musician, a software engineer, and a music-technologist and performer who works with top artists such as Jay Z, Kanye West, and Bon Iver.
The Pittsburgh team, which named itself "The Winning Pitch," merged the diverse experiences and ideas of its three talented hackers: Putterman is a gifted cellist, and his music production background was "instrumental" in helping the team. Gupta's knowledge of machine learning and software deepened the trio's expertise, and Jiang applied her design background and human-computer interaction studies to help the team invent something visually appealing. She was also the only woman in the competition.
Over 24 hours, without much sleep or food, each team used existing tools such as Ableton and Leap Motion to imagine their own sound-player. Each team's invention was judged based on musicality, innovativeness, and actual usability.
The Winning Pitch created a guitar-like instrument with four touch sensors that enable musicians to turn the project into any instrument in the world, even ones that don't exist yet, by essentially turning electrical-touch input into MIDI output. The team's innovation offered a fresh take on an idea that hasn't evolved for more than a decade.
In a story about the competition in Forbes, writer Matt Hunckler noted: "It looked like something out of a futuristic made-for-TV movie, and the judges were blown away by the demo."
In fact, the judges were so impressed that "The Winning Pitch"—Putterman, Gupta, and Jiang—won the competition, the national cred, and $1,000.
The Forbes story also noted that the Pitt-CMU trio had another big advantage over the competition: "The winning hackathon team had an enormous strength in its diversity."
The students' victory puts a face on key initiatives highlighted by Pitt, such as partnership, diversity, and innovation. Judges and observers say the win underscores that tech innovation is not limited to certain locations or majors and that, with the proper resources and tools, discovery and enterprise can come from both coasts and everyplace in between—certainly Pittsburgh.
Other Stories From This Issue
There are no stories for the issue at this time.
On the Freedom Road

Follow a group of Pitt students on the Returning to the Roots of Civil Rights bus tour, a nine-day, 2,300-mile journey crisscrossing five states.
Day 1: The Awakening
Day 2: Deep Impressions
Day 3: Music, Montgomery, and More
Day 4: Looking Back, Looking Forward
Day 5: Learning to Remember
Day 6: The Mountaintop
Day 7: Slavery and Beyond
Day 8: Lessons to Bring Home
Day 9: Final Lessons