Issue Date:
September 10, 2007
Concerts
Pittsburgh Symphony Gala: Four Singular Sensations, featuring stage and screen star Kristen Chenoweth, Metropolitan Opera tenor Dimitri Pittas, and conductors Sir Andrew Davis and Marvin Hamlisch; 8 p.m. Sept. 15, Heinz Hall, 600 Penn Ave., downtown, 412-392-4900, www.pittsburghsymphony.org.

A Glittering Return, featuring music by Beethoven, Mozart, and Stravinsky; Pittsburgh Symphony Orchestra, conducted by Andres Cardenes, 8 p.m. Sept. 18, Car-negie Music Hall, Oakland, 412-392-4900, www.pittsburghsymphony.org.
Island Party featuring Caribbean percussion group Resonance Percussion,
3 p.m. Sept. 23, Pitt-Johnstown's Pasquerilla Performing Arts Center mainstage, 1-800-846-ARTS (2787), upjarts@pitt.edu.
Direct From the Algonquin: Karen Akers, 7:30 and 9:30 p.m. Sept. 28, Pittsburgh Renaissance Hotel, 107 Sixth St., downtown, Cabaret Pittsburgh Riverview series, 412-394-3353, www.cabaretpgh.org.
Exhibitions
SPACE, works by Heidi Anderson, Corey Antis, Chad Gordon, Christopher Herron, and Josh Tonies; through Sept. 15, 812 Liberty Ave., downtown, 412-325-7723, www.spacepittsburgh.org.
Carnegie Museum of Art, Viva Vetro! Glass Alive! Venice and America, through Sept. 16; Masters of American Drawings and Watercolors: Foundations of the Collection, 1904-22, through Oct. 7; Forum 60: Rivane Neuenschwander, through Oct. 28; Design to Be Lit, through Feb. 10; 4400 Forbes Ave., Oakland, 412-441-9786 ext. 224, www.cmoa.org.
Pittsburgh Glass Center, Allure of Japanese Glass, through Sept. 19, 5472 Penn Ave., East Liberty, 412-365-2145, www.pittsburghglasscenter.org.
Children's Museum of Pittsburgh, Adventures with Clifford the Big Red Dog, through Sept. 23, Allegheny Square, North Side, 412-322-5058, www.pittsburghkids.org.
Frick Art and Historical Center, In the Studios of Paris: William Bouguereau and His American Students, through Oct. 14, 7227 Reynolds St., Point Breeze, 412-697-0938, http://frickart.org.

Mattress Factory, India: New Installations Part 1, through Oct. 25, 500 Sampsonia Way, North Side, 412-231-3169, www.mattress.org.
Digging Pitt Gallery, Conceived Bully, featuring works by urban art designers Evil Design, ExperiBreed, and Magmo; Same Frequency, works by Jon Anderson, Jean McClung, and Sherry Rusinack; both exhibitions through Oct. 27; 4417 Butler St., Lawrenceville, 412-605-0450, www.diggingpitt.com.
Phipps Conservatory and Botanical Gardens, Chihuly at Phipps: Gardens and Glass, through Nov. 11; Tropical Forest: Thailand, through Dec. 9; One Schenley Park, Oakland, www.phipps.conservatory.org.

Andy Warhol Museum, Deadly Medicine: Creating the Master Race, through Dec. 31, 117 Sandusky St., North Side, 412-237-8300, www.warhol.org.
Senator John Heinz Pittsburgh Regional History Center, Soul Soldiers: African Americans and the Vietnam Era, through Nov. 11; Points in Time, through Dec. 31; Glass: Shattering Notions, through Dec. 31; and Discovery Place, through Dec. 31; 1212 Smallman St., Strip District, 412-454-6000, www.pghhistory.org.
Magee-Womens Hospital, Oncology on Canvas: Expressions of a Woman's Cancer Journey, featuring 50 works of art by cancer survivors and their loved ones, Sept. 16-Oct. 12, artwork displayed in the main lobby and throughout the hospital, 300 Halket St., Oakland.
Theater
Always…Patsy Cline, by Ted Swindley, through Oct. 31, Theater Square (655 Penn Ave. between Sixth and Seventh streets), downtown, Pittsburgh CLO's Cabaret at Theater Square series, 412-456-6666.
Outside Inn by Andreas Jungwirth, Sept. 15-18, Pitt Repertory Theatre. (For details, see story below.)

My Fair Lady, by Frederick Loewe and Alan Jay Lerner, Sept. 18-23, Benedum Center, 719 Liberty Ave., downtown, PNC
Broadway Across America series, 412-456-1390, www.pgharts.org.
The Chief, by Rob Zellers and Gene Collier, Sept. 18-23, O'Reilly Theater, 621 Penn Ave., downtown, Pittsburgh Public Theater, 412-361-6100, www.ppt.org.
Lectures/Seminars
"The Disposition Decision: How Post-IVF Couples Decide What to Do With Their Surplus Frozen Embryos," Robert Nachtigall, clinical professor of obstetrics, gynecology, and reproductive sciences, University of California-San Francisco; noon Sept. 11, G-20 Barco Law Building, Pitt Bioethics and Health Law Lecture Series.
"Some Fallacies Regarding Free Will," Nicholas Rescher, Pitt's University Professor of Philosophy, 12:05 p.m. Sept. 11, 817R Cathedral of Learning, Pitt Center for Philosophy of Science Lunchtime Talks series, 412-624-1052.

"Mass Spectrometry at High Pressure: Ion Formation and Reaction Outside the Mass Spectrometer," Graham Cooks, Henry Bohn Hass Distinguished Professor of Chemistry, Purdue University, 2:30 p.m. Sept. 11, 12 Chevron Science Center, Pitt chemistry seminar series, www.chem.pitt.edu.
"The Natural History of Rotator Cuff Disease: Relationship to Healing and Outcome from Surgery," Ken Yamaguchi, Sam and Marilyn Fox Distinguished Professor of Orthopaedic Surgery, Washington University,
7 a.m. Sept. 12, Montefiore University Hospital's LHAS Auditorium, Pitt Orthopaedic Surgery Grand Rounds series, http://www.orthonet.pitt.edu.

"Nucleoporins and Myeloid Leukemogenesis," Nabeel Yaseen, assistant professor of pathology, Northwestern University, noon Sept. 12, 1104 Scaife Hall, 412-648-1260, http://path.upmc.edu.

"Mental Health Risk Factors in Nonwhite Populations," Carl C. Bell, president and CEO, Community Mental Health Council, Inc., of Chicago, 1:30 p.m. Sept. 12, 2017 Cathedral of Learning, part of the Pitt Center on Race and Social Problems' Buchanan Ingersoll & Rooney Fall 2007 Speaker Series, 412-624-7382, crsp@pitt.edu.

"Single Cell and Single Molecule Detection: Applications in Biology, Medicine, and Drug Discovery," Stephen Soper, William L. and Patricia Senn Jr. Professor of Chemistry, Louisiana State University, 4 p.m. Sept. 13, 12 Chevron Science Center, Pitt chemistry seminar series, www.chem.pitt.edu.

"The Grateful Dead: How Death Drives Regeneration," Michael T. Lotze, Pitt professor of surgery and bioengineering, 4 p.m. Sept. 13, Scaife Hall's Auditorium 5, McGowan Institute for Regenerative Medicine Seminar Series, www.mirm.pitt.edu.

"Newton, Neo-Platonism, and the Substantivalist Ontology of Space," Edward Slowik, chair of Winona State University's Department of Philosophy, 12:05 p.m. Sept. 14, 817R Cathedral of Learning, Pitt Center for Philosophy of Science Lunchtime Talks series, 412-624-1052.

"The Once and Future 'Apeman': Chimera, Human Evolution, and Disciplinary Coherence," Joseph S. Alter, professor and chair, Pitt Department of Anthropology, 3 p.m. Sept. 14, 3106 Posvar Hall, 412-648-7500.
"Changing Sexuality in China," 4 p.m. Sept. 17, and "Gender Equality in China," 4 p.m. Sept. 18, both lectures by Li Yinhe, professor and researcher, Beijing's Chinese Academy of Social Sciences, William Pitt Union's lower lounge, Pitt Asian Studies Center, 412-648-7370.

"The Function of the Third Actor in Greek Tragedy," Mae Smethurst, Pitt professor of classics, 4 p.m. Sept. 17, 142 Cathedral of Learning, Pitt Department of Classics, 412-624-4494.
"Entanglement and Measurement in Abstract Probabilistic Theories," Alexander Wilce, professor, Susquehanna University's Department of Mathematical Sciences, 12:05 p.m. Sept. 18, 817R Cathedral of Learning, Pitt Center for Philosophy of Science Lunchtime Talks series, 412-624-1052.

"Electrochemistry at Nanostructured Membranes and Interfaces: From Bioanalytical Applications to Nanomaterial Characterization," Shigeru Amemiya, Pitt assistant professor of chemistry, 4 p.m. Sept. 18, 12A Chevron Science Center, Pitt chemistry seminar series, www.chem.pitt.edu.
"Lessons for the United States From Social Security Reform in Latin America," Carmelo Mesa-Lago, Pitt Distinguished Professor Emeritus of Economics and Latin American Studies, 4 p.m. Sept. 18, Frick Fine Arts Auditorium, cohosted by Pitt's Department of Economics and Center for Latin American Studies, 412-648-7073, PaulaR@pitt.edu.

"Prolotherapy Encourages Natural Healing," Ron Glick, medical director of the UPMC Center for Integrative Medicine and Pitt assistant professor of psychiatry, physical medicine, and rehabilitation, and family medicine; 5:30 p.m. Sept. 20, Shadyside Place, Suite 310, 580 S. Aiken Ave., 412-623-3023.
Miscellaneous
Blood Drive benefiting the Central Blood Bank, Sept. 11 8 a.m.-4 p.m. in the William Pitt Union lower lounge and 8 a.m.-2 p.m. in Victoria Hall's 1st-floor lounge; for appointment, 412-624-7702.
Free Prostate Cancer Screenings offered by UPMC Cancer Centers and the University of Pittsburgh Physicians Department of Urology, 5:30-7:30 p.m. Sept. 11 and Sept. 13, Shadyside Medical Center's Suite 209, 5200 Centre Ave.; for appointment, 412-605-3015.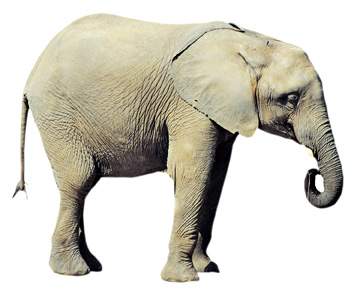 Macy's Elephant Day, celebrating elephant babies' birthdays, 11 a.m.-3 p.m. Sept. 16, Pittsburgh Zoo and PPG Aquarium, Highland Park, 412-665-2640, www.pittsburghzoo.org.
Farmers' Market, 3:30-6:30 p.m. every Friday through Nov. 16, Sennott Street between Atwood Street and Meyran Avenue, Oakland Business Improvement District, 412-683-6243, www.onlyinoakland.org.
Pitt PhD Dissertation Defenses
Anthony M. Harrison, Department of Psychology, "Online or Offline? Exploring Working Memory Constraints in Spatial Updating," noon Sept. 14, LRDC's 2nd-floor auditorium.
Julie Hakim Azzam, Department of English, "The Alien Within: Postcolonial Gothic and the Politics of Home," 1 p.m. Sept. 21, 526 Cathedral of Learning.
University Special Events/Meetings
"Maximizing Your Postdoctoral Success: An Orientation to a Full Academic and Social Life in Pittsburgh," 8:30-10:30 a.m. Sept. 11, S100 Thomas E. Starzl Biomedical Science Tower, sponsored by Pitt's Office of Academic Career Develoment and the University of Pittsburgh Postdoctoral Association; to register, www.oacd.health.pitt.edu.
Pitt Department of Biological Sciences' 30th Birthday Celebration, featuring lectures by current faculty members, undergraduate researchers, graduate researchers, and former department members, as well as social activities; Sept. 14-16, Alumni Hall; for schedule of events and to register, www.pitt.edu/~biology.
Workshops
"Hiring and Firing," covering employment law, 8-10 a.m. Sept. 12, Comfort Inn Hotel, 237 Meadowlands Blvd., Washington, Pa., Pitt's Small Business Development Center; to register, 412-627-9054.

"Social Enterprise: Making Business Work for Non-profit Organizations," 5 p.m. Sept. 12, Schenley Lounge, Pittsburgh Athletic Association, Pitt's Institute for Entrepreneurial Excellence; to register, ieeregistration@katz.pitt.edu.

Forum on Open Government/Pennsylvania Open Records Law Workshop, 1-4 p.m. Sept. 15, William Pitt Union, cosponsored by the Pittsburgh Professional Chapter of the Society of Professional Journalists and the Pennsylvania Freedom of Information Coalition; registration requested, Pittsburgh@spj.org; 412-382-3987.
Pitt Rep Collaborates With Theater Rampe Stuttgart in World Premiere Sept. 12-15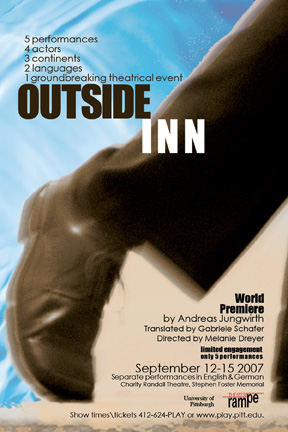 The Pitt Repertory Theatre will present Andreas Jungwirth's Outside Inn Sept. 12-15 in the Charity Randall Theatre in the University's Stephen Foster Memorial. The production— featuring a bilingual cast of actors from the United States, Germany, and Austria—represents a partnership between Pitt's Department of Theatre Arts and Germany's acclaimed Theater Rampe Stuttgart.
The production will include an English-language preview performance at 8 p.m. Sept. 12, a German-language preview at
8 p.m. Sept. 13, English-language performances at 8 p.m. Sept. 14 and 15, and a German-language matinee at 2 p.m. Sept. 15.
Ticket prices range from $12 to $22. For tickets and more information, call 412-624-PLAY or visit www.play.pitt.edu.
Melanie Dreyer, a translator, actor, and assistant professor of theatre arts at Pitt, will direct the play. Stephan Bruckmeier, cofounder of Theater Rampe Stuttgart and an internationally known writer, actor, director, and set designer, will make his Pittsburgh acting debut in the production.
Following its run at Pitt, the production will move to Theater Rampe's performance space in Stuttgart, Germany, where it will run Sept. 28-Oct. 20. Performances there will be in German, except on one weekend, when they will be presented in English.
Outside Inn weaves four personal quests across Germany, Africa, Arizona, and Mexico. Characters commit infidelity, murder, and identity theft as they attempt to flee what they have become.
Dreyer is documenting the entire project—from auditions to final performances—on video. She hopes to provide a blueprint for other theater companies embarking upon international collaborations and for future international projects at Pitt.
—By Sharon S. Blake
Other Stories From This Issue
There are no stories for the issue at this time.
On the Freedom Road

Follow a group of Pitt students on the Returning to the Roots of Civil Rights bus tour, a nine-day, 2,300-mile journey crisscrossing five states.
Day 1: The Awakening
Day 2: Deep Impressions
Day 3: Music, Montgomery, and More
Day 4: Looking Back, Looking Forward
Day 5: Learning to Remember
Day 6: The Mountaintop
Day 7: Slavery and Beyond
Day 8: Lessons to Bring Home
Day 9: Final Lessons