Issue Date:
August 19, 2008
Concerts
Shall We Dance? River City Brass Band, 3 p.m. Sept. 7, Pasquerilla Performing Arts Center, Pitt-Johnstown; 7:30 p.m. Sept.11, Byham Theater, 101 Sixth Ave., Downtown, 412-322-7222, www.rcbb.com.
Exhibitions
Andy Warhol Museum, Piet (Mondrian) in Pittsburgh; Glenn Kaino, installation art by Los Angeles-based artists, both through Aug. 31, 117 Sandusky St., North Side, 412-237-8300, www.warhol.org.
Silver Eye Center for Photography, 250 Years of Plants: Botanical Works by Regional Photographers, through Sept. 13, 1015 E. Carson St., South Side, 412-431-1810, www.silvereye.org.
Filmmakers Galleries, Doppel Ganger, site-specific photography installation by Fumino Hora, through Sept. 14, 447 Melwood Ave., Oakland, 412-681-5449, www.pghfilmmakers.org.
Frick Art & Historical Center, A Panorama of Pittsburgh: Nineteenth-Century Printed Views, through Oct. 5, 7227 Reynolds St., Squirrel Hill, 412-371-0600, www.frickart.org.
Westmoreland Museum of American Art, Painting in the United States, through Oct. 19, 211 N. Main St., Greensburg, 724-837-1500, www.wmuseumaa.org.

Carnegie Museum of Art, 55th Carnegie International, through Jan. 11, 2009, 4400 Forbes Ave., Oakland, 412-622-3131, www.cmoa.org.

Mattress Factory, Inner & Outer Space, through Jan. 11, 2009, 500 Sampsonia Way, North Side, 412-231-3169, www.mattress.org.
Lectures/Seminars/ Readings
"Complementary Approaches to Pain Self-Management," free lecture by Ron Glick, medical director of the Center for Integrative Medicine, 5:30 p.m. Aug. 21, Shadyside Place, Suite 310, 580 S. Aiken Ave., 412-623-3023, http://integrativemedicine.upmc.com.
Poetry reading by Claudia Rankine, 7 p.m. Sept. 12, Frick Fine Arts Auditorium, 2008-09 Pittsburgh Contemporary Writers Series, nrw1@pitt.edu or oaks@pitt.edu.
Opera/Theater/Dance
Wicked, musical, Sept. 3-Oct. 5, Benedum Center, 719 Liberty Ave., Downtown, PNC Broadway Across America, 412-456-6666, www.broadwayacrossamerica.com.

Auditions for 2008-09 Kuntu Repertory Theatre season, 6-10 p.m. Sept. 4, Seventh-Floor Auditorium, Alumni Hall; call-backs, 6:30-11:30 p.m. Sept. 5, 412-624-7298, www.kuntu.org.
Death of a Salesman, by Arthur Miller, directed by playwright's son, Robert Miller, Sept. 5-21, The REP, Point Park University's theater company, Pittsburgh Playhouse, 222 Craft Ave., Oakland, 412-621-4445, www.pittsburghplayhouse.com.
Shear Madness, by Paul Portner, through Sept. 28, Pittsburgh CLO Cabaret, Cabaret at Theatre Square, 655 Penn Ave., Downtown, 412-325-6766, www.clocabaret.com.
The Wonder Bread Years, by Pat Hazell, indefinite-run special engagement, Lester Hamburg Studio Theatre at City Theatre, 1300 Bingham St., South Side, 412-431-2489, www.citytheatrecompany.org.
Miscellaneous
Pitt Department of Hispanic Languages and Literatures graduate and undergraduate reception, noon-1:30 p.m. Sept. 11, all prospective, new, and returning majors invited; information, music and lunch provided, Room 1228 Cathedral of Learning, 412-624-5225 or lud3@pitt.edu.
Pitt PhD Dissertation Defenses
Sybil Streeter, Department of Psychology, "Odor, Adult Attachment and Emotions in Romantic Relationships," 2 p.m. Aug. 21, Second-Floor Auditorium, Pitt Learning Research and Development Center.
Patricia Matestic, Department of Psychology, "Trajectories of Observed Maternal and Paternal Sensitivity in Early and Middle Childhood: Predicting Children's Social Competence From Sensitive Parenting," 10 a.m. Aug. 22, 4127 Sennott Square.
Eileen St. John, School of Education, "Cognitive Tutoring Systems: A Look at How the Utilization of an Audio Support System Impacts the Word Problem Solving Skills of Struggling Readers," 10 a.m. Aug. 22, Room 5140 Posvar Hall.
Jared E. Knickelbein, Immunology Graduate Program, School of Medicine, "Noncytotoxic Lytic Granule-Mediated Maintenance of HSV-2 Neuronal Latency," 9 a.m. Aug. 25, S120 Biomedical Science Tower.
Stephen Wilson, Department of Psychology, "Self-focused Versus Other-focused Strategies for Coping With Smoking Cue Exposure," 9 a.m. Aug. 26, 4127 Sennott Square.

Adam C. Soloff, Department of Infectious Diseases and Microbiology, Graduate School of Public Health, "Evaluation of Dual-Serotype Adenoviral-Based Vaccine Induced Cellular Immunity Following Preventative and Therapeutic Immunization Against Simian Immunodeficiency Virus," 10 a.m. Aug. 27, Room S123 South Biomedical Science Tower.
Xia Jiang, Biomedical Informatics Graduate Program, School of Medicine, "A Bayesian Network Model for Spatiotemporal Outbreak Detection," 10 a.m. Aug. 28, 5317 Sennott Square.
Adam Straub, Department of Environmental and Occupational Health, Graduate School Public Health, "Mechanisms for Arsenic-Stimulated Sinusoidal Endothelial Cell Capillarization," noon Sept. 4, 5th Floor Conference Room, Bridgeside Point.
Nicole Zangrilli Hoh, School of Nursing, "BCL-2 Genotypes and Outcomes After Traumatic Brain Injury," 1 p.m. Sept. 10, Room 446 Victoria Building.

Hillman Library Exhibition Highlights Life, Career of the Late K. Leroy Irvis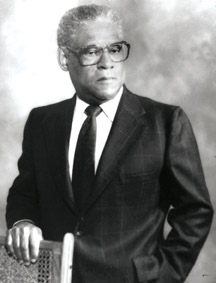 K. Leroy Irvis
An exhibition at Hillman Library, assembled by Pitt students, celebrates the life and career of K. Leroy Irvis, the first African American Speaker of the House in Pennsylvania and the first Black speaker of any a state house since Reconstruction. A Pitt alumnus (LAW '54) and former trustee, Irvis was a leader in the areas of civil rights, public health, education, and prison reform.
The display, "Discovering K. Leroy Irvis," will be on view this academic term in the K. Leroy Irvis Reading Room on the library's first floor.
The exhibition features photographs, letters, legislative material, publications, two pieces of original sculpture, and campaign literature from the personal papers of Irvis, which are archived and housed within the University Library System. The display illustrates both the adversities that Irvis sought to overcome as well as the triumphs in his public and personal life. His passion for poetry and the arts are also recurrent themes within the exhibition.
Students in a summer course titled Collections Conservation, offered by the School of Information Sciences, studied some of the technical aspects of archival and preservation work, as well as the challenges associated with conservation, museum exhibition design and installation, marketing, and collections management. As a final project, they each submitted a proposal outlining a possible exhibition, based on readings, guest lectures, and their own research on Irvis. Then they combined facets of each proposal to develop the final exhibition.
—By Sharon S. Blake

Freshman Trombonist Wins 2008 Pitt-BNY Mellon Jazz Scholarship

Incoming University of Pittsburgh freshman and trombonist Brandon Hang has been selected as the winner of the 2008 Pitt-BNY Mellon Jazz Scholarship. The $5,000 tuition prize is awarded annually to a Pitt music student after tapes of jazz standards are submitted and then judged by a panel of nationally recognized jazz musicians. Hang will be honored for his accomplishment at the 2008 Pitt Jazz Concert on Nov. 1.
Hang, 18, is a graduate of Central Dauphin High School in Lower Paxton, Pa., where he won the 2008 award for the school's Outstanding Jazz Musician.
Even though he had been taking formal piano lessons, Hang says he picked up a trombone at age 10 and liked it. Mastering both instruments was a plus for Hang throughout high school, where he performed on trombone in the wind ensemble, orchestra, and jazz band, and also played piano in the pit band for musical theater productions.
"The fact that Brandon plays piano is crucial, because it gives him a well-grounded base in music theory," said Nathan Davis, director of Pitt's Jazz Studies Program, adding that Hang represents the kind of well-rounded student the Pitt jazz program has attracted through the years.
Hang began composing in eighth grade, and in high school he composed and wrote arrangements for the jazz band. During his sophomore year, he performed trombone in the Harrisburg Youth Symphony and also has performed in bands sponsored by the Pennsylvania Music Educators Association. He picked up gigs in high school, including public jam sessions throughout the Harrisburg area.
Hang plans to major in pharmacy at Pitt and is looking forward to auditioning for the University of Pittsburgh Jazz Ensemble. Although pharmacy is his career goal, he says he will always make time for performing.
This is the 22nd year Pitt and BNY Mellon Jazz have funded the scholarship. BNY Mellon Jazz supports nonprofit organizations engaged in live jazz performances and jazz education and recognizes individuals and organizations that have made significant contributions to Pittsburgh's rich jazz tradition.
—By Sharon S. Blake
Other Stories From This Issue
There are no stories for the issue at this time.
On the Freedom Road

Follow a group of Pitt students on the Returning to the Roots of Civil Rights bus tour, a nine-day, 2,300-mile journey crisscrossing five states.
Day 1: The Awakening
Day 2: Deep Impressions
Day 3: Music, Montgomery, and More
Day 4: Looking Back, Looking Forward
Day 5: Learning to Remember
Day 6: The Mountaintop
Day 7: Slavery and Beyond
Day 8: Lessons to Bring Home
Day 9: Final Lessons