Issue Date:
September 24, 2007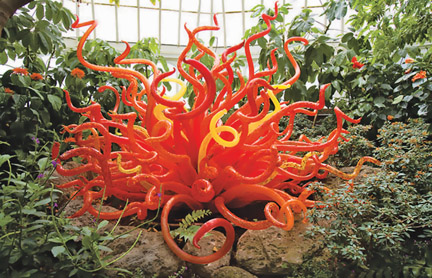 Chihuly Glass Exhibition/Phipps Conservatory through Nov. 11 
Concerts
Namoli Brennet, musical performance, noon Sept. 26, William Pitt Union, PITT ARTS' Artful Wednesday Series, 412-648-7815, www.namolibrennet.com.

Gene Ludwig, blues pianist, 6 p.m. Sept. 26, Backstage Bar at Theater Square, 655 Penn Ave., downtown, 412-325-6769, www.pgharts.org.

University of Pittsburgh Symphony Orchestra, conducted by Roger Zahab, performing works by Edvard Grieg and John Cage, 8 p.m. Sept. 26, Bellefield Hall Auditorium, 412-624-4125, www.music.pitt.edu.
Saxophonist/Flutist James Moody with Vocalist Jimmy Scott, Sept. 27-30, 1815 Metropolitan St., North Side, MCG Jazz series, 412-322-0800, www.mcgjazz.org.

Direct From the Algonquin: Karen Akers, 7:30 and 9:30 p.m. Sept. 28, Pittsburgh Renaissance Hotel, 107 Sixth St., downtown, Cabaret Pittsburgh Riverview series, 412-394-3353, www.cabaretpgh.org.
Toradze Plays Tchaikovsky, Pittsburgh Symphony Orchestra conducted by Yan Pascal Tortelier, featuring pianist Alexander Toradze, 8 p.m.
Sept. 28 and 2:30 p.m. Sept. 30, Heinz Hall, 600 Penn Ave., downtown, Pittsburgh Symphony Orchestra's Mellon Grand Classic Series, 412-392-4900, www.pittsburghsymphony.org.

Amish Burlesque 2007-08, musical comedy performance, 10:30 p.m. Sept. 28, Theater Square Cabaret, 655 Penn Ave., downtown, 412-325-6769, www.clocabaret.com.

Italian Baroque Bonanza, Spiritus Collective performing music by Girolamo Fantini, 8 p.m. Sept. 29, Synod Hall, 125 N. Craig St., Oakland, Renaissance and Baroque Society of Pittsburgh, 412-361-2048, www.rbsp.org.

Powerhouse Pianists Festival, Part II: Stephen Gosling and Margaret Kampmeier, 8 p.m. Sept. 29, Bellefield Hall Auditorium, Pitt's Music on the Edge series, 412-624-4125, www.music.pitt.edu.
A Tribute to Art Blakey, featuring the Winard Harper Sextet, 8 p.m. Sept. 29, Kelly Strayhorn Theater, 5941 Penn Ave., East Liberty, 412-394-3353, www.proartstickets.org.
Aaron David Miller, organist, 4 p.m. Sept. 30, Heinz Chapel, Organ Artists Series of Pittsburgh, 412-242-2787, www.heinzchapel.pitt.edu.
Exhibitions
The Framery, Bush Leaguers: Cartoonists Take on the White House, through Sept. 28, 4735 Butler St., Lawrenceville, 412-687-2102.
Audubon Exhibitions/Hillman Library, Black and Yellow Warbler, through today; Green Black-capt Flycatcher, Sept. 25-Oct. 8; Audubon exhibition case, Hillman Library's ground floor, 412-648-7715.
Carnegie Museum of Art, Masters of American Drawings and Watercolors: Foundations of the Collection, 1904-22, through Oct. 7; Forum 60: Rivane Neuenschwander, through Oct. 28; Design to Be Lit, through Feb. 10; 4400 Forbes Ave., Oakland, 412-441-9786 ext. 224, www.cmoa.org.
Magee-Womens Hospital, Oncology on Canvas: Expressions of a Woman's Cancer Journey, featuring 50 works of art by cancer survivors and their loved ones, through Oct. 12, artwork displayed in the main lobby and throughout the hospital, 300 Halket St., Oakland.

Frick Art and Historical Center, In the Studios of Paris: William Bouguereau and His American Students, through Oct. 14, 7227 Reynolds St., Point Breeze, 412-697-0938, http://frickart.org.
Mattress Factory, India: New Installations Part 1, through Oct. 25, 500 Sampsonia Way, North Side, 412-231-3169, www.mattress.org.
Digging Pitt Gallery, Conceived Bully, featuring works by urban art designers Evil Design, ExperiBreed, and Magmo; Same Frequency, works by Jon Anderson, Jean McClung, and Sherry Rusinack; both exhibitions through Oct. 27; 4417 Butler St., Lawrenceville, 412-605-0450, www.diggingpitt.com.
Tom Museum, Peace in 2008, photography exhibition, through Oct. 28, 410 Sampsonia Way, North Side, tommuseum.com.
Pittsburgh Center for the Arts, 2007 Artist of the Year Exhibition: Delanie Jenkins, professor and chair in Pitt's Department of Studio Arts, through Nov. 4, 6300 Fifth Ave., Oakland, 412-361-0873, www.pittsburgharts.org.

Senator John Heinz Pittsburgh Regional History Center, Soul Soldiers: African Americans and the Vietnam Era, through Oct. 31; Points in Time, through Dec. 31; Glass: Shattering Notions, through Dec. 31; and Discovery Place, through Dec. 31; 1212 Smallman St., Strip District, 412-454-6000, www.pghhistory.org.

Lectures/Seminars/Readings
Reading by Azar Nafisi, author, 7:30 p.m. Sept. 24, Carnegie Music Hall, 4400 Forbes Ave., Oakland, Drue Heinz Lecture Series, 412-624-4187, www.pittsburghlectures.org.
"The Causal Chain Problem," Michael Baumgartner, faculty member, University of Bern's Department of Philosophy,
12:05 p.m. Sept. 25, 817R Cathedral of Learning, Pitt Center for Philosophy of Science Lunchtime Talks series, 412-624-1052.
"The Self and History," Franziska Meier, professor of romance philology, University of Göttingen, Germany, 5 p.m. Sept. 25, 149 Cathedral of Learning, Pitt's Department of French and Italian Languages and Literatures, www.frenchanditalian.pitt.edu.

"History of Egypt: East or West?" Christina Michelmore, associate professor of history, Chatham University, 7 p.m. Sept. 25, Pitt-Greensburg's Village Hall, Pitt-Greensburg La Cultura lecture series, 724-836-7741.

"Recent Developments in Coppermediated Atom Transfer Radical Cyclisation," Andrew Clark, professor, University of Warwick, UK, 7:15 p.m., Sept. 25, 12B Chevron Science Center, Pitt Department of Chemistry seminar series, www.chem.pitt.edu.

"Current and Future Techniques in Cartilage Imaging: Injury, Degeneration, and Repair," Hollis G. Porter, professor of radiology, Cornell University's Weill Medical College, 7 a.m. Sept. 26, Montefiore University Hospital's LHAS Auditorium, Pitt Orthopaedic Surgery Grand Rounds series, www.orthonet.pitt.edu.

"Human Tumor Antigens and a New View of Cancer Immunosurveillance," Olivera J. Finn, professor and chair, Pitt Department of Immunology, noon Sept. 26, 1104 Scaife Hall, Pitt Department of Pathology seminar series, 412-648-1260, http://path.upmc.edu.
"Human Trafficking and International Migration Into South Korea," Minwoo Yun, assistant professor of criminal justice, Wheeling Jesuit University, noon Sept. 27, Pitt's Asia Over Lunch series, www.ucis.pitt.edu/asc.
"The Student and the Text in the Literature Classroom," Susan Harris Smith, professor, Pitt Department of English, 1 p.m. Sept. 27, 501 Cathedral of Learning, English department's Pedagogy and Literature Series, 412-441-0835.

"Why I Only Give Take-Home Exams: A Disability Perspective," Ruth Colker, Ohio State University's Heck Faust Memorial Chair in Constitutional Law, 1 p.m. Sept. 27, Barco Law Building's Teplitz Memorial Courtroom, Pitt law school's Thornburgh Family Lecture Series in Disability Law and Policy, 412-648-1373.

"Evidence for Water in Volcanic Rocks Seen by the Mars Exploration Rover Spirit in Gusev Crater," Mariek Schmidt, postdoctoral fellow, Smithsonian Institution, 4 p.m. Sept. 27, 11 Thaw Hall, Pitt Department of Geology and Planetary Science Colloquium series, www.geology.pitt.edu.

"Calculating Engines: Minds, Bodies, Sex, and Machines on the Eve of the Enlightenment," Jonathan Sawday, chair of English Studies, Glasgow's University of Strathclyde, 4:30 p.m. Sept. 27, Baker Hall's Adamson Wing, Carnegie Mellon University, Pitt's Program in Medieval and Renaissance Studies, www.pitt.edu/~medren.

"Tragic Theory and Its Consequences: The Case of Sophocles' Antigone," Wolfgang Bernard, faculty member, University of Rostock, 4 p.m. Sept. 28, 244A Cathedral of Learning, Pitt's Department of Classics, 412-624-4494.

"Crossing the Road With Margery Kempe," Ruth Evans, head of the English Studies department, Scotland's University of Stirling, 4:30 p.m. Sept. 28, 501 Cathedral of Learning, Pitt's Program in Medieval and Renaissance Studies, www.pitt.edu/~medren.

"The Secret History of the War on Cancer," book launch event featuring Devra Davis, epidemiologist, director of the University of Pittsburgh Cancer Institute's Center for Environmental Oncology and author of The Secret War on Cancer (Basic Books 2007); 7 p.m. Oct. 1, Scaife Hall's Auditorium 6, 412-647-3555.
Reading by George Saunders, short story writer, 8:30 p.m. Oct. 1, Frick Fine Arts Auditorium, Pittsburgh Contemporary Writers Series, 412-624-6506, www.english.pitt.edu.
Miscellaneous
Farmers' Market, 3:30-6:30 p.m. every Friday through Nov. 16, Sennott Street between Atwood Street and Meyran Avenue, Oakland Business Improvement District, 412-683-6243, www.onlyinoakland.org.
Pitt PhD Dissertation Defenses
Aimee L. Morewood, Department of Instruction and Learning, "The Impact of School-wide Professional Development on Teacher Practices and Student Learning: A Case Study," 1 p.m. Sept. 25, 5152 Posvar Hall.
Shyam Visweswaran, Intelligent Systems Program, "Learning Patient-Specific Models from Clinical Data," 2 p.m. Sept. 25, 5317 Sennott Square.
Kathleen Oare Lindell, School of Nursing, "End-of-Life Decision Making in Patients with Idiopathic Pulmonary Fibrosis and Their Care Partners," 10:30 a.m. Sept. 26, 446 Victoria Building.
Holly Middleton, Department of English, "Literacies of Membership: The Nineteenth-Century Politics of Access," 2 p.m. Sept. 28, 526 Cathedral of Learning.
Theater/Opera
A Memory of Two Mondays by Arthur Miller and The Damask Drum by Yukio Mishima, 8 p.m. Sept. 26-28, Studio Theatre (B72 Cathedral of Learning), Pitt Department of Theatre Arts' Lab Sessions series, 412-624-7529, www.play.pitt.edu.
Off the Record VII: Blogged to Death, satirical performance, 8 p.m. Sept. 27, Byham Theater, 101 Sixth St., downtown, 412-456-1350, www.pgharts.org.

The Marriage of Figaro by Wolfgang Amadeus Mozart, 7 p.m., through Sept. 30, Byham Theater, 101 Sixth St., downtown, Opera Theater of Pittsburgh, 412-456-1350, www.operatheaterpittsburgh.org.

Therese Raquin by Emile Zola, Sept. 27-Oct. 14, Braddock Carnegie Library swimming pool, 419 Library St., Braddock, Quantum Theatre, 412-697-2929, www.quantumtheatre.com.
University Special Events/Meetings
Pitt Health, Safety, and Security Day, information on fire safety, security, and healthy living; featuring guest speaker Pitt Police Officer Ronald Bennett and other police officers, firefighters, and EMS responders; 10 a.m.-2 p.m. Sept. 25, William Pitt Union's Assembly Room and Bigelow patio and lawn, sponsored by Pitt's Staff Association Council and Department of Environmental Health and Safety.
PACWC/Women's Studies Reception for New Women Faculty, 3:30 p.m. Sept. 25, 2501 Posvar Hall, 412-624-6485, www.pitt.edu/~wstudies.
Postdoc Night, a new forum for postdoctoral fellows to practice scientific presentation skills before an audience of fellow postdocs, 5-7 p.m. Sept. 26, S120 Starzl Biomedical Science Tower, University of Pittsburgh Postdoctoral Association, www.uppda.pitt.edu.

Allegheny Observatory Open House, including opportunities to peer into the night sky through the observatory's 30-inch Thaw Refractor telescope, 7-10 p.m. Sept. 28, 159 Riverview Ave., Riverview Park; reservations required, 412-321-2400.
Workshop
"The Second Step: Business Planning Workshop," 7:30-10 a.m. Sept. 28, Mervis Hall, Pitt's Small Business Development Center; to register, 412-648-1542.
Other Stories From This Issue
There are no stories for the issue at this time.
On the Freedom Road

Follow a group of Pitt students on the Returning to the Roots of Civil Rights bus tour, a nine-day, 2,300-mile journey crisscrossing five states.
Day 1: The Awakening
Day 2: Deep Impressions
Day 3: Music, Montgomery, and More
Day 4: Looking Back, Looking Forward
Day 5: Learning to Remember
Day 6: The Mountaintop
Day 7: Slavery and Beyond
Day 8: Lessons to Bring Home
Day 9: Final Lessons