Happy 10th Anniversary, PITT ARTS
By Sharon S. Blake
Issue Date:
September 17, 2007
Senator John Heinz History Center added to program's free-visits list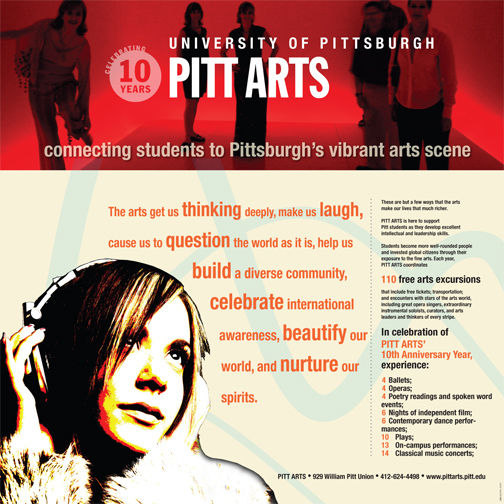 PITT ARTS is marking 10 years of connecting Pitt students to Pittsburgh's vibrant arts scene by adding another cultural venue offering free admission to Pitt part-time and full-time undergraduate and graduate students—the Senator John Heinz History Center, located at 1212 Smallman St. in the Strip District.
By swiping their Pitt ID cards at the admissions desk, students now enjoy free access to the history center, the same access they've had to the Carnegie Museum of Art, the Carnegie Museum of Natural History, the Andy Warhol Museum, The Mattress Factory, and the Phipps Conservatory and Botanical Gardens.
PITT ARTS director Annabelle Clippinger said, "The opportunity for free visits to the John Heinz History Center rounds out the way students can engage the layers of history all around us—from the natural history represented at the Carnegie Museum, to the social and cultural history of Andy Warhol and his contemporaries, to the Heinz History Center's glimpse into our past through such offerings as the multimedia Soul Soldiers exhibition, which reveals the role African Americans played in the Vietnam War."
Other PITT ARTS events slated for this fall include the on-campus performance/lunch series Artful Wednesdays, noon-1 p.m. each Wednesday, Sept. 26 through Dec. 5, in the lower level of the William Pitt Union. PITT ARTS will provide a free lunch to attendees.
PITT ARTS also is partnering with six organizations in downtown's Cultural District for a series of Pitt Night events. Pitt students, faculty, and staff pay a small fee for transportation to the performance, a dessert reception, and a chance to meet the performers. The first Pitt Night, Sept. 28, is for the opening night of the Pittsburgh Symphony Orchestra season, featuring a performance of Berlioz's Symphonie Fantastique. Other Pitt Nights will take patrons to the Pittsburgh Opera, Pittsburgh Ballet Theatre, Pittsburgh CLO Cabaret, Pittsburgh Public Theater, and Byham Theater.
PITT ARTS will sponsor its ninth annual Arts Fair from 11:30 a.m. to 1:30 p.m. Sept. 19 in the William Pitt Union Ballroom, featuring a free lunch, representatives of more than 30 arts organizations, and prize giveaways.
Last year, some 35,000 students (including repeaters) participated in PITT ARTS programs, and PITT ARTS sold about 9,700 discount-priced tickets through its Cheap Seats Program. Cheap Seats are available to all Pitt students and, for most Cheap Seats-designated performances, to staff and faculty. Purchasers may buy as many as four tickets for most Cheap Seats performances, including tickets for non-Pitt people as long as the purchasing Pitt person attends. Cheap Seats is a self-serve ticketing service; instructions and reservation forms are displayed outside the PITT ARTS office at 929 William Pitt Union.
For more information about PITT ARTS and its 10th anniversary season, visit www. pittarts.pitt.edu or call 412-624-4498.
Other Stories From This Issue
There are no stories for the issue at this time.
On the Freedom Road

Follow a group of Pitt students on the Returning to the Roots of Civil Rights bus tour, a nine-day, 2,300-mile journey crisscrossing five states.
Day 1: The Awakening
Day 2: Deep Impressions
Day 3: Music, Montgomery, and More
Day 4: Looking Back, Looking Forward
Day 5: Learning to Remember
Day 6: The Mountaintop
Day 7: Slavery and Beyond
Day 8: Lessons to Bring Home
Day 9: Final Lessons