Hemlock Grove: Writing in the Dark
By Brett Murphy
Issue Date:
July 27, 2015
After the demise of a once-thriving steel mill, the town of Hemlock Grove consists of families who are either wealthy from the economic transformation, or not. The class divide is stark, and the setting includes an abandoned steel site and a mysterious biomedical facility. Among the town's residents are a teenage outsider from a poor neighborhood and a snobby A-list high school student who is the son of a rich industrialist. Oh... and the outsider may be a werewolf, and the teens are working together to solve the grisly murder of a high school classmate.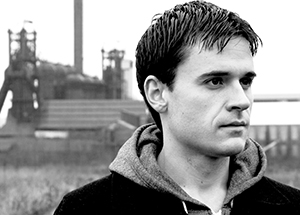 These are a few of the dark and combustible elements in Brian McGreevy's 2012 debut novel, Hemlock Grove, which has been transformed into an Emmy-nominated Netflix television series for online streaming.
As it happens, McGreevy spent his adolescence in Western Pennsylvania's Mon Valley, where he witnessed the withering of the region's industrial roots, as biotech and healthcare firms replaced steel mills. Hmmm.
In his youth, McGreevy was a loner who, as an avid fan of horror-thriller films, began courting the Gothic early. He recalls, for instance, squirming in his seat, trying to keep his eyes open while watching The Omen, an iconic horror flick, while alone in a darkened church where his mother served as pastor. "That movie scared the bejesus out of me," McGreevy says, even now.
Real life proved scary as well, as his own family struggled economically when Pittsburgh's steel industry collapsed. The personal disruptions led McGreevy to drop out of high school, but he eventually found his footing at a community college and then transferred to Pitt, where he focused on the humanities in the College of General Studies.
Upon earning his Pitt undergraduate degree in 2003, he wrote a novel, trying to capture what it was like for a teenager navigating high school—the angst and cafeteria cliques. But the book didn't gain any traction.
Then, while pursuing a master of fine arts degree at the University of Texas, McGreevy decided to write about what fascinated him—blood and monsters—with an anchor in something familiar—his suburban Pittsburgh high school. Hemlock Grove emerged, and the publishing house FSG Originals printed it.
McGreevy describes the novel as a "big, pulpy Gothic soap opera"—a murder mystery in which werewolves are the least of the town's problems. The story's two protagonists highlight the class divides he observed growing up. (Hemlock Grove is also sprinkled with a few nods to Pitt, including a central tower with 42 stories.)
With the novel's success, McGreevy quickly turned his focus to a Netflix adaptation. It was familiar territory: He has been a screenwriter since grad school, writing for network hit shows like The Blacklist.
The Hemlock Grove television series has struck a chord with audiences and garnered an impressive following on social media, with numerous fan sites, blogs, and forums. It snagged two primetime Emmy nominations in 2013 and is airing its final season this year.
Niche audiences, cult followers, and others have jumped on for the ride. Viewers—like the readers before them—applaud the show's socioeconomic shadows and McGreevy's uncompromisingly dark take on, well, darkness. (Courtesy of Pitt Magazine.)
Other Stories From This Issue
There are no stories for the issue at this time.
On the Freedom Road

Follow a group of Pitt students on the Returning to the Roots of Civil Rights bus tour, a nine-day, 2,300-mile journey crisscrossing five states.
Day 1: The Awakening
Day 2: Deep Impressions
Day 3: Music, Montgomery, and More
Day 4: Looking Back, Looking Forward
Day 5: Learning to Remember
Day 6: The Mountaintop
Day 7: Slavery and Beyond
Day 8: Lessons to Bring Home
Day 9: Final Lessons