Henry Hillman, 1918-2017: A Man of Innovation, Big Ideas, Generosity
By Ervin Dyer
Issue Date:
May 4, 2017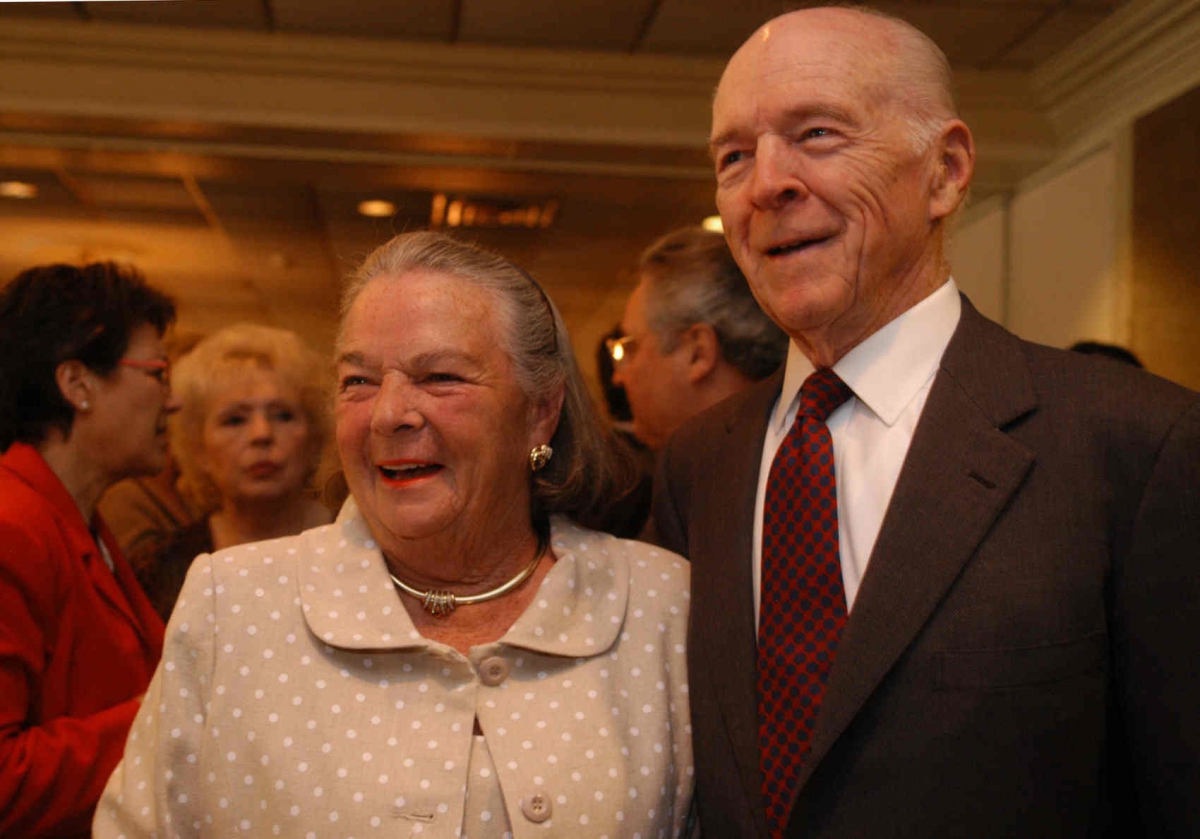 In business circles near and far, Pittsburgh executive and philanthropist Henry Hillman was known as the "quiet billionaire." But the legacy built by Hillman and his family will resound for generations, not only at the University of Pittsburgh but also throughout the region.
"Pittsburgh is a city famously reinvented through innovation and ideas — and forever shaped by the generosity of its many philanthropic foundations. Henry Hillman should be considered one of the great architects behind the reinvention of Pittsburgh," said University of Pittsburgh Chancellor Patrick Gallagher.
Hillman built upon his forefathers' industrial-era iron and coal business and transformed it into a diversified global enterprise through pioneering private-equity investing in commercial real estate and through business and corporate holdings. A graduate of Princeton University and a World War II Navy aviator, Hillman held a deep respect for history, but also embraced the future.
Hillman used his business acumen and community spirit to improve Pittsburgh's fortunes — especially critical when the city's industrial foundation crumbled in the 1980s. His intent was that Pittsburgh not only survive, but thrive.
His closest partner in these efforts was his wife, Elsie Hilliard Hillman (1925-2015), an influential civic leader and philanthropist. Elsie Hillman devoted herself to public service, supporting political activism, public television, medicine, arts and many social causes. Their teamwork in revitalizing the city and in actualizing their shared civic interests was a hallmark of their 70-year marriage.
"A pioneering business leader who had an abiding love for his city and a commitment to improving it, Henry and his beloved wife Elsie forever changed Pittsburgh and all of us privileged enough to live and work here," said Gallagher. "Perhaps nowhere is this powerful transformation more evident than at the University of Pittsburgh. The Hillman Library, Hillman Cancer Center, Hillman Fellows Program for Innovative Cancer Research and the University of Pittsburgh Cancer Institute — just to name a few of many examples — have flourished as a result of Henry Hillman's great generosity and vision."
Hillman's generosity notably emphasized developing local and global leaders. On the day he passed, seven University scholars were gathered at Pitt's Institute of Politics to talk about their academic and civic engagement efforts in the greater Pittsburgh area. They were participants in the institute's Elsie H. Hillman Civic Forum, which Hillman established with a $5 million endowment.
At Pitt's Graduate School of Public and International Affairs (GSPIA), Hillman's gifts have empowered the work of the Congress of Neighboring Communities, through which Pittsburgh and surrounding municipalities identify common public policy challenges and advocate for change on behalf of Allegheny County's urban core. Hillman also supported GSPIA's Johnson Institute for Responsible Leadership, which provides ethics and accountability training to public leaders.
Hillman's Many Gifts
With his family's network of philanthropic gifts, Hillman is among the most generous donors in Pitt's 230-year history.
In 1960, the Hillman Family Foundations was the largest private donor behind Pitt's plan to make the library central to the University's mission, both in location and services.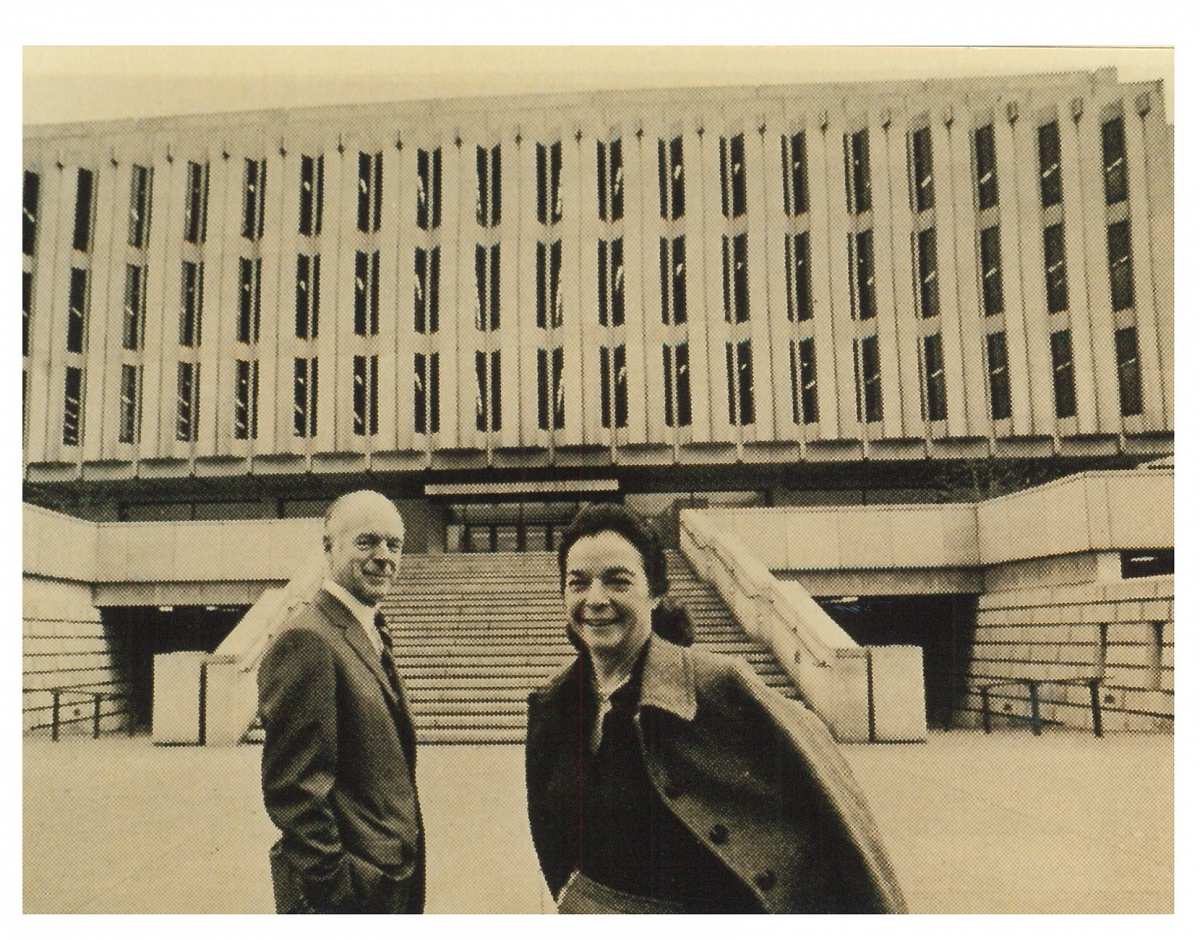 The library was one of Hillman's first major philanthropic projects, and he was heavily involved in its planning, from choosing an architect to weighing in on the interior design. The project would eventually bear the Hillman name, honoring Hillman's father, John H. Hillman Jr.
The library moved from three floors in the Cathedral of Learning to a five-story building. Later, excited by the emerging digital age, Hillman and the Hillman Family Foundations endowed the position of Hillman University Librarian to ensure innovative leadership for the system.
In more recent years, through the Henry L. Hillman Foundation and the Hillman Family Foundations, Hillman advanced cancer research at the University.
In 1993, Hillman gave the gift that endowed a chair to support the director of the University of Pittsburgh Cancer Institute, supporting research and practice in oncology in the School of Medicine.
In 1999, the Hillmans granted $10 million to the Shadyside Hospital Foundation to establish the Hillman Cancer Center, which supports research and treatment and serves thousands daily from around the world. When the center opened in 2002, it became the flagship facility of the University of Pittsburgh Cancer Institute and the UPMC CancerCenter network, which today has more than 40 regional satellite centers.
In 2005, the Henry L. Hillman and Hillman Family Foundations donated $20 million to the University of Pittsburgh Cancer Institute to establish the Hillman Fellows Program for Innovative Cancer Research. At the time, it was the largest single grant in the University's history. The funding enabled Pitt to support scientists, upgrade laboratories and facilitate research collaborations. The program now attracts research funding many times over the original grant.
Hillman's financial support came with personal support. He often appeared at events recognizing young researchers, shaking hands, giving hugs and generating good humor.
One of Hillman's most recent gifts to the University supports an entirely different endeavor — the rebirth of the nation's aging power grid. About three years ago, the Henry L. Hillman Foundation gave $2.5 million to the Swanson School of Engineering-related Direct Current Architecture for Modern Power Systems. The funding built upon the initial success of the direct currents (DC) program, bringing a DC power grid closer to fruition and making Pitt and Pittsburgh the epicenter of an emerging DC power industry.
In 2013, Hillman was bestowed Pitt's 225th Anniversary Medallion and, along with Elsie, the Chancellor's Medal. The two also were members of the Cathedral of Learning Society.
Hillman — known for his intellect, vision, kindness, optimism and modesty — sat on Pitt's Board of Trustees for more than 60 years. He was elected on June 12, 1956, and then served as an emeritus trustee from May 15, 1984, until his death.
Chancellor Emeritus Mark A. Nordenberg, who worked closely with the Hillmans during his tenure, said: "In virtually everything that he did, Henry Hillman stood as a shining example of human goodness."
Other Stories From This Issue
There are no stories for the issue at this time.
On the Freedom Road

Follow a group of Pitt students on the Returning to the Roots of Civil Rights bus tour, a nine-day, 2,300-mile journey crisscrossing five states.
Day 1: The Awakening
Day 2: Deep Impressions
Day 3: Music, Montgomery, and More
Day 4: Looking Back, Looking Forward
Day 5: Learning to Remember
Day 6: The Mountaintop
Day 7: Slavery and Beyond
Day 8: Lessons to Bring Home
Day 9: Final Lessons