Hidden Treasures: Cathedral-A-Day
Issue Date:
February 24, 2014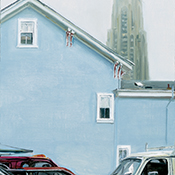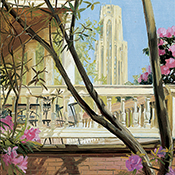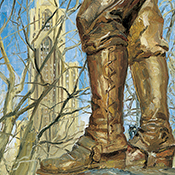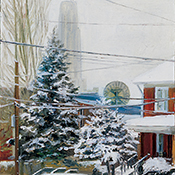 In a long gallery tucked away in Alumni Hall, visitors can get a new perspective on the Cathedral of Learning—in fact, they can enjoy 365 different "takes" on the iconic campus building through the art of Felix de la Concha.
Over two years, in the late 1990s, the Spanish-born artist captured 365 Pittsburgh scenes, each with a view of the Cathedral of Learning and each from a different vantage point around the city. Here are sun-washed streets, fog-choked streets, streets ankle deep in gray slush, streets alive with commerce and education and worship and leisure. Here is Pittsburgh. In some paintings, the Cathedral is little more than a brown smudge. In others, giant yellow traffic signs trumpet the building's regal, neo-Gothic bearing. Never entirely unobstructed, de la Concha's Cathedral is carefully sewn into the very fabric of urban life. And that is precisely what he intended. Think of the paintings as a sort of dialogue between the city and the Gothic 42-story building, said de la Concha about his ambitious series of oil paintings.
The artist didn't work 365 days in a row; instead, he painted throughout the seasons until he had completed one painting for every day of the year. He worked in every kind of weather and season. In fact, so intent was he on capturing the gamut of "conversations" between city and skyscraper that he sometimes mounted an umbrella on his easel to protect his work from rain and snow. The project culminated in a 1999 exhibition at the Carnegie Museum of Art.
Milton Fine (CAS '49, LAW '50) and his wife Sheila gave a gift in 2000 that made it possible for the University to permanently display on the Oakland campus the artist's painting cycle, "365 Views of the Cathedral of Learning," which is exhibited on the seventh floor of Alumni Hall, where it occupies an entire wall of the vast lobby.
Now, the life of de la Concha's Cathedral of Learning—and of its city—stirs in those who pause at the wall-long collection, even for a little while.
Other Stories From This Issue
There are no stories for the issue at this time.
On the Freedom Road

Follow a group of Pitt students on the Returning to the Roots of Civil Rights bus tour, a nine-day, 2,300-mile journey crisscrossing five states.
Day 1: The Awakening
Day 2: Deep Impressions
Day 3: Music, Montgomery, and More
Day 4: Looking Back, Looking Forward
Day 5: Learning to Remember
Day 6: The Mountaintop
Day 7: Slavery and Beyond
Day 8: Lessons to Bring Home
Day 9: Final Lessons