Hidden Treasures: A Chapel Mouse Serves as Witness
Issue Date:
February 3, 2014
Here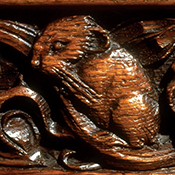 where the Vicar never looks
I nibble through old service books.
Lean and alone I spend my days
Behind this Church of England baize.
—Diary of a Church Mouse,
by John Betjeman
So says the little mouse in an allegorical poem by English poet John Betjeman. The mouse tells of surviving in a "dark forgotten room," eating "sawdust mixed with straw" and using floor polish for jam. But his culinary fortunes change with the church's annual Autumn Harvest Festival, which attracts parishoners' baskets of fruits and vegetables—as well as mice "from fields away" who never come to church any other time of year.
The University of Pittsburgh's neo-Gothic Heinz Chapel has its own little church mouse, placed there during the chapel's construction in the mid-1930s. He is carved into the façade of the first of the altar's left set of pews. And unlike Betjeman's church mouse, the chapel mouse is never alone.
Carved alongside the mouse—and in the façade of alter pews directly opposite—are a bird, snake, owl, squirrel, grasshopper, lobster, and other critters. They owe their existence to artisans from A.H. Davenport and Company, a prominent Boston-based furniture maker.
Why are the mouse and other creatures there? Some contend they reflect the chapel's nondenominational status . . . that all living creatures are welcome. Others note that during the 1930s, a furniture maker in Yorkshire, England—Robert "Mouseman" Thompson—was famous for carving a tiny mouse into his pieces as his trademark.
But while the reasons behind the chapel mouse's origin remain a mystery, he has VIP seating for the hundreds of events that occur in the chapel every year. He has witnessed the joy of thousands of weddings and the solemnity of the funeral of the late U.S. Sen. John Heinz. He has listened to the soaring voices of the Heinz Chapel Choir, heard lectures, taken in dance performances, and has patiently let children rub their fingers over him, as they squeal with delight during Chapel tours.
A far cry from the "dark forgotten room" of Betjeman's church mouse.
—By Sharon S. Blake
Other Stories From This Issue
There are no stories for the issue at this time.
On the Freedom Road

Follow a group of Pitt students on the Returning to the Roots of Civil Rights bus tour, a nine-day, 2,300-mile journey crisscrossing five states.
Day 1: The Awakening
Day 2: Deep Impressions
Day 3: Music, Montgomery, and More
Day 4: Looking Back, Looking Forward
Day 5: Learning to Remember
Day 6: The Mountaintop
Day 7: Slavery and Beyond
Day 8: Lessons to Bring Home
Day 9: Final Lessons