Hidden Treasures: A Charred Remnant of the Motherland
Issue Date:
January 13, 2014
"In the morning, there was nothing left of the famous House but a charred, black, smoldering, steaming ruin. The Bar no longer stood to check intruders. The Speaker's chair was lost. The green-padded leathern lines of seats were charred and drenched. The ingenious, ingenuous, most typical gothic innovations of the old period had gone forever; and with them the Chamber, its Press Gallery, its Strangers' and Ladies' galleries."
—William Sansom, volunteer fireman, London, 1941, in his book, Westminster at War
On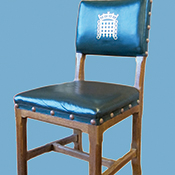 the night of May 10, 1941, the German Luftwaffe rained bombs onto London, killing more than 1,400 Londoners and critically injuring more than 2,000 others. This aerial attack incinerated The House of Commons, a landmark building and part of the British Parliament. Today, the University of Pittsburgh's English Nationality Room, located on the Cathedral of Learning's first floor, holds more original material from The House of Commons than anywhere on Earth.
The English room, the Cathedral's largest nationality room, features two chairs that were reconstructed from the wood of the burned chairs. The "green-padded leathern lines of seats" were destroyed in the fire, but carefully reconstructed in Pittsburgh, bringing English ancestors' motherland to America. Among the other relics brought to Pitt from the House of Commons—courtesy of a former English Nationality Room committee chair who had connections—are the fireplace and its hearth tiles, the linenfold oak paneling, the entrance doorframe, and the decorative stone corbels and lintel.
No wonder the English Nationality Room's fireplace features an engraved verse from Shakespeare's King Richard II: "Set in the silver sea, this blessed plot, this earth, this realm, this England." —By Melissa Carlson
Other Stories From This Issue
There are no stories for the issue at this time.
On the Freedom Road

Follow a group of Pitt students on the Returning to the Roots of Civil Rights bus tour, a nine-day, 2,300-mile journey crisscrossing five states.
Day 1: The Awakening
Day 2: Deep Impressions
Day 3: Music, Montgomery, and More
Day 4: Looking Back, Looking Forward
Day 5: Learning to Remember
Day 6: The Mountaintop
Day 7: Slavery and Beyond
Day 8: Lessons to Bring Home
Day 9: Final Lessons