Hidden Treasures: Exquisite Paneling, Luxurious Design
Issue Date:
February 10, 2014
Several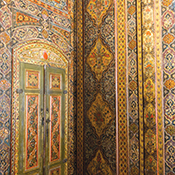 Nationality Room tour guides reacted with stunned silence as they walked past Pitt's Syria-Lebanon Nationality Room and saw the doors wide open, with a photographer inside.
"Oh my! I've never seen this room from the inside," gushed one guide, adding that she could recall the room being opened just once in recent years—for President Barack Obama in 2009.
The Syria-Lebanon Room typifies the luxurious design—known as Damascene style, originating in Damascus—that became popular in the 19th century with wealthy Americans looking to build sophisticated spaces resembling the eastern world. Today, many of these rooms can be found as exhibits within museums, but a fine example is locked away within Pitt's Cathedral of Learning.
While the room is beautiful and untouched (visitors may peer inside through the glass doors), its style is also rare. Most Damascene-style rooms resemble one original space from the East, such as a prayer sanctuary, but Pitt's Syria-Lebanon Room features two different rooms combined. It is thought that Pitt's room—and similar rooms on display in the Cincinnati Arts Museum and the Metropolitan Museum of Arts—date back to as early as 1783 AD.
The Syria-Lebanon Room first graced a home in Damascus, where it served as a library and prayer room for a wealthy merchant. Rich golden hues span the paneled floors and ceiling, which are decorated with "gesso-painting"— a mixture of chalk and glue applied by brush in intricate relief, then painted and overlaid with silver and gold leaf. Lustrous satin cushions rest atop benches lining the walls and, built into the wall, is a marble ledge known as a "prayer niche" where the Quran would sit during prayer time. A copper chandelier-style lamp crowned with peaks like mountains hangs from the ceiling, illuminating the room. An oriental rug fills the center of the room and atop it sits a golden table used for serving coffee.
The Syria-Lebanon Room—like its striking counterparts elsewhere—continues to echo the stories of its former inhabitants, reverberating a rich history across time.
—By B. Rose Huber
Other Stories From This Issue
There are no stories for the issue at this time.
On the Freedom Road

Follow a group of Pitt students on the Returning to the Roots of Civil Rights bus tour, a nine-day, 2,300-mile journey crisscrossing five states.
Day 1: The Awakening
Day 2: Deep Impressions
Day 3: Music, Montgomery, and More
Day 4: Looking Back, Looking Forward
Day 5: Learning to Remember
Day 6: The Mountaintop
Day 7: Slavery and Beyond
Day 8: Lessons to Bring Home
Day 9: Final Lessons