Hidden Treasures: Pitt's Pharmaceutical Past
Issue Date:
November 3, 2014
Pitt's School of Pharmacy is known for launching new pharmacists toward a bright future, but few are aware of its efforts to preserve the profession's past. Tucked away on the fourth floor of Salk Hall, The Elmer H. Grimm Sr. Pharmacy Museum does just that—providing the public with a unique glimpse at drugstore tools and technologies of the late 19th and early 20th centuries.
The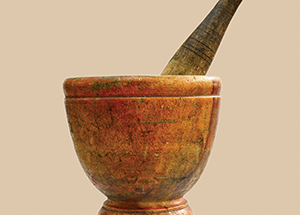 museum's namesake graduated from Pitt's School of Pharmacy in 1919 and opened a pharmacy in Herminie, Pa., a town about 20 miles southeast of Pittsburgh. Through the combined efforts of his son Jacob, an archivist who solicited donated cabinets and artifacts, and the leadership gift of his grandson, Donald, and his wife, Kathryn, the museum opened in 1996. It was designed to closely model Grimm Sr.'s old shop, right down to the rich wood paneling and a large collection of herbal remedies.
The museum holds a treasure trove of pharmaceutical artifacts donated by alumni and collectors. Some items date back to the 18th century, such as a French hanging balance, once used for the careful weighing of drugs. Other gems include a rare Alka-Seltzer tablet crusher and dispenser, a century-old cash register, and an even older typewriter built specifically for pharmacies; it has special keys, including one for RX.
The museum also exhibits an impressive collection of conical graduates, commonly known as beakers. In 2007, the School of Pharmacy acquired pharmacist Bernard Levy's collection of 809 unique beakers, including one crafted in 1862. Levy has declared this the largest collection of American-made conical graduates and more than 250 are on permanent display in the museum.
Over the years, the collection has swelled to include three display cases surrounding the original museum, one of which celebrates the medical contributions of Dr. Jonas Salk and his team. Altogether, the collection offers a compelling look at the early modern origins of the practice of pharmacy.
Stan Jonas, the Grimm Museum's knowledgeable curator, offers free 30-minute guided tours to groups upon request. To schedule a tour, contact Meg Osborne at 412-648-8186. Visitors may check out most displays without appointment from 8 a.m. to 4 p.m. on weekdays.
—By Melissa Carlson
Other Stories From This Issue
There are no stories for the issue at this time.
On the Freedom Road

Follow a group of Pitt students on the Returning to the Roots of Civil Rights bus tour, a nine-day, 2,300-mile journey crisscrossing five states.
Day 1: The Awakening
Day 2: Deep Impressions
Day 3: Music, Montgomery, and More
Day 4: Looking Back, Looking Forward
Day 5: Learning to Remember
Day 6: The Mountaintop
Day 7: Slavery and Beyond
Day 8: Lessons to Bring Home
Day 9: Final Lessons