Hill District Marker Honors Freedom House, Birthplace of EMS
By Matt Cichowicz
Issue Date:
October 6, 2014
Spilling into the Hill District's Centre Avenue, a crowd gathered on Sept. 25 to celebrate the unveiling of a historic marker at the birthplace of Freedom House Ambulance Service.
The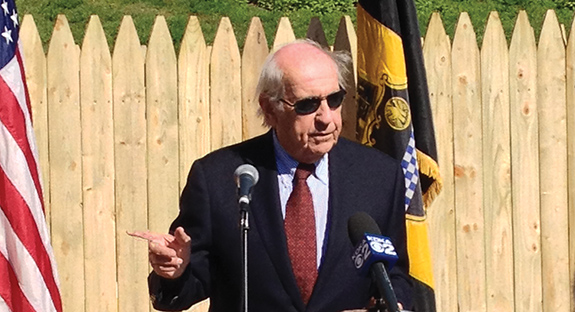 marker credits the men and women of the Freedom House Ambulance Service as pioneers who "set the national standards for pre-hospital emergency care." A similar plaque, memorializing the bold venture, will hang outside the emergency room at UPMC Presbyterian Hospital, where the Freedom House service began its operations in 1968.
Fewer than 50 years ago, calling for emergency medical services usually meant a race to the hospital in the back of a police wagon or even a hearse. Typically, medical care began at the hospital; getting there alive involved quick transportation. In lower income areas, like Pittsburgh's Hill District, these calls for help sometimes went unanswered altogether.
But in 1967 in Pittsburgh, that changed when Philip Hallen, then president of Pittsburgh's Maurice Falk Medical Fund (now The Falk Foundation), proposed a lifesaving innovation, prompted by his own experiences as an ambulance driver in Syracuse, N.Y., which he did to supplement his expenses as a graduate student studying English literature at Syracuse University.
Hallen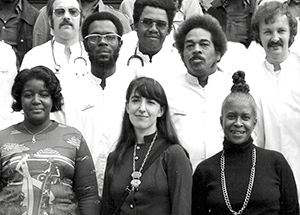 drafted an ambitious proposal to modernize equipment and train emergency medical professionals to conduct lifesaving procedures during their critical time on the scene and in the vehicle on the way to the hospital emergency room. He further revolutionized the idea by combining medical reform with economic reform, proposing that unemployed or underemployed residents of the Hill District be trained as the paramedics.
The Hill District's Freedom House Enterprises Corporation had been founded only a month before Hallen's proposal was released, and the nonprofit was looking for opportunities to sustain the area and provide employment.
Hallen shared his idea with Peter Safar, then a professor of anesthesiology at the University of Pittsburgh School of Medicine, who became nationally known for his resuscitation techniques. Only a year earlier, Safar had lost his daughter to an acute asthmatic crisis and set out to develop standards for emergency medical education and training.
During his career, Safar, who passed away in 2003, developed the ABC (airway, breathing, chest compressions) method of CPR and influenced a doll maker to design and manufacture a CPR training mannequin. He established the United States' first intensive care unit and was nominated three times for the Nobel Prize in medicine. In 1967, Safar agreed to help train Freedom House recruits.
"When
I first met Peter Safar," says Hallen, "I realized that we could create the perfect partnership between education and job training for young African Americans, a long overdue service to Hill residents and a major national demonstration of hospital-based training, curriculum development, and vehicle design."
Hallen's audacious idea also caught the attention of Morton Coleman, now a Pitt professor emeritus of social work, who was then an aide to Pittsburgh's mayor, Joseph Barr. Coleman shared the idea with the mayor, who saw it as an opportunity to improve services. On July 15, 1968, Freedom House Ambulance Service took its first call.
One more addition to the team came in 1974 when Safar named Pitt faculty member Nancy Caroline as medical director of the Freedom House service. A dedicated professional, Caroline often rode along in the ambulances and napped on the cots in between shifts. She would go on to write Emergency Care in the Streets, the first resource for paramedic care, currently in its seventh edition. She passed away in 2002.
Working out of Presbyterian and Mercy hospitals, Freedom House provided service not only to the Hill District but also to a large percentage of the City of Pittsburgh. From 1968 to 1975, five mobile intensive care units and more than 50 EMS attendants worked round the clock with nationally acclaimed professionalism. Their work became the template for the paramedic profession and today's modern ambulance service.
"Freedom House set the standards for the entire country in terms of the EMS curriculum, the design of vehicles, and the training of individuals," says Hallen, who was among the keynote speakers at the Sept. 25 event. "These roots are all being honored here today."
Other Stories From This Issue
There are no stories for the issue at this time.
On the Freedom Road

Follow a group of Pitt students on the Returning to the Roots of Civil Rights bus tour, a nine-day, 2,300-mile journey crisscrossing five states.
Day 1: The Awakening
Day 2: Deep Impressions
Day 3: Music, Montgomery, and More
Day 4: Looking Back, Looking Forward
Day 5: Learning to Remember
Day 6: The Mountaintop
Day 7: Slavery and Beyond
Day 8: Lessons to Bring Home
Day 9: Final Lessons