Hillman Liaison Librarians Help Pitt Students, Staff, Faculty to Sharpen Their Research
By Sharon S. Blake
Issue Date:
August 20, 2013
University of Pittsburgh freshmen who feel intimidated or overwhelmed by the thought of navigating the massive University Library System can relax—a bit. There may be a liaison librarian just around the corner.
Hillman Library is continuing its initiative that links its 23 liaison librarians—all of whom are highly trained reference librarians—to the broader campus community. But don't look behind a desk in Hillman for one of these skilled professionals.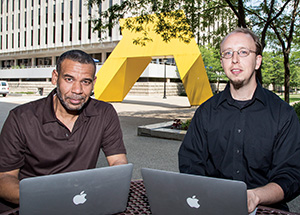 Instead, the liaison librarians, all of whom specialize in a few academic subjects, may be in a classroom informing students about a new research tool or in a lounge helping a student manage citations on a term paper. They can be available anywhere on campus, either in person or via email, phone, or electronic chat. Their mission is to assist students, staff, and faculty in their search for reliable sources and their use of new research tools. And often, their expertise helps library users simply know where to begin.
"Those large lecture classes can be overwhelming for freshmen," said Paul Kohberger, assistant university librarian for research and institutional support. "Our liaisons are available to go to the actual class and address the students, explaining what they can do. It frees the faculty member from having to answer so many questions."
The liaisons can steer undergraduate or graduate students to the best online resources, help them organize their data, structure their papers, deposit their work in Pitt's D-Scholarship Institutional Repository, and generally provide helpful one-on-one consultations.
Faculty members also benefit. Arif Jamal, the liaison librarian for the School of Social Work and the Department of Africana Studies, said sometimes he connects with new-faculty candidates when they visit campus for interviews. "I give them a tour of the library, explain our services, and then once they get here, they remember me, and we're in contact," he said. Jamal is also a regular at School of Social Work faculty meetings, where he gains a better understanding of faculty members' interests and concerns—and where he can suggest ways in which library resources and services can help to further the school's mission.
The liaisons can also introduce faculty to the latest research tools or explain how to access off-campus licensed databases and journals.
Jamal and the other liaisons also create Lib Guides—specialized Web sites built for specific classes—which contain suggestions on evaluating information, finding online and print resources, books, journals, and e-journals, and more. For example, many social work students are required to track a piece of legislation as part of a social work policy course. Students must explore the problem that the bill addresses, present the positions of its critics and supporters, and examine how other countries handle the problem. Not only has Jamal visited the class, he is a co-creator of a template for the assignment on the courses's Lib Guide.
"It's kind of a blueprint for that particular project," said Jamal. "We've listed links to the most reputable sites and sources for every component of that research."
And, for the first time, there are links to the Lib Guides in Courseweb, a learning management system used by students and faculty.
Liaison librarian Carlos Pena, who, along with Jim Cassaro, specializes in the Department of Music, says the information explosion makes the role of the liaison all the more important. "One really needs someone who is professionally capable of sorting through it all, accessing what is necessary, and getting the student to think critically about the information he or she encounters," he said.
Recently, he gave an instructional session for an undergraduate class of music students about databases for research. Afterwards, the professor commented to him that she was surprised by how unfamiliar the students had been with research strategies and resources.
Jamal says it's especially rewarding to assist nontraditional students who have returned to school after a break of five or 10 years. "It can be a big shock, so we try to ease that transition. This personalized model can be very helpful to them."
On the other hand, he said, there are 18-year-old freshmen who are tech-savvy but who don't understand the term "peer-reviewed journal." They will do searches using Google but will be led to a publisher's Web site, which often charges to access information.
"We show them how they can get academic articles through the library, either online, in print, or through interlibrary loan—regionally, nationally, or internationally," Jamal said.
"We're shifting staff assignments," Kohberger said. "Librarians are no longer tethered to their desks. We're trying to turn the focus of the campus library around and actively offer and promote the services our students and faculty need."
Other Stories From This Issue
There are no stories for the issue at this time.
On the Freedom Road

Follow a group of Pitt students on the Returning to the Roots of Civil Rights bus tour, a nine-day, 2,300-mile journey crisscrossing five states.
Day 1: The Awakening
Day 2: Deep Impressions
Day 3: Music, Montgomery, and More
Day 4: Looking Back, Looking Forward
Day 5: Learning to Remember
Day 6: The Mountaintop
Day 7: Slavery and Beyond
Day 8: Lessons to Bring Home
Day 9: Final Lessons