Hillman Photo Exhibition Marks Centennial and Pitt's Support for The Great War
By Sharon S. Blake
Issue Date:
October 6, 2014
Students, faculty, and staff at the University of Pittsburgh's Oakland campus actively supported the war effort during World War I, which began 100 years ago this year. To mark that centennial, a photo exhibition at Pitt's Hillman Library, All In: The University in The Great War, spotlights Pitt's multifaceted contributions, many of which were offered to President Woodrow Wilson even before he asked Congress to declare war on Germany in April 1917.
The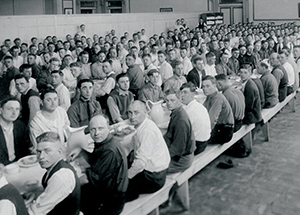 exhibition, comprising 15 photos and supporting text, was organized by Pitt's Archives Service Center. "We wanted to showcase Pitt's contributions so we could honor all who served and all who were involved in World War I. We hope viewers get a sense of Pitt's efforts and commitment," said Miriam Meislik, archivist and photo curator at the Archives Service Center, who selected photos and text from the University Archives and The Owl, Pitt's yearbook.
Pitt helped train troops on the Oakland campus. It built seven barracks for 1,000 men each, a mess hall that could seat 2,000, and a YMCA hospitality center, all on a hill behind the spot where Soldiers and Sailors Memorial and Museum stands today. Military training was mandatory for all male Pitt students. Lectures were shortened, and all classes ended at 4 p.m. so that drills could take place across campus in the early evening.
Even before American troops had been sent to the war front, prominent Pittsburgh resident Mrs. Henry L. Collins (Elizabeth B. Thaw) donated $25,000 to Pitt to equip what would become Base Hospital No. 27 in Angers, France. No less than 46 Pitt physicians and 50 medical students volunteered to set up the Angers facility and remained to staff it. The school's engineering faculty trained men to be automobile and gas engine mechanics. The School of Economics educated Pitt men to work in the supply division of the Ordnance Department, which provided equipment to the U.S. Army. By January 1918, 88 Pitt faculty members and 450 students were in government service, either as soldiers or staff for the War Department.
Female students were required to devote four hours a week to national service activities. They, along with Pitt women faculty, faculty spouses, and female staffers, volunteered countless hours for the Red Cross, which made surgical dressings and knitted garments for soldiers.
And Pitt students wrote a letter to President Wilson, suggesting that students from all colleges volunteer to work on farms. "Europe will have to rely on the harvests of America to ensure a robust food supply for the war and our allies," they wrote. The idea gave birth to the War Garden Movement, spearheaded by Pitt's School of Education. Small plots of land were cultivated, volunteers collected the harvest, and Pitt offered classes in food preservation.
Visit http://digital.library.pitt.edu/pittsburgh/exhibits/ww1/ to view the exhibition online.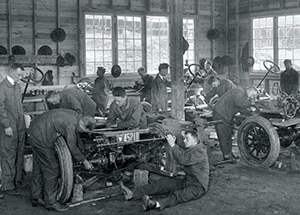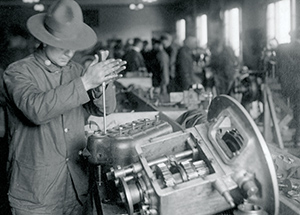 Other Stories From This Issue
There are no stories for the issue at this time.
On the Freedom Road

Follow a group of Pitt students on the Returning to the Roots of Civil Rights bus tour, a nine-day, 2,300-mile journey crisscrossing five states.
Day 1: The Awakening
Day 2: Deep Impressions
Day 3: Music, Montgomery, and More
Day 4: Looking Back, Looking Forward
Day 5: Learning to Remember
Day 6: The Mountaintop
Day 7: Slavery and Beyond
Day 8: Lessons to Bring Home
Day 9: Final Lessons