Historical Research by Pitt Architectural Students Pays Off: Former Ursuline Academy Receives National Register Designation
By Sharon S. Blake
Issue Date:
November 5, 2012
Students in the University of Pittsburgh's Documentation and Conservation Studio course spent the summer of 2008 poring over historic maps, photographs, deeds,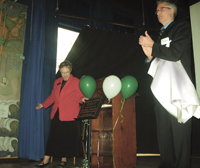 and building permits to begin a process to nominate the former Ursuline Academy of Pittsburgh, 201 S. Winebiddle St. in Bloomfield, for inclusion in the National Register of Historic Places.
Their hard work and the efforts of subsequent Pitt students have paid off.
Local preservationists and government officials gathered at the post-Civil War-era building on Oct. 20 for the unveiling of the plaque which cites the building's official historic designation.
The Ursuline Academy operated in the Winebiddle Street location from 1894 to 1981 as an elite progressive school for young women that was operated by the Ursuline Sisters. The Waldorf School of Pittsburgh has owned the building since 2003.
The first group of Pitt students, guided by Pitt instructor Jeff Slack, historic preservation specialist at Pfaffmann + Associates, PC, Downtown, documented the history of the 21-room mansion built for Henry J. Lynch in the late 1860s. They studied the condition of the building; took dozens of photos of its stained-glass windows, 14-foot-high tin ceilings, and carved corbels; and traced changes made to the structure over the years. This was compiled into a substantial Historic Structure Report.
A second class of Slack's Pitt students, in 2010, built upon that work and wrote the initial draft of the National Register nomination. It was presented to the Pennsylvania Historic and Museum Commission for review. Slack provided extensive details on the significance of what took place in the building, including the Academy's advanced curriculum, which comprised, among other classes, a course on aviation for women during World War II. The final designation approval came earlier this year from the National Park Service in Washington, D.C.
The Documentation and Conservation Studio course is offered by the Architectural Studies Program at Pitt, part of the Department of the History of Art and Architecture in the Kenneth P. Dietrich School of Arts and Sciences.
(Photo above: The unveiling of Ursuline Academy's National Register of Historic Places plaque occurred Oct. 20 in the post-Civil War-era building in Bloomfield that housed the Academy from 1894 until 1981. Sister Rita Joseph Jarrell (left) was the Academy's last principal and Jeff Slack (right) is a Pitt instructor who guided several groups of Pitt students through the process of documenting the mansion's history and applying for inclusion in the National Register of Historic Places.)





Other Stories From This Issue
There are no stories for the issue at this time.
On the Freedom Road

Follow a group of Pitt students on the Returning to the Roots of Civil Rights bus tour, a nine-day, 2,300-mile journey crisscrossing five states.
Day 1: The Awakening
Day 2: Deep Impressions
Day 3: Music, Montgomery, and More
Day 4: Looking Back, Looking Forward
Day 5: Learning to Remember
Day 6: The Mountaintop
Day 7: Slavery and Beyond
Day 8: Lessons to Bring Home
Day 9: Final Lessons