History Maker: Pitt alumnus, trustee William E. Strickland Jr. honored by U.S. Senator Casey at Black History Month celebration in the Capitol
By Cara Masset
Issue Date:
March 4, 2013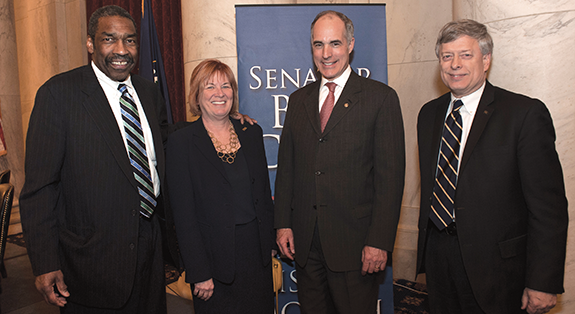 From left, Pitt alumnus and trustee William E. "Bill" Strickland Jr. (A&S '70), president and CEO of the Manchester Bidwell Corporation; Pitt Provost and Senior Vice Chancellor Patricia E. Beeson; U.S. Senator Robert P. Casey Jr.; and Pitt Chancellor Mark A. Nordenberg. (Copyright Martha Rial)
Last week in Washington, D.C., a senator presented an unusual gift to an unusual man—a replica of a ceramic tile from the floor of the hallowed Capitol building, where the nation's legislators have convened for most of American history. The occasion was Pennsylvania U.S. Senator Robert P. Casey Jr.'s Black History Month celebration Feb. 25, when Casey honored the accomplishments of Pitt alumnus and trustee William E. "Bill" Strickland Jr. (A&S '70), president and CEO of the internationally renowned Manchester Bidwell Corporation, an arts education and jobs training center in Pittsburgh that grew out of Strickland's passion for pottery.
"Bill's career began with ceramics and now it has come full circle," Casey said. "He's here in the Capitol of the United States, walking across the ornately patterned and colored tile floors throughout the Brumidi Corridors, where numerous other prestigious men and women have walked before him. So I thought it appropriate to present a man who appreciates beauty, ceramics, and history with a decorative ceramic tile from the floor of the Capitol."
The floor of the Senate chamber is where Casey began heralding Strickland's achievements during the Black History Month event. Before an audience of senators and, in the Senate gallery, invited guests including Pitt Chancellor Mark A. Nordenberg and Pitt Provost and Senior Vice Chancellor Patricia E. Beeson, Senator Casey said: "As I have every year since I came to the Senate, I rise to commemorate Black History Month. This year, we are privileged to recognize Bill Strickland, a man whose approach is unique and whose accomplishments are of great consequence to African Americans and, in fact, to all Americans. …
"Bill believes passionately in the idea that each of us, regardless of race, creed, or ethnicity, is born into this world as an asset, not a liability, and that, when given the right training and opportunity, each of us is capable of world-class results," Casey continued. "Or, in Bill's own words, 'Never give up on the poor kids.' And Bill never has. Today I am proud to share some of the extraordinary achievements that have resulted from Bill's simple but powerful pledge."
Casey then recounted elements of Strickland's story: How he grew up in the Manchester neighborhood of Pittsburgh, on the city's North Side. How he founded the Manchester Craftsmen's Guild in 1968, while still a Pitt student, to bring arts education and mentorship to inner-city youth in his area of the city. How two years later, he graduated cum laude from the University with a bachelor's degree in history and foreign relations. And how, in 1972, he assumed leadership of the Bidwell Training Center—cofounded by Pitt alumnus Rev. James J. Robinson (A&S '51)—and molded it into a successful jobs training program for disadvantaged adults.
Manchester Bidwell Corporation, a nonprofit corporation comprising the guild and training center, has proven to be a successful model for change. Strickland's organization is known for providing an empowering atmosphere of art, light, music, and respect. Through the National Centers for Arts and Technology, the newest segment of the Manchester Bidwell Corporation, the model has been replicated in San Francisco, Cincinnati, Cleveland, New Haven, and Grand Rapids, with 20 other centers in development in Israel, Canada, Ireland, and the United States. The newest center, the Brockway Center for Arts and Technology, is scheduled to open in Brockway, Pa., this spring.
Following Casey's remarks on the Senate floor, a symposium titled "Bill Strickland and Social Entrepreneurship" took place in the same room of the Russell Senate Office Building in which both John and Robert Kennedy announced their campaigns for president and in which both the McCarthy hearings and the Watergate hearings were held. There, a distinguished panel discussed how Strickland has demonstrated that people's lives can be improved when the best practices of entrepreneurial behavior and social change are brought together to give disadvantaged youth and adults the opportunities and skills they need to overcome social and economic barriers to success.
The symposium panelists included Chris Moore, producer and host with WQED Multimedia in Pittsburgh; Sally Osberg, president and CEO of the Skoll Foundation in Palo Alto, Calif.; Kathryn Merchant, president of the Greater Cincinnati Foundation; Carlton Highsmith, board chair for the Connecticut Center for Arts and Technology; former Pitt School of Education faculty member Bruce Jones, who is now a professor of education and political science at the University of South Florida; and Germaine Watkins, a graduate of the Apprenticeship Training Program at Strickland's Manchester Craftsmen Guild and now a photography instructor with the guild. U.S. Senator Sherrod Brown from Ohio, and U.S. Representatives Mike Doyle and Tim Murphy, both from Pennsylvania, were among those in attendance.
"Hearing the panelists who came from all over the country talk about this model that we've developed and why they believe this could make a big difference in the national conversation about education was the highlight of the day," Strickland said later. "I'm deeply grateful to Senator Casey for bringing everyone together for this extraordinary event. It was a meaningful celebration of the work that the center does, not just me."
"It was very moving to join other friends and admirers of Bill Strickland as Senator Casey paid well-deserved tribute to Bill's life of amazing impact from the floor of the United States Senate," Chancellor Nordenberg commented. "Bill has received many national and international honors, but this clearly was one of the truly memorable moments of his life. At the symposium honoring Bill as a social entrepreneur that was held in the Russell Senate Building and attended by a large audience of people from around the country, Bill specifically recognized the important role that the University of Pittsburgh had played in his life. That also was very moving, since Bill is one of our most distinguished graduates and one of our longest-serving trustees, and has been honored in many ways by the University, including as the recipient of an honorary degree."
Strickland's 2002 Pitt honorary Doctor of Fine Arts diploma is now part of a memorabilia collection that Strickland says his mother started for him when he was a child; she kept a chest with clippings of Cub Scout reports and newspaper articles. Since then, his memorabilia collection has grown to reflect his numerous honors, including selection as a MacArthur "genius" Fellow in 1996; being named a Pitt Distinguished Alumni Fellow in 1997; being inducted into the University's inaugural Legacy Laureate class in 2000; being named the 2007 Pittsburgher of the Year by Pittsburgh Magazine; and receiving the 2011 Goi Peace Award from the Goi Peace Foundation in Japan that recognizes individuals and organizations that have made outstanding contributions toward the realization of a peaceful and harmonious world for humanity and all life on earth. He also has added his book Make the Impossible Possible: One Man's Crusade to Inspire Others to Dream Bigger and Achieve the Extraordinary (Currency, 2007).
Strickland is now proud to add another memento to his collection—the decorative ceramic tile from the floor of the U.S. Capitol.
caption
Other Stories From This Issue
There are no stories for the issue at this time.
On the Freedom Road

Follow a group of Pitt students on the Returning to the Roots of Civil Rights bus tour, a nine-day, 2,300-mile journey crisscrossing five states.
Day 1: The Awakening
Day 2: Deep Impressions
Day 3: Music, Montgomery, and More
Day 4: Looking Back, Looking Forward
Day 5: Learning to Remember
Day 6: The Mountaintop
Day 7: Slavery and Beyond
Day 8: Lessons to Bring Home
Day 9: Final Lessons