Homecoming 2008 to Light Up Skies, Offer Reunions, Football, Other Activities
By Patricia Lomando White
Issue Date:
October 20, 2008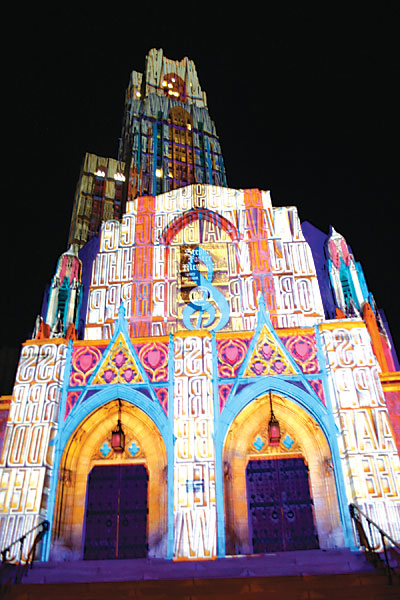 The University of Pittsburgh will welcome alumni, students, and friends with a first-ever Welcome Back reception, a fireworks-and-laser show, the Homecoming Extravaganza, a career-networking event, school reunions, theater performances, and the 3:30 p.m. Oct. 25 football game between the Pitt Panthers and the Rutgers Scarlet Knights during Homecoming 2008, Oct. 23-26.
Homecoming festivities begin with a Legacy Laureate Leadership Panel Discussion from 2 to 5 p.m. Oct. 23 in Posvar Hall, with this year's Legacy Laureates—alumni recognized for their outstanding personal and professional accomplishments—and Pitt alumni and student leaders participating. From 6 to 8 p.m., alumni will offer insights into their occupations at Pathway to Professions: A Career Networking Event, to be held in Alumni Hall's Connolly Ballroom.
New this year is the "Welcome Back Reception" in the Cathedral of Learning Commons Room from 6 to 8:30 p.m. Oct. 24, connecting Pitt alumni from decades past. The Nationality Rooms also will be open to visitors.
The free Pitt Program Council fireworks-and-laser show with explosions of color and music, an annual favorite, begin at 9:30 p.m. Oct. 24 from the closed-off Bigelow Boulevard between the Cathedral of Learning and William Pitt Union. The night festivities continue at the Homecoming Extravaganza at 10 p.m. in the William Pitt Union Union, with Casino Night, music, and refreshments.
The African American Alumni Council (AAAC), in conjunction with Pitt Chancellor Mark A. Nordenberg and Vice Chancellor for Public Affairs Robert Hill, will host a by-invitation reception and program Oct. 24 followed by the opening of Free at Last? Slavery in Pittsburgh in the 18th and 19th Centuries, an exhibition at the Senator John Heinz History Center (see page 1). The AAAC Sankofa Awards presentation will take place during a fellowship brunch, Until We Meet Again, from 11:30 a.m. to 1:30 p.m. Oct. 26. (See accompanying article for additional AAAC activities.) The Homecoming football pregame festivities begin at 1 p.m. Oct. 25 at Heinz Field with the Pitt Panthers World's Largest Family Block Party on Art Rooney Avenue between Gates A and B, featuring a pregame live radio broadcast, games for children, and activities for families.
The Pitt Marching Band will lead the March to Victory parade, following Art Rooney Avenue into Heinz Field. The Homecoming Court will ride in the parade, and the king and queen will be crowned during halftime activities.
Additional Homecoming events include: the School of Law Reunion Weekend and reception, Swanson School of Engineering Homecoming reception, College of Business Administration/Joseph M. Katz Graduate School of Business "51+ Luncheon," School of Dental Medicine reception and tours, School of Education Fireworks Watch, School of Pharmacy Banana Split Party, and Graduate School of Public and International Affairs (GSPIA) and College of General Studies (CGS) 50th anniversary receptions. For information on the GSPIA event, visit www.gspia50.com; for information on the CGS event, visit www.alumni.pitt.edu/homecoming/schedule.html?event=2161146.0.
Throughout homecoming, Pitt Repertory Theatre will present Clean House by Sarah Ruhl, a runner-up for the Pulitzer Prize, and the Kuntu Repertory Theatre will perform Diane's Heart Dries Out Still More, a classic play by the late Rob Penny.
For general information about Homecoming, call the Pitt Alumni Association at 412-624-8229 or 1-800-258-7488 or visit www.alumni.pitt.edu. For tickets to Clean House, call 412-624-7529 or visit www.play.pitt.edu. For tickets to Diane's Heart Dries Out Still More, call 412-624-7298 or visit www.kuntu.org. For ticket information for the football game, call 1-800-643-7488 or visit www.pittsburghpanthers.com.
Other Stories From This Issue
There are no stories for the issue at this time.
On the Freedom Road

Follow a group of Pitt students on the Returning to the Roots of Civil Rights bus tour, a nine-day, 2,300-mile journey crisscrossing five states.
Day 1: The Awakening
Day 2: Deep Impressions
Day 3: Music, Montgomery, and More
Day 4: Looking Back, Looking Forward
Day 5: Learning to Remember
Day 6: The Mountaintop
Day 7: Slavery and Beyond
Day 8: Lessons to Bring Home
Day 9: Final Lessons