Honors College Presents Vietnam War Discussion
By Anthony M. Moore
Issue Date:
March 3, 2014
Nearly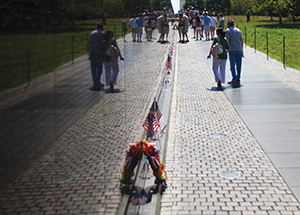 40 years after the fall of Saigon, the Vietnam War continues to be a passionately discussed part of American history. To further that dialogue, the University of Pittsburgh's Honors College will present a panel discussion featuring five of the war's most outspoken experts, journalists, veterans, and scholars.
The event, "Vietnam: New Lessons From an Old War, a Half Century On," will begin at 7:30 p.m. March 4 in Ballroom B of Pitt's University Club. The event is free and open to the public, but seating will be limited. Reservations are recommended.
David Shribman, executive editor of the Pittsburgh Post-Gazette, will moderate the discussion. The panel will feature Peter Arnett, a journalist who won a Pulitzer Prize in 1966 for his war coverage; Bob Kerrey, a war veteran and a former governor and senator of Nebraska; Edward G. Miller, a professor of history at Dartmouth College and widely considered a preeminent expert on Vietnam; Laura Palmer, an award-winning journalist who covered the war from 1972 to 1974; and Thomas J. Vallely, a war veteran and former director of Harvard University's Vietnam Program.
"This event will provide an important opportunity to revisit as well as add new thoughts and opinions about the meaning of the Vietnam War," said event organizer Cynthia Skrzycki, senior lecturer in Pitt's Department of English. "This discussion will not only remind the general public of historically significant events but also reintroduce the Vietnam War to a younger generation who are more familiar with conflicts in the Middle East more so than in the Far East." Skrzycki teaches an honors course that includes the role journalists played in the Vietnam War as well as a Women and Journalism course that examines the roles of female correspondents in Vietnam.
Brief biographies of the panelists follow:
Peter Arnett's career as a journalist spanned more than 50 years. As a news correspondent for the Associated Press, he covered the Vietnam War from 1962 until the fall of Saigon in April 1975. For his coverage of the war, Arnett was awarded the 1966 Pulitzer Prize for International Reporting. After more than 20 years with the Associated Press, Arnett worked for CNN from 1981 to 1999. In subsequent years, he covered major world events for MSNBC, National Geographic, and the London Daily Mirror, among other publications and broadcast news organizations. He retired from journalism in 2007. Arnett taught journalism at Shantou University's Cheung Kong School of Journalism and Communications in China from 2007 to 2013.
Bob Kerrey was governor of Nebraska from 1983 to 1987, and he represented the state in the U.S. Senate from 1989 to 2001. He served as a U.S. Navy SEAL from 1966 to 1969. During the Vietnam War, Kerrey was awarded a Purple Heart, a Bronze Star, and a Medal of Honor—regarded as the nation's highest military honor. He currently serves as the managing director of Allen and Company, a privately held investment bank in New York City, as well as the executive chairman of the Minerva Institute for Research and Scholarship. Previously, he served as president of The New School from 2001 to 2011 and held the position of president emeritus of the university from 2011 to 2013. In 2002, Kerrey published his memoir, When I Was a Young Man (Houghton Mifflin Harcourt), which details his experiences during the Vietnam War.
Edward G. Miller is a professor of history at Dartmouth College and author of the critically acclaimed book Misalliance: Ngo Dinh Diem, the United States, and the Fate of South Vietnam (Harvard University Press, 2013). He is widely considered an expert on Vietnam and is an historian of American foreign relations policies with an emphasis on the Vietnam War. Miller's research examines the Vietnam War from international and transnational history perspectives. His work focuses on the connections between the Vietnam War and the global histories of development, nation building, and counterinsurgency. In addition to Misalliance, Miller is the author of the forthcoming book The Vietnam War: A Documentary Reader (Wiley-Blackwell, 2014).
Laura Palmer is an award-winning author and journalist. She covered the Vietnam War from 1972 to 1975 for ABC News, NBC News, Rolling Stone, and Time. Palmer has written extensively about her experiences for The New York Times Magazine, the New York Daily News, Rolling Stone, and Time, among others. In 2002, she was profiled in the book War Torn: Stories of War from the Women Reporters Who Covered Vietnam (Random House). In a journalism career spanning more than 40 years, Palmer has served as a senior producer for CNN, an independent producer for ABC's Nightline with Ted Koppel, and as a columnist for the New York Daily News, where she was nominated for a Pulitzer Prize. Palmer is the author or coauthor of nine nonfiction books, including The New York Times bestseller Escape (Broadway, 2007). She also has worked as a speechwriter for President Bill Clinton.
Thomas J. Vallely is a senior advisor within the Ash Center for Democratic Governance and Innovation in the John F. Kennedy School of Government at Harvard University. Vallely served in the U.S. Marine Corps during the Vietnam War. He is the former director of the Harvard Myanmar Program, which seeks to broaden and deepen the understanding of the development and democratic governance challenges facing Myanmar. He founded the Fulbright Economics Teaching Program in Ho Chi Minh City in 1994 as well as the Harvard Vietnam Program in 1989. Vallely served in the Massachusetts House of Representatives from 1980 to 1987. He also served as a senior research fellow within Harvard's Kennedy School as well as a political consultant.
Other Stories From This Issue
There are no stories for the issue at this time.
On the Freedom Road

Follow a group of Pitt students on the Returning to the Roots of Civil Rights bus tour, a nine-day, 2,300-mile journey crisscrossing five states.
Day 1: The Awakening
Day 2: Deep Impressions
Day 3: Music, Montgomery, and More
Day 4: Looking Back, Looking Forward
Day 5: Learning to Remember
Day 6: The Mountaintop
Day 7: Slavery and Beyond
Day 8: Lessons to Bring Home
Day 9: Final Lessons