Honors Convocation 2007: Chancellor Nordenberg, Rhodes Scholar Armanios to Speak
By Linda K. Schmitmeyer and Patricia Lomando White
Issue Date:
February 19, 2007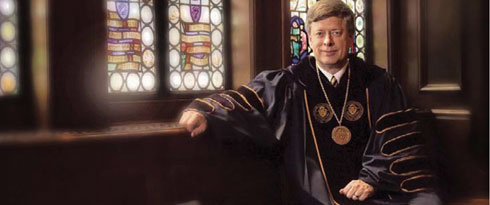 Pitt Chancellor Mark A. Nordenberg will deliver the keynote address at the University's 31st annual Honors Convocation, to be held at 2 p.m. Feb. 23 in Oakland's Carnegie Music Hall. Pitt Honors College senior and 2007 Rhodes Scholar Daniel E. Armanios will join the chancellor as a principal speaker.
Pitt's Honors Convocation annually recognizes undergraduate, graduate, and professional student academic achievement; student leadership; and the accomplishments of faculty and staff. This year's convocation also will mark the kickoff of the 220th anniversary of the University's founding in February 1787. Pitt is one of the oldest institutions of higher learning west of the Allegheny Mountains.
Associate Chancellor Vijai P. Singh, who chairs the committee that helps select commencement and convocation speakers, said, "Our committee assists the Chancellor by identifying potential speakers. Most often, we have focused on recommending outstanding individuals from outside the University. However, this year, both because we will be celebrating the University's 220th birthday and because so much progress has been made under the Chancellor's leadership, we thought it might be best if we heard a more Pitt-oriented presentation from him."
"Originally, the committee suggested that I might want to team with an historian, who could offer some complementary observations on the past," Nordenberg said. "As I thought about it, though, it seemed even more appropriate to include the forward-looking perspectives of a high-achieving student. Daniel Armanios is one of the most accomplished students in the long and proud history of our University, and I am very pleased that he agreed to partner with me by offering remarks on this special occasion."
Nordenberg, Pitt's 17th chancellor, will be delivering the convocation's keynote address at a time when Pitt is enjoying unprecedented successes on many fronts. They include an impressive and growing record of student and faculty achievement, including coveted national and international honors; record-breaking levels of research funding; an ever-expanding role in regional economic development, as well as in broader community development initiatives; and highly ranked athletic programs. The University also recently passed the $1 billion mark in its ongoing capital
campaign.
In addition to his Honors College affiliation, Armanios is a student in Pitt's School of Arts and Sciences and has been designated a Donald M. Henderson Scholar in its School of Engineering. He is pursuing political science and mechanical engineering degrees. Prior to being selected as a 2007 Rhodes Scholar, Armanios had been named a 2005 Truman Scholar and a 2004 Goldwater Scholar. On Feb. 15, he was named a member of the USA Today 2007 All-USA College Academic first team. He earlier had been recognized as part of the USA Today 2006 All-USA College Academic second team and as a 2005 American Helicopter Society Vertical Flight Scholar.
Armanios has been an active participant in Pitt's chapter of the National Society of Black Engineers. He is a member of Pitt's Model United Nations; a founder of Session:Middle East, an undergraduate forum for debating the Arab-Israeli conflict; and an exchange and events editor for the Oxford International Review, working with the United Arab Emirates' embassy in Washington, D.C., to institutionalize an exchange program connecting young American and Emirati scholars.
With his Rhodes scholarship, Armanios will study for Master of Science degrees in management research and dryland science and management at Oxford University in England. His ultimate goal is to pursue a Ph.D. degree in engineering systems and graduate work in public policy and resource management.
Student Awards
Also during Honors Convocation, winners of the Emma W. Locke and the Omicron Delta Kappa (ODK) Senior of the Year student awards will be announced.
Pitt has one of the country's oldest chapters of ODK, an honorary society founded in 1914 at Washington and Lee University in Lexington, Va. The ODK will recognize a student with an exceptional record of leadership in collegiate activities. The Emma W. Locke Award, established in 1946 by Charles A. Locke in memory of his mother, is presented annually to a graduating senior in recognition of high scholarship, character, and devotion to the ideals of the University. The student must have at least a 3.85 GPA and plan to continue his or her education after graduation.
Alumni Honorees
Chancellor Nordenberg and Pitt Alumni Association President Brian Generalovich (CAS '66, DEN '68) will present the 2007 Distinguished Alumni Fellow awards, which recognize outstanding professional achievement and service to the community by Pitt alumni. Recipients of the 2007 alumni awards will be John Louis Colaizzi (B.S. '60), dean of the Ernest Mario School of Pharmacy at Rutgers, The State University of New Jersey, and Jacqueline Weis Liebergott (M.S. '66, Ph.D. '73), president of Emerson College in Boston, Mass.
John Louis Colaizzi is dean of the Ernest Mario School of Pharmacy at Rutgers, The State University of New Jersey. Colaizzi has shepherded the school's expansion—doubling the size of its faculty, enhancing its research funding and academic programs, and raising its reputation as one of the nation's premier schools of pharmacy. Rutgers Board of Governors and the Ernest & Mildred Martha Mario Foundation recognized Colaizzi for his accomplishments with the creation of the John L. Colaizzi Chair in Pharmacy.
Colaizzi has served Rutgers as its longest-standing dean, professor of pharmacy, chair of the university's Presidential Search Committee, and acting vice president for academic affairs. He has published more than 100 articles, papers, and textbook chapters and mentored hundreds of students and faculty members. He received Rutgers' William Levine Teacher of the Year Award for outstanding teaching.
After graduating magna cum laude from Pitt with the Bachelor of Science degree in pharmacy in 1960, Colaizzi earned a master's degree and a doctorate in pharmaceutics at Purdue University. His doctoral research, which was published in the Journal of Pharmaceutical Sciences, earned him the American Pharmacists Association's prestigious Ebert Prize, the country's oldest pharmacy award.
Colaizzi returned to Pitt's School of Pharmacy in 1965 and progressed through the academic ranks to serve as professor, chair, and associate dean. He received Pitt's Outstanding Teacher of the Year award in pharmacy and also was recognized as a Distinguished Alumnus by the School of Pharmacy Alumni Association.
Colaizzi helped lead the creation of a healthcare network that includes, in New Brunswick, N.J., the Robert Wood Johnson University Hospital, where he served as a member and chair of the board of directors. Under his leadership, the hospital strengthened its academic focus and link with the University of Medicine and Dentistry of New Jersey-Robert Wood Johnson Medical School and expanded the number of beds and breadth of services to include a children's hospital, cancer center, cardiac center, and roster of transplantation services. In recognition of his outstanding volunteer service, he received Modern Healthcare magazine's 2003 Trustee of the Year award.
For professional, philanthropic, and civic contributions, Colaizzi earned a governor's citation in 2000 for exemplary service provided to the New Jersey State Board of Pharmacy; the 2002 Community Leaders of Distinction Award from the Middlesex County, New Jersey, Regional Chamber of Commerce; and the Melvyn H. Motolinsky Research Foundation's Distinguished Citizen Award in 2005.
Jacqueline Weis Liebergott, president of Emerson College, is the first woman in the college's 127-year history to hold that office. Liebergott joined Emerson as a professor in the Division of Communication Sciences and Disorders more than three decades ago. She taught the first women's studies course offered at the college, and as a result of her advocacy on behalf of Emerson's female faculty members, gender equity was advanced. She also served as graduate dean, vice president and academic dean, and interim president before becoming president.
As president, Liebergott has helped to enhance Emerson's national reputation, increasing the size and raising the academic credentials of the student body, expanding the number and improving the quality of the faculty, strengthening finances, and restructuring academic offerings to include the first doctoral degree in speech-language pathology.
Under Liebergott's leadership, the college saw the construction of the Norman I. and Mary E. Tufte Performance and Production Center and the renovation and restoration of the Cutler Majestic Theatre, for which Emerson has received national acclaim. She also helped to rejuvenate Boston's Theatre District and restore hope to a historic neighborhood.
Liebergott earned the Master of Science degree in speech in 1966 and the Ph.D. degree in speech and theatre arts in 1973 at the University of Pittsburgh. At Pitt, she developed a research interest in children and served as a senior research assistant in the Learning Research and Development Center. As a speech pathologist at Children's Hospital Boston, Liebergott continued her research on language acquisition and language disorders in children.
Liebergott's scholarly writings include an impressive body of work on communication development and language-impaired children. She served on the editorial boards of such prestigious journals as the Journal of Speech and Hearing Research and the Journal of Speech and Hearing Disorders.
An advocate for education and the arts, Liebergott was a founding member of the Boston Arts Academy, the city's first high school for the arts. She also is a leader in Boston's Professional Arts Consortium, a member of the American Council on Education's Commission on Effective Leadership, a trustee of the Corporation for the Foundation of the Massachusetts Eye and Ear Infirmary, and a member of the New England Council, a leading voice for New England's economy, education, and quality of life.
Liebergott's civic engagements include Friends of the Public Garden, the Downtown Crossing Association, and the Cambridge Partnership for Public Education.
As a champion of women and families, Liebergott founded the first day-care program in Brookline, Mass., that provided the town's first after-school care and became the model adopted by public schools in Brookline and surrounding communities.
Other Stories From This Issue
There are no stories for the issue at this time.
On the Freedom Road

Follow a group of Pitt students on the Returning to the Roots of Civil Rights bus tour, a nine-day, 2,300-mile journey crisscrossing five states.
Day 1: The Awakening
Day 2: Deep Impressions
Day 3: Music, Montgomery, and More
Day 4: Looking Back, Looking Forward
Day 5: Learning to Remember
Day 6: The Mountaintop
Day 7: Slavery and Beyond
Day 8: Lessons to Bring Home
Day 9: Final Lessons