Hookah Smoking Rising, Surprisingly Popular Among College Students
By Amy Dugas Rose
Issue Date:
October 6, 2008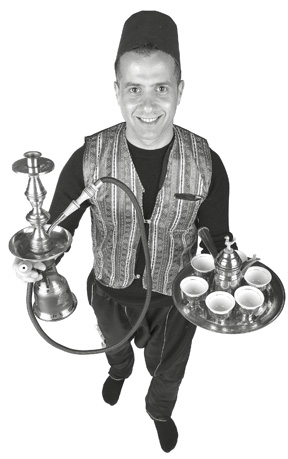 More than 40 percent of college students at a large university have smoked tobacco from a waterpipe, or hookah, according to a Pitt School of Medicine study published online in the Annals of Behavioral Medicine. The study represents the first random sample of U.S. university students to address waterpipe smoking.
"Our study showed that more than one-third of those who used waterpipes to smoke tobacco over the past year had never smoked a cigarette," said Brian Primack, assistant professor of medicine and pediatrics in Pitt's School of Medicine and lead author of the study. "Clearly, young people believe hookah smoking is somehow different than smoking cigarettes, but waterpipe smoke has many of the same chemicals as cigarette smoke and likely poses many of the same health risks."
A waterpipe is used to inhale tobacco that usually is flavored and sweetened. The opening of more than 200 waterpipe cafés in the United States over the past decade demonstrates the popularity of waterpipe smoking. Although the aesthetic appeal of the practice suggests to many users that it is not harmful, studies show that waterpipe tobacco smoke contains many of the same toxins as cigarettes and has been associated with substantial harm and addictiveness.
Researchers received survey responses from 647 undergraduate and graduate students from a large U.S. university. Slightly more than 40 percent of respondents reported they had smoked tobacco from a waterpipe, a little higher than the 39.6 percent who said they had smoked cigarettes. In addition, the study found that 30.5 percent had smoked tobacco from a hookah in the past year and that 9.5 percent had done so in the past 30 days. The results are worrisome, because hookah smoking engaged many young students in tobacco use who would otherwise have been tobacco free, noted Primack.
"We were surprised that the percentage of students who reported ever engaging in waterpipe smoking was actually higher than the percentage of those who have ever smoked cigarettes," said Primack. "Waterpipe smoking may become even more popular in the near future since many of the new smoke-free ordinances being passed by local governments exempt waterpipe cafés. Waterpipe smoking is going to be a crucial public-health issue that will require increased surveillance and study."
Coauthors of the study are Jaime Sidani, health educator at Pitt's Student Health Services; Eric Donny, a Pitt assistant professor of psychology; Aaron Agarwal (A&S '07)' who worked on the project while he was a Pitt undergratuate student in psychology; T. E. Eissenberg of Virginia Commonwealth University; and W.G. Shadel from the RAND Corporation.
The research was supported with funding from the National Cancer Institute, the Robert Wood Johnson Foundation, and the Maurice Falk Foundation.
Other Stories From This Issue
There are no stories for the issue at this time.
On the Freedom Road

Follow a group of Pitt students on the Returning to the Roots of Civil Rights bus tour, a nine-day, 2,300-mile journey crisscrossing five states.
Day 1: The Awakening
Day 2: Deep Impressions
Day 3: Music, Montgomery, and More
Day 4: Looking Back, Looking Forward
Day 5: Learning to Remember
Day 6: The Mountaintop
Day 7: Slavery and Beyond
Day 8: Lessons to Bring Home
Day 9: Final Lessons