Humans of Pitt: Capturing the People of the City and Their Stories
By Amy Whipple
Issue Date:
September 22, 2014
When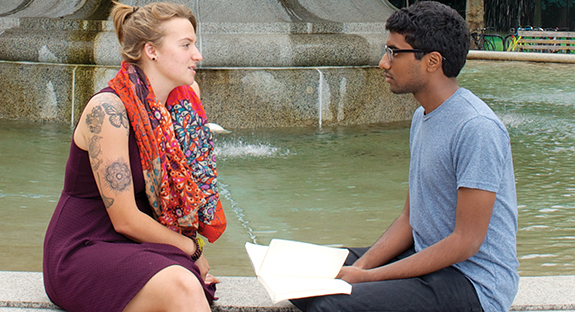 Pitt sophomores Anish Kumar and Sarah Thornton circle Schenley Plaza looking for potential subjects for their Humans of Pitt Facebook page, they're mostly seeking people who appear to have the time to chat. Each person they see is an unknown story and an unknown face—both of which Kumar and Thornton would like to make public on their page, www.facebook.com/humansofpgh.
The two undergraduates—self-described "severe introverts"—are awash with nerves and, as soon as they decide on someone to approach, the arguing starts.
"You talk to them."
"You have to start."
"No, you have to start."
Eventually, someone caves and walks up for an introduction. All it takes is "Hi" before anxiety gives way to the thrill of these quick connections. The pair interviews the subject on topics such as their most vulnerable moment or what their best friends are like. They take photographs to accompany the micro-stories and post the two together online for a viewership of more than 5,500 people who have "liked" the Humans of Pitt page.
Through this project, which is part art and part social experiment, they've documented, for instance, the sparkling wavelength of friendship between two young women, a young man whose identity became severed along with the length of his hair, and freshmen who miss their friends from home. In talking to their subjects, they pass along shared experiences from the human heart.
The Pittsburgh Facebook page is an offshoot of the Humans of New York website, a now world-famous daily catalogue of NYC's inhabitants started by artist Brandon Stanton in 2010. Most cities now have their own Humans, each an exercise in both the distinctiveness of place and the commonality of the human experience.
At the end of spring semester, Kumar felt it was worth trying out a similar project in the Oakland area, thinking, "Pittsburgh is such a cool city, why don't we have Humans of Pitt?" He texted the idea to Thornton who agreed, but only if he'd help.
"It started as a really, really advanced manifestation of procrastination," says Thornton, but "the more stories I heard, the more stories I knew were out there. The way people open up and share their stories is really interesting to me." Playful as the project's beginnings may be, the duo finds that the more people they talk to, the more people they want to talk to. Schedules allowing, they would like to take the project into Pittsburgh's other neighborhoods.
Kumar adds, "I've learned that vulnerability is a very, very big part of the human condition."
It's not surprising that people are willing to talk to Kumar and Thornton. They have friendly faces and come across as somehow both relaxed and buzzing with that unique energy that accompanies a fulfilling project. Thornton is a studio arts major, all flowy skirt and intricately shaded tattoos covering her right shoulder. Kumar is a linguistics major on a premed track, and looks the part in a collared shirt and khaki shorts.
Now that they've found their groove, the two spend only a couple hours a week on the project, mostly banking interviews and photographs and building a queue for an every-other-day posting schedule. Thornton uses the work as a jumping off point for other art projects, and Kumar delights in seeing sociolinguistics at play; he's a New Jersey native enamored by finding Pittsburghese in the wild, as it were.
One interview that resonates deeply with both involved a man and a woman who brought the undergraduates face-to-face with the impact of death. The man was an EMT who spoke about the inevitability of losing some patients. The woman described the moment she arrived at her mother's deathbed as the most vulnerable she's ever been. She cried as the group spoke. Kumar found himself holding back tears.
"The most amazing thing about that was the way the photographs changed [over the course of the interview,]" says Thornton. "Before, they looked so distanced from the whole thing. In the photographs after, their expressions are so much different; they look so raw and emotional and real."
"It's intimidating," Thornton explains. "You don't know what to say." Kumar adds, "Do you comfort them?" They still don't really know.
"I find it very humbling and incredible," says Thornton. "The range of human emotion you see in five minutes is astonishing."
Other Stories From This Issue
There are no stories for the issue at this time.
On the Freedom Road

Follow a group of Pitt students on the Returning to the Roots of Civil Rights bus tour, a nine-day, 2,300-mile journey crisscrossing five states.
Day 1: The Awakening
Day 2: Deep Impressions
Day 3: Music, Montgomery, and More
Day 4: Looking Back, Looking Forward
Day 5: Learning to Remember
Day 6: The Mountaintop
Day 7: Slavery and Beyond
Day 8: Lessons to Bring Home
Day 9: Final Lessons