IBM's Watson Comes to Pitt, Carnegie Mellon
Issue Date:
March 28, 2011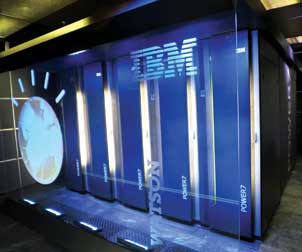 Several students from the University of Pittsburgh and Carnegie Mellon University (CMU) will have a chance to match their wits against Watson—the IBM computer that trumped Jeopardy! champions Ken Jennings and Brad Rutter in February—as part of a daylong symposium Wednesday, March 30, on the Pitt and CMU campuses.
The symposium—which kicks off IBM's national tour of universities in celebration of its centenary—includes a series of discussions with leading Pitt and Carnegie Mellon experts in technology, health care, and law and includes students from the two universities putting their skills to the test in a demonstration of IBM Watson's question-and-answer (QA) capabilities. This is the first time students will have the chance to face Watson's powerful analytical capabilities in a practice exhibition session.
Watson, named after IBM founder Thomas J. Watson, was built by a team of IBM scientists who set out to build a computing system that rivals a human's ability to answer questions posed in natural language with speed, accuracy, and confidence.
The daylong event begins at 9 a.m. in Pitt's University Club, Ballroom B, with a panel discussion titled "Natural Language Process in the World of Business, Law, and Medicine." Pitt Chancellor Mark A. Nordenberg and Randy Bryant, dean and University Professor in Carnegie Mellon's School of Computer Science, will deliver welcoming remarks.
Panelist include David Ferrucci, principal investigator of the DeepQA/Watson Project for IBM; Diane Litman, a Pitt computer science professor and a senior research scientist in Pitt's Learning Research Development Center (LRDC) who is a leading authority on natural language processing; and Eric Nyberg, a professor in CMU's Language Technology Institute. The discussion will be moderated by Bernard Meyerson, vice president for innovation and global university relations for IBM.
Three Pitt presenters also will discuss the real-world applications of natural language processing technologies: Donald Burke, dean of Pitt's Graduate School of Public Health, UPMC-Jonas Salk Chair of Global Health, and associate vice chancellor for global health; Brian Butler, a professor of business administration in the Joseph M. Katz Graduate School of Business and in the School of Medicine whose research interest include information technology's impact on food systems and other geographically embedded markets; and Kevin Ashley, professor of law, a research scientist in LRDC, and adjunct professor of computer science who is an expert on the use of computing for legal reasoning.
The Pitt symposium is open to all Pitt faculty, staff, and students.
Carnegie Mellon also will host its own symposium beginning at 11:15 a.m. in Rangos Ballroom of CMU's University Center, titled "Deep Dive Into Deep QA and Natural Language Technology." Welcoming remarks will be made by Daniel Mossé, chair of computer science in Pitt's School of Information Sciences, and CMU's Nyberg, which will be followed by a technical presentation by Ferrucci.
The afternoon session begins at 1:30 p.m. in CMU's McConomy Auditorium, with a keynote speech by Ferrucci titled "Watson Has a New Job." Welcoming remarks will be made by Ronald Larsen, dean of Pitt's School of Information Sciences, and Rick McCullough, vice president for research at CMU.
The day's capstone event will be the Pitt/CMU student practice session Wednesday afternoon beginning at 2:45 p.m. in McConomy Auditorium: "Let's Play Jeopardy!"
Participating Pitt students are University Honors College undergraduates Danielle Arbogast, a junior majoring in political science; Richard Kester, a senior majoring in history and neuroscience with a minor in chemistry; and Brian Sisco, a junior majoring in computer science with a minor in math. Seating is limited and will be available to Pitt students, staff, and faculty on a first-come, first-served basis (Pitt I.D. required.)
Following the match, Eric Brown, a researcher on IBM's Watson Project; Ferrucci; and Nyberg will field questions from the audience, along with Pitt's Diane Litman and Scott Fahlman, CMU research professor of computer science and language technologies.
Pitt faculty and students are also invited to attend a Webcast of the matchup at the University Club, Ballroom A.
A closing panel discussion from 3:45 to 4:45 p.m. in McConomy Auditorium will wrap up the symposium. Panelists include Brown; Fahlman, a professor in CMU's Language Technology Institute; Ferrucci; and Litman; Nyberg will moderate.
Select symposium sessions and interviews will be webcast live from 11 a.m. to 5 p.m. at www.livestream.com/IBMWatson.
Other Stories From This Issue
There are no stories for the issue at this time.
On the Freedom Road

Follow a group of Pitt students on the Returning to the Roots of Civil Rights bus tour, a nine-day, 2,300-mile journey crisscrossing five states.
Day 1: The Awakening
Day 2: Deep Impressions
Day 3: Music, Montgomery, and More
Day 4: Looking Back, Looking Forward
Day 5: Learning to Remember
Day 6: The Mountaintop
Day 7: Slavery and Beyond
Day 8: Lessons to Bring Home
Day 9: Final Lessons