Innovative Center to Enhance Teaching and Learning
By Anthony M. Moore
Issue Date:
July 11, 2016
Chancellor Patrick Gallagher has announced the formation of Pitt's University Center for Teaching and Learning. The center is among a set of initiatives associated with the University's strategic plan.
The University Center for Teaching and Learning will work with faculty to advance innovative educational practices and principles. As part of this effort, many resources of the current Center for Instructional Development and Distance Education will be dedicated to the creation of new centers and innovative programs focused on teaching, learning, and educational technologies in support of advancing educational excellence.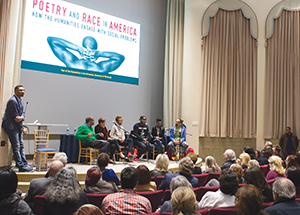 "Launching in the fall of 2016, the University Center for Teaching and Learning will serve as the operational and programmatic heart of Pitt's ongoing focus on creating a robust teaching and learning environment," said Provost and Senior Vice Chancellor Patricia E. Beeson. "This is an exciting example of how the strategic plan is moving the University forward."
"Successful outcomes require a shared vision, teamwork, core knowledge, global perspectives, evolving technology, and diverse partners," said Cynthia Golden, director of the University Center for Teaching and Learning. "Pitt is using these principles to reimagine our approach to teaching and learning in an endeavor that will build upon existing expertise to empower faculty as leading teachers and prepare Pitt students for lives of impact."
Among the key features of this University-wide endeavor will be a set of three affiliated resource centers.
The Center for Diversity in the Curriculum will expand the scope of existing University programs meant to enhance multicultural relations. The center seeks to increase faculty members' capacity to develop course materials reflective of America's increasingly diverse society, increase faculty awareness of diversity issues, and foster inclusive learning environments.
The Mentoring Center will serve as a central resource to support the professional development of Pitt faculty as teachers and scholars. By teaching faculty to be effective mentors and mentees, the center intends to strengthen professional connections between faculty and students.
The Center for Communication will help faculty members articulate the significance of their work to core audiences, including other academic scholars, the media, and the general public.
In addition to the resource centers, the University Center for Teaching and Learning will deploy other programmatic strategies to advance teaching excellence.
The Course Incubator will bring together small teams of experts—such as a faculty expert, an instructional designer, an educational technology specialist, and a learning science researcher—to transform curricula in targeted courses. The incubator's primary objective will be to foster educational innovations based on the latest field research and implement them promptly.
The Teaching and Learning Exchange will work to incorporate the latest research on effective approaches to teaching and learning. Building upon the success of existing Pitt centers in the disciplines, and adding additional centers focused on pedagogical research and teaching in the disciplines, the Teaching and Learning Exchange will create a network of centers to advance the sharing of ideas and best practices among faculty across the University.
The Micro-Credentialing Program will enable faculty to pursue additional credentialing—in such areas as pedagogy, teaching techniques, and professional development—to enhance instructional skills. These same resources will also be applied to enhancing the teaching careers of Pitt graduate students in specific disciplines.
Other Stories From This Issue
There are no stories for the issue at this time.
On the Freedom Road

Follow a group of Pitt students on the Returning to the Roots of Civil Rights bus tour, a nine-day, 2,300-mile journey crisscrossing five states.
Day 1: The Awakening
Day 2: Deep Impressions
Day 3: Music, Montgomery, and More
Day 4: Looking Back, Looking Forward
Day 5: Learning to Remember
Day 6: The Mountaintop
Day 7: Slavery and Beyond
Day 8: Lessons to Bring Home
Day 9: Final Lessons