International Stars Gathering for Pitt Jazz Week
Issue Date:
October 15, 2007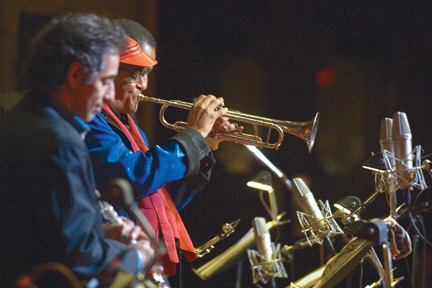 Jazz enthusiasts from throughout the region will converge on campus Oct. 30 through Nov. 3 for the 37th annual Pitt Jazz Seminar and Concert, the longest-running event of its kind in the United States.
Under the theme "Jazz Meets the World," a stellar group of international jazz musicians will hold free on-campus lectures and demonstrations, visit area schools and community venues, and convene for the annual concert at 8 p.m. Nov. 3 in Carnegie Music Hall, 4400 Forbes Ave., Oakland.
Guest performers include Monty Alexander, piano; Randy Brecker, trumpet; Jon Faddis, trumpet; Peter King, alto sax; Benny Golson, sax; Abraham Laboriel, bass; Idris Muhammad, drums; Claus Reichstaller, trumpet; and Yotam Silberstein, guitar.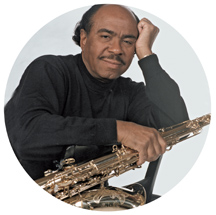 Benny Golson
They will perform under the direction of Nathan Davis, saxophonist, professor of music, and head of Pitt's Jazz Studies Program, and founder of the annual event.
The Nov. 3 concert is a one-of-a-kind performance, given the diverse playing styles and show's impromptu nature. Tickets are $18; students with a valid ID pay $8.
Tickets are available at any TicketMaster location, by phone at 412-323-1919, online at ticketmaster.com, and at the Pitt William Pitt Union (WPU) box office. For more information, call 412-624-4187.
William R. Robinson, District 10 representative on the Allegheny County Council and a former state representative, will serve as the evening's master of ceremonies. While in the Pennsylvania General Assembly, Robinson helped obtain funding for a state-of-the-art, 32-track digital recording facility in Pitt's Music Building. That studio and classroom, which offer students hands-on experience in the latest recording techniques and technology, is now known as the William Russell Robinson Recording Studio.
At intermission, Brecker and Golson will be presented with awards and two other musicians (one living and one deceased) will be announced and inducted into the University of Pittsburgh International Academy of Jazz Hall of Fame.
As a preview to Jazz Week and to set the mood on campus, free performances will be held throughout October in the WPU. The public is invited to bring brown bag lunches and listen to members of the Pitt Jazz Ensemble at the following times:
Today: 3 p.m., WPU lower level
Wednesday: Noon, WPU lobby
Wednesday, Oct. 24: Noon, WPU lobby
Evening Jazz Film/Lectures (Free)
Tuesday, Oct. 30
7 p.m.
Screening: Straight, No Chaser
WPU Assembly Room
A documentary film about the life of pianist and jazz great Thelonious Monk. Produced by Clint Eastwood, it features live performances by Monk and his band and interviews with friends and family about the offbeat genius, considered one of the founders of bebop.
Thursday, Nov. 1
7 p.m.
Heinz Memorial Chapel
"Inside the Music/Television Business"
Paul Silverthorn, associate producer/director for New Jersey Public Television and former personal manager for Grover Washington Jr.

Morning and Afternoon Lecture/Demonstrations (Free)
Friday, Nov. 2
10-11:30 a.m.
WPU Assembly Room
"A Salute to Charlie 'Bird' Parker"
Peter King (alto sax)
1-2:30 p.m.
WPU Assembly Room
"Accent on Strings"
Yotam Silberstein (guitar) and
Abraham Laboriel (bass)
3-4 p.m.
WPU Assembly Room
"The Caribbean/Latin Explosion"
Monty Alexander (piano)
Saturday, Nov. 3
10-11:30 a.m.
WPU Assembly Room
"The Jazz Composer in Film"
Benny Golson (tenor sax)
11:30 a.m.-12:30 p.m.
WPU Assembly Room
"The Master of New Orleans Rhythm"
Idris Muhammad (drums)
1-2:30 p.m.
WPU Assembly Room
"A Salute to Dizzy, Clifford, and Miles"
Randy Brecker (trumpet) and Claus Reichstaller (trumpet)
Community Outreach Appearances
Friday, Nov. 2
1 p.m.
Falk Laboratory School
Monty Alexander (piano)
1 p.m.
Pittsburgh High School for the
Creative and Performing Arts
111 Ninth St., Downtown
Peter King (alto sax)
1 p.m.
Ronald McDonald House
500-512 Shady Ave., Shadyside
Benny Golson (tenor sax)
Saturday, Nov. 3
11 a.m.
The Hill House
1835 Centre Ave., Hill District
Abraham Laboriel (bass)
11 a.m.
Asbury Heights Continuing Care
Community
700 Bower Hill Road, Mt. Lebanon
Randy Brecker (trumpet)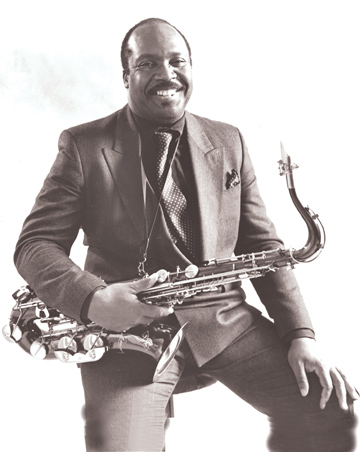 Pitt Jazz Studies Director Nathan Davis was honored recently with a Walt Harper "All That Jazz Award" by Talk magazine. Named for legendary local jazz pianist and club owner Walt Harper, who died in 2006, the award recognized Davis for his personal achievements and contributions to jazz.
Founder and director of Pitt's annual Jazz Seminar and a professor of music at the University, Davis has a PhD from Wesleyan University in Connecticut. He joined the Pitt faculty in 1969 after performing and recording in Europe for 10 years.
The awards were presented Aug. 25 at The Hill House, following a performance by Roger Humphries' "RH Factor Band" and before a concert by The Tim Stevens Project. WTAE-TV reporter Sheldon Ingram served as master of ceremonies.
Also honored with "All That Jazz" awards were Humphries, a renowned Pittsburgh drummer, and Pittsburgh Jazz Society founder and WDUQ jazz host Tony Mowod.
Other Stories From This Issue
There are no stories for the issue at this time.
On the Freedom Road

Follow a group of Pitt students on the Returning to the Roots of Civil Rights bus tour, a nine-day, 2,300-mile journey crisscrossing five states.
Day 1: The Awakening
Day 2: Deep Impressions
Day 3: Music, Montgomery, and More
Day 4: Looking Back, Looking Forward
Day 5: Learning to Remember
Day 6: The Mountaintop
Day 7: Slavery and Beyond
Day 8: Lessons to Bring Home
Day 9: Final Lessons