Jazz Week Capped With Sold-Out Concert
By Sharon S. Blake
Issue Date:
November 12, 2007
It's an event Joe Banadio hasn't missed for 37 years. The longtime saxophonist and string bassist, who splits his time between Pittsburgh and Sarasota, Fla., is a fixture at the annual Pitt Jazz Seminar and Concert, and this year's event was no exception.
Every year, Banadio, 84, makes the drive from Florida to the Pitt campus and attends as many jazz seminars as possible, as well as the concert.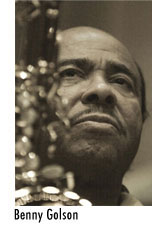 This year's event featured Monty Alexander on piano; Randy Brecker, Jon Faddis, and Claus Reichstaller on trumpet; Peter King and Benny Golson on saxophones; Abraham Laboriel on bass; Cecil Brooks III on drums; and Yotam Silberstein on guitar.
The artists performed under the direction of Nathan Davis, saxophonist, professor of music, head of Pitt's Jazz Studies Program, and founder of the annual event.
Pitt's Jazz Week featured a free lecture by Paul Silverthorn, former business manager for Grover Washington Jr., as well as the musicians' individual lectures on campus and miniclinics at area schools, the Hill House, and the Asbury Heights continuing care center.
After just one rehearsal, the jazz greats convened on stage Nov. 3 at Carnegie Music Hall in a sold-out concert that brought the enthusiastic crowd of 1,900 to its feet.
"The audience was treated to moments of pure beauty, virtuosity, and showmanship, especially in the case of bassist Abraham Laboriel, who is always a ball of energy, slapping his bass as he jumps up and down like someone possessed," wrote Pittsburgh Post-Gazette jazz critic Nate Guidry in his Nov. 6 review.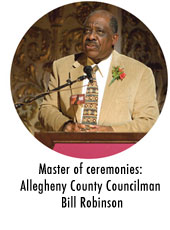 At intermission, trumpeter Brecker received the Pitt Jazz Seminar and Concert Committee Award and sax man Golson was presented with the Pitt International Academy of Jazz Outstanding Lifetime Achievement Award.
Banadio recalls the very first Pitt Jazz Seminar and Concert in 1970, when the workshops by jazz greats like Art Blakey attracted just a handful of people to the William Pitt Union. Now, the event attracts regular jazz buffs and students from as far away as the state of Washington—fans who know that the first Saturday evening in November is always reserved for the city's premier jazz concert.
Despite Banadio's long-standing presence at the event and his long career with the Butler Symphony, the Sarasota Pops Orchestra, and Pittsburgh-area dance bands when local jazz was in its heyday, he says he always learns some new nugget of information at the lectures.
"The seminars are so educational. I mean, these guys have a ton of experience," he said.
But sometimes the tables are turned and Banadio himself is called upon for his expertise. As a longtime golf professional at the Longboat Key Golf Club and Resort in Sarasota, he knows a thing or two about many of the musicians' favorite pastime.
"Jon Faddis, Dizzy, Larry Coryell—a lot of them have asked me for tips on their golf swing over the years," he said.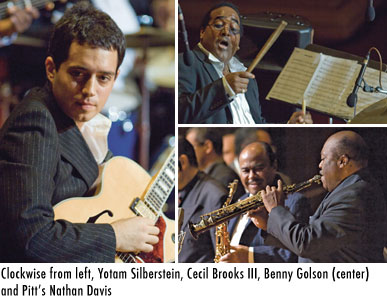 Other Stories From This Issue
There are no stories for the issue at this time.
On the Freedom Road

Follow a group of Pitt students on the Returning to the Roots of Civil Rights bus tour, a nine-day, 2,300-mile journey crisscrossing five states.
Day 1: The Awakening
Day 2: Deep Impressions
Day 3: Music, Montgomery, and More
Day 4: Looking Back, Looking Forward
Day 5: Learning to Remember
Day 6: The Mountaintop
Day 7: Slavery and Beyond
Day 8: Lessons to Bring Home
Day 9: Final Lessons