Jesse Irwin: Riffs and Raves on Pitt Tonight
By Cristina Rouvalis
Issue Date:
October 3, 2016
Jesse Irwin strides down a backstage hallway in the Stephen Foster Memorial's Henry Heymann Theatre as a TV camera records his every step. Trumpets herald his arrival as though touting Jimmy Fallon or Stephen Colbert. But all the excitement is for one of Pitt's own.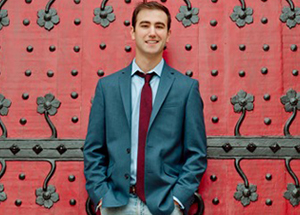 The host of Pitt Tonight steps from behind the red curtain at 8 p.m. and walks onstage. The crowd, filled with Pitt students, erupts into cheers. Irwin, a 22-year-old senior, swings his arms as though hitting a golf ball to his fellow students. Then he jumps in the air, timing his landing to the band's final notes of the song.
Wearing a blue power suit with a blue-and-tan striped tie, he lets the applause wash over him before delivering his monologue for Pitt's own late-night talk show. He ticks off a few news items, including the fact that Pitt Tonight was nominated for two College/University Emmys.
"Student Emmys—they're like real Emmys, but they're still on their parents' cell phone plan."
Ba dum.
The joke gets a big laugh, as do others that riff on current headlines.
In the spring, the show was nominated by the National Academy of Television Arts & Sciences' Mid-Atlantic Chapter in a student production category—Arts and Entertainment/Cultural Affairs—and Irwin was nominated in the talent category.
Word of mouth about the monthly show continues to spread, and on this night, the Season 2 premiere has drawn a packed house of about 500 students. Others can catch some laughs later on their laptops by downloading Pitt Tonight, which is broadcast via the Internet instead of traditional TV.
The inspiration for the late-night comedy show came to Irwin in February 2014 when he saw Jimmy Fallon's first appearance on The Tonight Show. "This is incredible," he thought.
Of course, there is hardly a shortage of college students hoping to become the next Jimmy. But Irwin, majoring in political science with a self-designed TV major, went beyond daydreaming.
He pitched his idea to various on-campus student groups, but did not get the green light from any of them. So he decided to form his own student club. In summer 2015, he wrote up its constitution and planned the show. That fall, he held a meeting for potential members, and more than 30 people showed up for the first session, ready to work. They held cameras, formed a house band, wrote jokes in a writer's room. The first episode was taped on Dec. 14, 2015.
"Jesse is one of the most passionate people I have ever met," says Hayley Ulmer, the show's executive producer and a junior theater major. "He knows everyone by name in the 70-person club. It was his idea, but at the same time, he is so interested in what everyone else has to say."
He's also a talented comedic improviser. "It's a live show. A lot of what happens is spontaneous," Ulmer adds. "If something goes wrong, you can't tell. He just runs with it."
The people skills that make him popular with his staff make him a natural host for the guests on his show. From behind his desk, Irwin has interviewed a Who's Who list of locals—Pitt Chancellor Patrick Gallagher, Mayor Bill Peduto, Ophelia Ferguson (a Market Central cashier), and forensic pathologist Cyril Wecht.
On this recent episode, the guest is Bill Hillgrove, Pitt's legendary sports announcer.
Weeks before the show, Irwin had a spark of inspiration. Having announced Pitt football and basketball games himself, he makes a suggestion to the writer's room: a skit that gives a play-by-play of a nonsporting event that an everyday student encounters. Head writer Phil Forrence and his staff toss around ideas until they settle on a skit following an awkward guy as he tries to pick up a pretty young woman at a party. Shannon Kelly, a junior fiction writing major, writes the skit.
For all their comedic bits, the writers run through a lot of jokes before hitting on something funny. "It's all about volume," says Forrence, a junior computer engineering major. "If you try 500 jokes, you're bound to have 10 good ones."
Forrence loves writing jokes for Irwin. "He likes to be silly, but he doesn't like to exclude people. He likes the positive jokes."
When the 30-minute premiere episode concludes, Irwin sticks around with his staff as they all chip in to take down the set. There is no basking in the limelight. The day after, the young talk show host is already thinking about the next episode—the riffs, the guests, the possibilities ahead.
Other Stories From This Issue
There are no stories for the issue at this time.
On the Freedom Road

Follow a group of Pitt students on the Returning to the Roots of Civil Rights bus tour, a nine-day, 2,300-mile journey crisscrossing five states.
Day 1: The Awakening
Day 2: Deep Impressions
Day 3: Music, Montgomery, and More
Day 4: Looking Back, Looking Forward
Day 5: Learning to Remember
Day 6: The Mountaintop
Day 7: Slavery and Beyond
Day 8: Lessons to Bring Home
Day 9: Final Lessons