John M. Petersen—Businessman, Philanthropist, and Pitt Benefactor—Dies
Issue Date:
June 15, 2015
John M. Petersen, retired CEO of the Erie Insurance Group, and a civic leader, entrepreneur, and philanthropist, died May 30, 2015, in Savannah, Ga., following a two-year battle with cancer. He was 86 years old.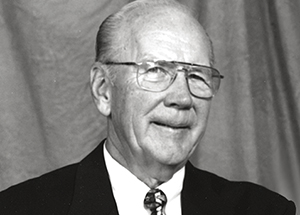 A University of Pittsburgh alumnus, Petersen and his wife, Gertrude, have been generous benefactors of Pitt, donating $10 million in 1999 toward the construction of the University's Petersen Events Center. At the time, the donation was the largest individual gift in University history. Another substantial gift funded Pitt's Petersen Sports Complex. The couple endowed the Petersen Institute of NanoScience and Engineering as well as the deanship of Pitt's School of Medicine. They have also provided scholarships to numerous students over the years.
"We are all saddened by his death," said Pitt Chancellor Patrick Gallagher. "John was an exceptional individual, and we were proud to claim him as an alumnus. In addition to having his own extremely successful career in business, John set an example for many others by his steadfast belief in and support of the University of Pittsburgh, which helped Pitt become the outstanding institution it is today.
"His investments in Pitt's future were strong examples of his belief in the progress that Pitt was making," Gallagher continued. "His generosity and his interest extended across all aspects of the University, both academic and athletic. We have lost not only a remarkably generous benefactor but also a man whose values, commitment, and focus have had an immeasurable positive impact on the University of Pittsburgh."
Born and raised in Erie, Pa., John Petersen was the son of Peter Christ Petersen and Margaret Hauer Petersen. His father was a commercial fisherman, and as a young boy growing up during the Great Depression, Petersen learned important life lessons catching and selling bait, building fish crates, and working on his father's boat. He was a graduate of East High School and attended Gannon University. After serving in the United States Army at Fort Knox, Ky., he enrolled at the University of Pittsburgh, where he earned his bachelor's degree in business administration in 1951 and was a member of the varsity swim team.
Following his graduation from Pitt, Petersen began his business career at General Electric in Bridgeport, Conn., but in 1962, he returned to his hometown to join the Erie Insurance Company as an investment officer. Over the course of a 33-year career as a part of the Erie Insurance management team, he held a succession of increasingly important positions, including treasurer, chief investment officer, chief financial officer, executive vice president, president and chief executive officer, and director.
Throughout his career, John provided an inspiring model of both the value of working hard to achieve goals and of maintaining the highest standards of integrity. His efforts contributed significantly to the growth of the company, which joined the ranks of the Fortune 500 and became an increasingly important employer and corporate citizen of the Erie region.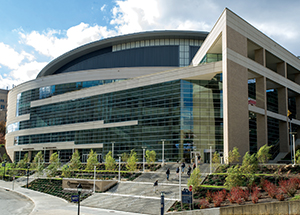 When Petersen joined the company as an investment officer in 1962, the property/casualty assets of Erie Insurance were valued at $20 million. By the time he retired as president and CEO in 1995, its asset value had climbed to $4.6 billion. Even after stepping down as president and CEO, Petersen served on the company's Board of Directors and also continued to manage its equity holdings. By the time he left the board and relinquished those investment responsibilities in 2003, the company's asset value had risen to $8 billion, a record that led the company's current board chair to refer to Petersen as "Erie's Warren Buffet."
After retiring as president and CEO, Petersen and his wife of 64 years, Gertrude Schmidt Petersen, retired to Bonita Springs, Fla. However, he returned to Erie to spend summers with friends and family, where he also continued to enjoy spending time on the beach and sailing on the lake and added golf to his list of activities.
Throughout his life, Petersen gave his time and expertise to a variety of professional and civic organizations, including service on the boards of directors of the National Association of Independent Insurers, ClearCount Medical Solutions, Inc., the American Museum of Historical Documents, and the Gallery of History, Inc. He was a member of the board of directors of Hamot Hospital, provided adult leadership for Boy Scout Troop 122 at St. Peters Church, and was a supporter of the Erie Foundation, Penn State-Erie, and Gannon University. He also received Gannon's Distinguished Pennsylvanian Award.
Reflecting their shared belief in the power of higher education, John and Gertrude Petersen endowed college scholarships for students in financial need from their high school alma maters, East High School and Strong Vincent High School. That same commitment to higher education led to a series of extraordinary gifts to the University of Pittsburgh. The couple was inducted into Pitt's Cathedral of Learning Society. Petersen was further honored by the University as a Distinguished Alumni Fellow and as a Legacy Laureate. He also was a recipient of the University of Pittsburgh's Chancellor's Medal.
Throughout his life, Petersen was deeply committed to his family. In addition to his wife, Gertrude, he is survived by two daughters, Joan Petersen Chalikian (David) of Savannah, Ga., and Patricia Petersen Rickloff of Bonita Springs, Fla.; by a son, John C. Petersen of Atlanta, Ga.; and by five grandchildren: Jennifer and Catherine Chalikian and Peter, Marissa, and Matthew Rickloff. He is also survived by a brother, Richard Petersen (Dorothy) of Shelby Township, Mich., and a sister, Mary Lou Petersen Carlson (Erland) of Clymer, N.Y. A funeral service was held June 6 in Erie.
Other Stories From This Issue
There are no stories for the issue at this time.
On the Freedom Road

Follow a group of Pitt students on the Returning to the Roots of Civil Rights bus tour, a nine-day, 2,300-mile journey crisscrossing five states.
Day 1: The Awakening
Day 2: Deep Impressions
Day 3: Music, Montgomery, and More
Day 4: Looking Back, Looking Forward
Day 5: Learning to Remember
Day 6: The Mountaintop
Day 7: Slavery and Beyond
Day 8: Lessons to Bring Home
Day 9: Final Lessons