Katz's Murrell Named Director of the Berg Center for Ethics and Leadership
Issue Date:
November 12, 2007
University of Pittsburgh Professor Audrey Murrell has been named the new director of the David Berg Center for Ethics & Leadership in the Joseph M. Katz Graduate School of Business (KGSB) and College of Business Administration. Murrell is a professor of business administration in KGSB, with joint appointments in the Graduate School of Public and International Affairs and Department of Psychology in the School of Arts and Sciences.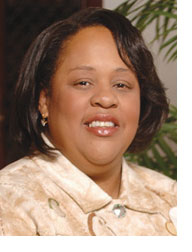 The David Berg Center for Ethics & Leadership was created through a generous gift from David Berg, an alumnus of the University, to be an outstanding center for the understanding, promotion, and development of ethical business leadership. The center focuses on the education of undergraduate business students through a certificate program in leadership and ethics that immerses students in the principles of ethics and leadership. It also supports important research into the area of ethics and leadership by faculty and undergraduate students.
The center also invites members of the business community to share their expertise in the classroom and in strategic planning for the center, as well as by contributing to ongoing education in business ethics through outreach events.
Murrell joined the University of Pittsburgh in 1987. She conducts research, teaches, and works with organizations on strategies to enhance overall effectiveness by utilizing their most valuable assets—human and social capital. She conducts extensive research on building capacity of people and outcomes at work with a special emphasis on enhancing outcomes for women. This includes topics such as mentoring, breaking the "glass ceiling," diversity, and workplace discrimination. Her work has been published widely in management and psychology journals, and she is the author (with Faye Crosby and Robin Ely) of Mentoring Dilemmas: Developmental Relationships Within Multicultural Organizations (Lawrence Erlbaum Associates, 1999), and the forthcoming book (with Sheila Forte and Diana Bing) Blue Mentoring: Innovative Mentoring for Organizational Learning at IBM.
Murrell serves as a consultant in the areas of mentoring, organizational effectiveness, teamwork, diversity, and leadership development. Her clients have included Alcoa, IBM, Heinz, Bayer, Eli Lilly, Kaiser Permanente, FedEx Ground, Executive Leadership Council, YWCA, Carnegie Libraries, Human Engineering Research Labs, and several universities.
She also has served on the Allegheny County Department of Minority, Women, and Disadvantaged Business Enterprises Certification Appeals Board and is a former chair of the Gender and Diversity in Organizational Division of the Academy of Management. Audrey is also the chair of the board of directors for Urban Youth Action Inc.
Murrell received the Ph.D. and M.S. degrees in psychology from the University of Delaware in 1987 and 1985, respectively, and the B.S. degree in psychology, magna cum laude, from Howard University in 1983.
Other Stories From This Issue
There are no stories for the issue at this time.
On the Freedom Road

Follow a group of Pitt students on the Returning to the Roots of Civil Rights bus tour, a nine-day, 2,300-mile journey crisscrossing five states.
Day 1: The Awakening
Day 2: Deep Impressions
Day 3: Music, Montgomery, and More
Day 4: Looking Back, Looking Forward
Day 5: Learning to Remember
Day 6: The Mountaintop
Day 7: Slavery and Beyond
Day 8: Lessons to Bring Home
Day 9: Final Lessons