Katz MBA Student Leads Drive for Global War on Terror Memorial
By LaMont Jones Jr.
Issue Date:
September 19, 2016
Andrew Brennan, a veteran of the war in Afghanistan, is on something of a crusade.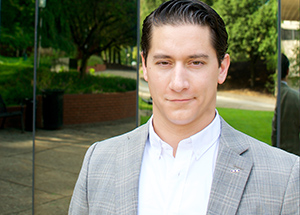 An MBA student in Pitt's Joseph M. Katz Graduate School of Business, Brennan is the founder and executive director of the nonprofit Global War on Terror Memorial Foundation. His mission: to create a monument to memorialize post-9/11 veterans on the National Mall in Washington, D.C.
The effort faces significant hurdles, including a federal law requiring that a war must have been finished for at least 10 years before a memorial can be considered.
Undaunted, Brennan, 31, is pushing ahead. He believes such a memorial could help bridge a "disconnect" between the American public and the nearly three million U.S. military personnel who have served in post-9/11-related conflicts.
"This memorial is an opportunity to open up the dialogue," he says. "It's going to allow us to heal, allow us to honor, allow us to remember, and hopefully allow us to educate."
The movement toward such a memorial is picking up steam, including the Sept. 12 introduction of a bill in the U.S. House of Representatives that would authorize the Global War on Terror Memorial Foundation to establish the memorial on the National Mall. Rep. Ryan K. Zinke, a Montana Republican and retired Navy SEAL, submitted the measure, which would exempt the Global War on Terror Memorial from federal restrictions on such war monuments. The bill provides no federal funds to the foundation.
A native of Penn Hills, Brennan graduated from Central Catholic High School and attended Carnegie Mellon University on an ROTC scholarship. He left after his freshman year to enroll in the United States Military Academy in West Point, N.Y., in 2004.
Following graduation, Brennan became an Army aviator and was deployed to Afghanistan in 2010 as a platoon leader in a Blackhawk assault helicopter company. Discharged in 2012, he began working in logistics for a large U.S. retailer, but soon found that he needed a change.
"The job responsibilities of that position didn't exactly hold my interest after flying and leading in combat, which is a common veterans' issue upon returning to civilian life," he recalls. "I went hiking for six months out West on the Continental Divide Trail in summer 2014 to 'find myself' and figure out what my next passion in life was going to be."
The idea for the memorial came as he witnessed hundreds of veterans motorcycling through Albuquerque, N.M., on their way to the Vietnam Veterans Memorial in Washington, D.C. The motorcyclists were participating in the annual Rolling Thunder memorial rally to the nation's capital.
As Brennan watched, the idea clicked: The motorcycling veterans had been brought together by the Vietnam Veterans Memorial. Brennan said he realized then that his generation of veterans needed their own memorial as a rallying point. The idea for a global war on terror memorial was born.
Brennan envisions the memorial as a source of pride and healing for returning troops. In addition, he says, it will be an educational tool to promote awareness among a public that, he feels, respects U.S. military service personnel but doesn't really understand them.
Public memorials can educate and unite, while helping to "create and consolidate a national identity," says Kirk Savage, an expert on memorials and a professor in Pitt's Department of History of Art and Architecture.
Savage adds, however, that Brennan's mission, while noble, faces several major hurdles.
First, the federal Commemorative Works Act of 1986 says a war must have been over for at least 10 years before a memorial can be considered. The global war on terror, an informal and controversial name given to U.S. anti-terrorism military operations following the 9/11 attacks, is still underway and open-ended.
Second, there is a moratorium on new-monument construction on Washington, D.C.'s National Mall to prevent overcrowding.
In addition, Savage notes, there is public division over the war on terror, with some Americans wanting to end the presence of U.S. ground troops in certain areas.
Nevertheless, Savage says, it is possible that the memorial efforts could be successful. "Anything could happen if you get enough public support behind you."
Brennan and his team are working on just that. The organization's advisory board includes Gen. David Petraeus, a former CIA director and retired Army commander in Afghanistan and Iraq; James T. Conway, a retired U.S. Marine Corps four-star general; and George W. Casey Jr., a retired U.S. Army general who served as Commanding General, Multi-National Force–Iraq. A key advisor is Army veteran Jan Scruggs, who initiated the idea of a Vietnam Veterans Memorial, which opened on the Mall in 1982.
The foundation's volunteer team has been active since February, lobbying Congress and building a coalition of Democratic and Republican legislators to get the Commemorative Works Act amended.
Brennan estimates the project will cost between $60 million and $100 million—and its construction will take between eight to 10 years. Fundraising began in November 2015 and donors have given about $60,000, he said. He expects giving levels to increase substantially as the effort gains traction in military and veteran communities, and after the legislative hurdles are cleared.
Meanwhile, at Pitt, Brennan has completed an independent study course geared toward helping him achieve some of the foundation's goals.
"The Katz team," says Brennan, "has been very supportive of my pursuing a unique career path."
Other Stories From This Issue
There are no stories for the issue at this time.
On the Freedom Road

Follow a group of Pitt students on the Returning to the Roots of Civil Rights bus tour, a nine-day, 2,300-mile journey crisscrossing five states.
Day 1: The Awakening
Day 2: Deep Impressions
Day 3: Music, Montgomery, and More
Day 4: Looking Back, Looking Forward
Day 5: Learning to Remember
Day 6: The Mountaintop
Day 7: Slavery and Beyond
Day 8: Lessons to Bring Home
Day 9: Final Lessons