Klunk and Mathis Win Prestigious Potamkin Prize For Alzheimer's Research
Issue Date:
April 27, 2008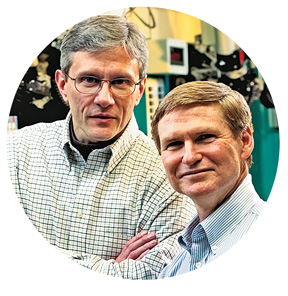 University of Pittsburgh researchers William E. Klunk and Chester A. Mathis were awarded the 2008 Potamkin Prize for their work in Alzheimer's disease research.
The Potamkin Prize is a memorial award given to researchers who have made outstanding contributions to the study of Alzheimer's disease and related dementias. Over the years, this award has been given to some of the most recognized scientists in the field and has become known as the "Nobel Prize of Neurology."
The prize was awarded to Klunk, a professor of psychiatry in Pitt's School of Medicine, and Mathis, a professor of radiology in the medical school, in recognition of their invention and development of the amyloid plaque imaging compound, Pittsburgh Compound B (PiB). This radioactive compound, when coupled with positron emission tomography (PET) imaging, can be injected into the bloodstream to enable researchers to visualize the brains of people with the memory-stealing illness and see the location and distribution of the beta-amyloid plaque deposits associated with Alzheimer's. These plaques, which are thought to kill brain cells, distinguish Alzheimer's disease from other dementias.
"Pittsburgh Compound B offers the first definitive way to detect Alzheimer's disease in living patients and—as soon as it's cleared for clinical use—will expand early diagnostic and potential treatment options for people with this complex and devastating illness. I applaud Bill and Chet on this well-deserved honor and join with the entire research community here at Pitt in congratulating them," said Arthur S. Levine, senior vice chancellor for the health sciences and dean of the School of Medicine at Pitt.
"Bill Klunk and Chet Mathis are two of the best examples of the superb researchers at the University of Pittsburgh Alzheimer's Disease Research Center who are fighting this dread disease," said Steven T. DeKosky, chair of the Department of Neurology and director of the University of Pittsburgh Alzheimer's Disease Research Center.
The $100,000 prize is to be used toward continuing Alzheimer's research and will be shared equally among Klunk, Mathis, and Alzheimer's researcher Clifford R. Jack Jr. of the Mayo Clinic.
Other Stories From This Issue
There are no stories for the issue at this time.
On the Freedom Road

Follow a group of Pitt students on the Returning to the Roots of Civil Rights bus tour, a nine-day, 2,300-mile journey crisscrossing five states.
Day 1: The Awakening
Day 2: Deep Impressions
Day 3: Music, Montgomery, and More
Day 4: Looking Back, Looking Forward
Day 5: Learning to Remember
Day 6: The Mountaintop
Day 7: Slavery and Beyond
Day 8: Lessons to Bring Home
Day 9: Final Lessons