The Knowledge Engine, Harrisburg should learn what Washington knows: Research universities generate jobs and economic growth
By Mark A. Nordenberg
Issue Date:
February 23, 2009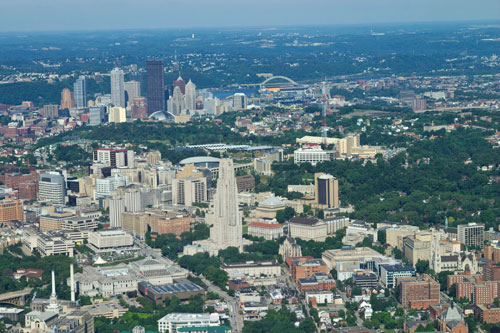 (This article by Chancellor Nordenberg was first published on Feb. 1, 2009, as a "Sunday Forum" opinion piece in the Pittsburgh Post-Gazette.)
Just last spring, residents of this region celebrated the fact that Pittsburgh had reclaimed its rightful ranking as America's "most liveable" city. However, as the global economic crisis deepened and job losses began rising to frightening levels, pride in regional amenities gave way to understandable anxieties connected to the suddenly more perilous process of simply continuing to make a living.
In this highly challenged economy, some measure of comfort can be drawn from characterizations of Pittsburgh as a comparatively "recession-proof" city. Those assessments, though taking many forms, all have identified our region's companion strengths in education and health care as the key to economic stability and growth.
A positive, front-page article in The New York Times described Pittsburgh's passage through a process of "deindustrialization" to an economy grounded in university-based research. A Miami Herald column enviously cited research as the foundation for Pittsburgh's transformation into a "Knowledge City." And the Cleveland Plain Dealer analyzed at length lessons from "Pittsburgh's renaissance" that might be applied there.
In the Plain Dealer article, David Bergholz, a Cleveland-based foundation executive who earlier had been a respected civic leader here, described a "growing gulf" between Cleveland and Pittsburgh in higher education. Referring to the unique partnership of Carnegie Mellon University and the University of Pittsburgh, the presence nearby of West Virginia University as a third research center, and the position of UPMC as the area's largest employer, he noted, "You don't have an equivalent of Pitt in Cleveland. It's a big engine, both regionally and nationally."
Pitt has helped advance this region for more than two centuries as an educational institution. More recently, it also has become one of the country's leading research centers, with annual research expenditures now exceeding $640 million. These expenditures alone support more than 23,000 local jobs and represent a return of more than $3.60 for every dollar of Pitt's state appropriation.
The beneficial impact of those funds, as they move through the economy, extends far beyond those actually employed in Pitt labs—from the non-University employees who build the research facilities, to the private companies that supply them, to the businesses that meet the needs of the people who work there.
In a Dec. 14 Post-Gazette column, Harold Miller, a highly regarded analyst of regional economic trends, confirmed that our local economy has been doing better than most. He asserted that a major reason for our relatively enviable position was the fact that fully "one-fifth of the jobs in the Pittsburgh region ... are in the two most recession-resistant sectors: health care and higher education." This places Pittsburgh at a distinct advantage, he made clear, not only with respect to Cleveland but compared to almost every other major metropolitan region of the country.
Even more recently released statewide employment data support this assessment. According to a Jan. 22 report by the state Department of Labor & Industry, Pennsylvania lost more than 27,000 jobs in December. The single bright spots were the education and health services sectors, which added 1,500 jobs and set a record-high job count that month.
Mr. Miller also pushed beyond the present and raised a question critical to our community: How long will our region be able to maintain this comparative advantage?
The answer is heavily dependent on the level of priority assigned to public investments in Pennsylvania's public research universities, which now compete on an uneven playing field and face stiff challenges for research dollars from better-funded competitors.
Signs on the federal front are encouraging. Though bipartisanship began to fray within days of President Barack Obama's inauguration, there seems to be a widely shared recognition in Congress that well-targeted investments will be required to return our struggling national economy to a position of strength. And the economic stimulus package moving forward in Washington is grounded in a clearly stated commitment by the Obama administration to "increase federal support for research, technology, and innovation for companies and universities so that American families can lead the world in creating new advanced jobs and products."
As a general matter, state funding trends have not placed a similarly high priority on the unique educational and economic contributions flowing from Pennsylvania's public research universities. Pitt's state appropriation, which once represented nearly one-third of the University's operating budget, has fallen to slightly more than 10 percent today, with many competitor universities still receiving two to three times that level of support from their home states.
In recent years, the decline has been even more dramatic. Since 2001, the overall state budget has increased by nearly 40 percent, and inflation has risen by almost 27 percent, but the state's direct investment in Pitt has decreased by more than 5 percent, with the appropriation remaining essentially flat over that eight-year period if federal matching dollars are counted as a form of state support. The trend lines for Penn State and Temple are similar.
In the current economic environment, it seems unlikely that there will be room for any funding trends to improve dramatically, and every institution can fairly be asked to share in the sacrifices required to see the state and country through these troubled times. However, an important sense of context was provided more than two centuries ago by Benjamin Franklin, when he said, "An investment in knowledge always pays the best interest."
That timeless view is supported by current data and seems to be alive and well in Washington. Hopefully, Mr. Franklin's words of wisdom also will echo through the halls of his own state Capitol in Harrisburg as this year's state budget-building process moves forward.
Other Stories From This Issue
There are no stories for the issue at this time.
On the Freedom Road

Follow a group of Pitt students on the Returning to the Roots of Civil Rights bus tour, a nine-day, 2,300-mile journey crisscrossing five states.
Day 1: The Awakening
Day 2: Deep Impressions
Day 3: Music, Montgomery, and More
Day 4: Looking Back, Looking Forward
Day 5: Learning to Remember
Day 6: The Mountaintop
Day 7: Slavery and Beyond
Day 8: Lessons to Bring Home
Day 9: Final Lessons