The Laughlin Endowed Fund in Education and Brian Wargo
Issue Date:
January 26, 2009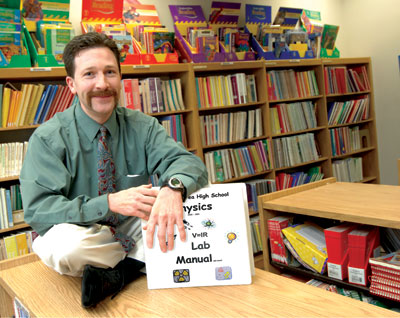 It's 3:30 in the afternoon, and Brian Wargo, a University of Pittsburgh doctoral student in science education, is dashing off to teach a class of Pitt students working toward their master's degrees in education.
The 37-year-old Wargo is on a yearlong sabbatical from his day job as a high school science teacher in the Freedom Area School District in Beaver County, Pa. As part of his doctoral research, Wargo is teaching the graduate students how to incorporate the practice of argumentation in the science classroom. In essence, he is teaching them how to get their future students to engage in meaningful scientific dialogue.
"The idea is to get students to explain why they have confidence in their scientific claims" explains Wargo. "They learn how scientific inquiry plays out using nature as the arbiter."
"In science, it's important to be able to make persuasive arguments so you can convince other scientists. I'm teaching my graduate students, who have either undergraduate or advanced degrees in science, how to get their students to think, act, and talk like scientists," he adds.
His classroom technique is unique, and it is the basis of his doctoral research and dissertation. He explains that research has found that traditional teaching techniques in science might not be enough to prepare students to work in the field. Scientists spend a great deal of time discussing solutions to the problems they are attempting to solve.
Wargo is passionate about teaching and bringing about classroom reform. That is why he was selected as the inaugural recipient of the Laughlin Endowed Fund in Education, created by Pitt Trustee Terry Laughlin (KGSB '81).
"It was important to me that the recipient of the scholarship have teaching experience and have intentions to return to the classroom," says Laughlin. "I think it is important to have well-qualified and well-educated teachers in the classroom with our students."
Laughlin, who has spent his career in the banking industry and was recently appointed as the new CEO of IndyMac, notes that he made this specific gift because he believes education is an important investment to make for the future.
The Laughlin Endowed Fund will help Wargo through these months of living life as a graduate student.
"For me, this scholarship has given me both an economic and psychological boost," says Wargo. "It's wonderful to realize that there is someone out there who really values what I am trying to do. It makes giving up my weekends, evenings, and the little bit of extra money I have worthwhile."
"The reason I'm taking a sabbatical is because I feel so strongly about teaching; I just don't want to be spread too thin," Wargo explains.
Laughlin and Wargo have had the opportunity to meet on a few occasions. Laughlin says, "I have been so impressed with Brian's passion for what he is doing. I know he's going to make a difference in the lives of generations of students."
And that is precisely Wargo's hope. He cites Thomas Friedman's book The World Is Flat and its contention that the United States needs to shift up a notch its commitment to science and math education, particularly at the precollege level, to maintain the nation's competitive edge.
"Hopefully, the research I'm doing will be one very small piece of making that shift happen here," Wargo says.
Other Stories From This Issue
There are no stories for the issue at this time.
On the Freedom Road

Follow a group of Pitt students on the Returning to the Roots of Civil Rights bus tour, a nine-day, 2,300-mile journey crisscrossing five states.
Day 1: The Awakening
Day 2: Deep Impressions
Day 3: Music, Montgomery, and More
Day 4: Looking Back, Looking Forward
Day 5: Learning to Remember
Day 6: The Mountaintop
Day 7: Slavery and Beyond
Day 8: Lessons to Bring Home
Day 9: Final Lessons