Laughlin, McGalla, Salter, and Tritch Advance as New Candidates for Membership on Pitt's Board of Trustees
Issue Date:
June 25, 2007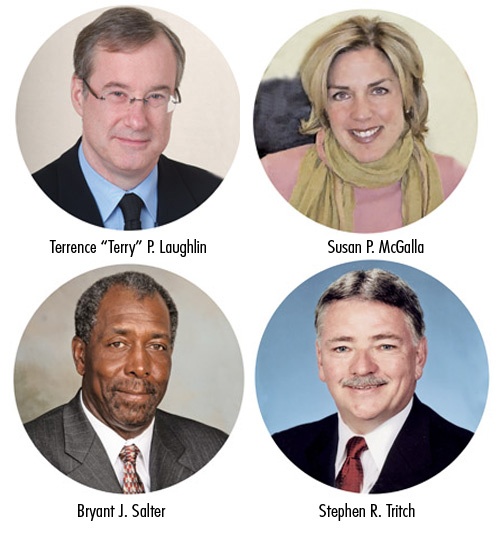 The Nominating Committee of Pitt's Board of Trustees in a June 22 meeting advanced four individuals as new candidates for membership on the board:
• Terrence "Terry" P. Laughlin (KGSB '81) of New York City, senior vice president and head of Strategic Growth Opportunities, Merrill Lynch & Co., Inc., and chair of Merrill Lynch Bank & Trust Co., FSB;
• Susan P. McGalla of Pittsburgh, president and chief merchandising officer of American Eagle Outfitters, Inc.;
• Bryant J. Salter (CAS '71) of Florida, founder and CEO of Business Diplomacy Consulting, LLC; and
• Stephen R. Tritch (ENGR '71, KGSB '77) of Monroeville, president and CEO of the Westinghouse Electric Company. The full Board of Trustees will act on the nominations at its June 29 annual meeting. Biographical information on the new candidates advanced by the Nominating Committee follows.
Terrence "Terry" P. Laughlin
As senior vice president and head of Strategic Growth Opportunities at Merrill Lynch & Co., Inc. (ML), Laughlin is responsible for advising ML's Executive Management Team on identifying and executing strategic growth opportunities in its principal business lines—global private clients and global markets and investments. One of the world's leading wealth management, capital markets, and advisory companies, ML has offices in 27 countries and territories and total client assets of approximately $1.6 trillion.
Prior to assuming his responsibilities at ML and Merrill Lynch Bank & Trust Co., FSB, in the fall of 2006, Laughlin managed the ML Global Banking Group's nonmortgage lending businesses. Laughlin also played a lead role in the development and execution of ML's U.S. commercial banking acquisition strategy.
Before joining ML in 2005, Laughlin worked at FleetBoston Financial, leading Fleet's merger, acquisition, and strategic planning activities. During his 15 years at Fleet, he completed more than 70 mergers, acquisitions, strategic investments, and divestitures. In addition, Laughlin had executive management responsibility for Fleet's international banking activities, including direct responsibility for overseeing Fleet's BankBoston operations in Latin America (the second-largest U.S. bank in Latin America at the time), which encompassed operations in nine countries with $25 billion in assets, 250 branch locations, 10,000 employees, and earnings of $300 million.
During Laughlin's tenure at Fleet, he was a member of the Executive Management Committee and was a principal member of the team that negotiated the $48 billion sale of FleetBoston to Bank of America in 2003-04. Prior to his employment at Fleet, Laughlin worked at Mellon Bank in Pittsburgh in a variety of positions, among them vice president and director of capital markets sales and director of strategic planning.
Laughlin graduated from Pitt's Joseph M. Katz Graduate School of Business in 1981 with the Master of Business Administration degree; he received his Bachelor of Science degree in accounting from Saint Francis University in Loretto, Pa.
Susan P. McGalla
As someone whose lifelong love of fashion and business has evolved into a passion for creating and merchandising lifestyle brands, McGalla has made leading retailer American Eagle Outfitters, Inc., her home for the past 13 years. The Warrendale, Pa.-based corporation operates more than 900 stores in 50 states, the District of Columbia, Puerto Rico, and Canada.
McGalla joined American Eagle Outfitters in 1994 as a buyer in the women's division and moved up rapidly within the organization to divisional merchandising manager, followed by executive vice president of merchandising. She took on the role of president and chief merchandising officer for the AE Brand in 2005, overseeing the design, sourcing, merchandising, and marketing functions for American Eagle Outfitters' $2.8 billion business, including aerie, its fast-growing intimates and dormwear brand.
Also responsible for new concept development for the corporation, McGalla was promoted to president and chief merchandising officer of American Eagle Outfitters, Inc., in 2007, expanding her responsibilities to include, among other things, MARTIN + OSA, the company's new sportswear concept line targeting 25-to-40-year-old women and men.
McGalla is a founding board member of the AE Foundation, an organization committed to funding programs that foster civic engagement, safe environments, and personal development for youth and teens. A Pittsburgh resident, she also serves as a board and executive committee member of the Allegheny Conference on Community Development, a private sector leadership team charged with stimulating economic growth and enhancing the quality of life in Southwestern Pennsylvania.
McGalla began her 20-year retail career at Pittsburgh-based department store Joseph Horne Company, where she was a buyer and department manager. She holds a Bachelor of Arts degree in business and marketing from Mt. Union College in Alliance, Ohio.
Bryant J. Salter
Salter founded Business Diplomacy Consulting in 1999 primarily to assist companies in expanding their market share in the international marketplace. Among his clients is the lead economic development organization for the State of Florida, Enterprise Florida, Inc.
In October 2000, Salter created Enterprise Florida's African Trade Expansion Program and has managed it ever since, promoting Florida as a gateway for commerce between Africa and the Western Hemisphere by organizing and leading Florida trade missions to South Africa, Morocco, Ghana, Botswana, Kenya, Uganda, and Nigeria and hosting visits to Florida from twice as many African countries.
Salter began a foreign service career for the U.S. State Department in 1977. Between 1977 and 1982, he made several official visits to Africa, including a five-country tour with Muhammad Ali in support of the U.S.-led boycott of the Moscow Olympics.
After 1982, Salter served as the U.S. consul in Antigua, returning there in 1990 as the permanent chargé d'affaires and chief of mission. He also served as consul and senior U.S. representative in Merida, Yucatan, Mexico, and then as consul general in Buenos Aires.
Salter received a bachelor's degree in sociology from Pitt in 1971 and a Master in Public Administration degree from Harvard University's Kennedy School of Government in 1986.
During his years at Pitt, Salter was a four-year letterman on Pitt's track and field team, established Panther records in the high jump and triple jump, served as team captain, and was selected as an All-American. He lettered three times in Pitt football, holding the 1970 record for interceptions.
From 1971 to 1976, Salter played professional football for NFL teams in San Diego, Washington, Baltimore, and Miami. In 2004, Pitt awarded him the Letter Winner of Distinction honor.
Salter serves on the Pitt Alumni Association board. He teaches international business courses and coordinates executive training seminars on international trade at the University of Miami and devotes time to several South Florida youth programs.
Stephen R. Tritch
When he was named president and CEO of Westinghouse Electric Company on July 1, 2002, Tritch could look back on 31 years of service to Westinghouse, where he began in 1971—the year he earned his Bachelor of Science degree in mechanical engineering at Pitt—as a product engineer in Westinghouse's Power Circuit Breaker Division.
Immediately before his 2002 appointment, Tritch had served as senior vice president for nuclear fuel, providing nuclear fuel products and services to nuclear power plants worldwide. And before that, he had successfully managed the integration of the former ABB nuclear businesses into Westinghouse Electric Company and was senior vice president of nuclear services. Headquartered in Monroeville, Pa., Westinghouse today has operations in 12 states and 14 countries, with annual sales of approximately $1.8 billion.
In the midst of holding his numerous managerial positions at Westinghouse, Tritch received his Master of Business Administration degree from Pitt's Joseph M. Katz Graduate School of Business in 1977. By 1983, Tritch had joined the Westinghouse Research and Development Center as manager of naval ship programs. Later, he served as manager of training and recruiting for the Westinghouse International Power Systems organization, marketing manager of the Nuclear and Advanced Technology Division, and manager of government systems in the Westinghouse Advanced Energy Systems Division. In 1991, he became manager of the nuclear safety department, and in 1992, he was appointed general manager of engineering technology.
A member of the American Nuclear Society who sits on the board of the Nuclear Energy Institute, Tritch serves on Pitt's School of Engineering Board of Visitors as well as the boards of the United Way of Allegheny County and the Allegheny Conference on Community Development. He was selected as the 2002 Distinguished Alumnus for Pitt's Department of Mechanical Engineering and was honored by the University in 2006 with its Distinguished Alumni Fellows Award.
Other Stories From This Issue
There are no stories for the issue at this time.
On the Freedom Road

Follow a group of Pitt students on the Returning to the Roots of Civil Rights bus tour, a nine-day, 2,300-mile journey crisscrossing five states.
Day 1: The Awakening
Day 2: Deep Impressions
Day 3: Music, Montgomery, and More
Day 4: Looking Back, Looking Forward
Day 5: Learning to Remember
Day 6: The Mountaintop
Day 7: Slavery and Beyond
Day 8: Lessons to Bring Home
Day 9: Final Lessons