Launching Pad/Pitt Law Is Building Momentum for Its Future
By Reid R. Frazier
Issue Date:
September 8, 2008
Law school leverages its strengths, draws students from across the country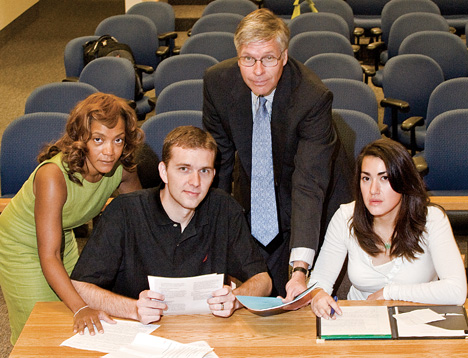 Law professor Ronald Brand, who is director of Pitt's Center for International Legal Education, works with three students in the law school's Teplitz Memorial Courtroom. From left, Dawn Patterson and Chan Braithwaite, both second-year law students, and Emilie Hammerstein, a third-year student.
Ravi Reddy (LAW '06) received a surprise just before beginning his post as a legal officer at the United Nations Mission in Kosovo. It was late 2006, and Reddy learned that his future employer, the director's office of the UN's Department of Justice in Pristina, the capital of Kosovo, was woefully short-staffed because of illnesses, injuries, and the holidays. So instead of serving as a judicial inspector in Kosovo, the 25-year-old Reddy would be covering for a couple of his superiors for his first few months. Reddy was told to brace himself: "They basically said, 'Try to relax while you can, because when you get here, you're not going to have any time,'" says Reddy, now 27.
Fresh out of the University of Pittsburgh's School of Law, which he chose for its strong reputation in international law, Reddy found himself immersed in global issues for the next five weeks. He worked 14-hour days and most weekends, handling information requests from New York, The Hague, and Kosovo's government. He compiled briefing packets for the UN Security Council, met with war crimes prosecutors, and helped smooth legal wrinkles for the UN in a country whose legal system was being rebuilt from scratch.
"A lot of times my answer would be, 'Let me get back to you on that,'" Reddy says. His trial by fire in Pristina resulted in the director bringing Reddy onto his staff permanently, instead of placing him in the Judicial Inspection Unit. "I guess they thought if I could handle those five weeks, I could handle other things as well," Reddy says.
Allen Black (LAW '03), meanwhile, experienced an unexpected turn in his own career before he attended Pitt's law school. A resident immunologist at Magee Women's Hospital and a professor in Pitt's School of Medicine, Black had been working to obtain a patent for a cancer and HIV drug he had discovered in graduate school. His own patent lawyer suggested that Black explore a legal career in biotech patent law. Black did just that and committed to switching careers when he applied to Pitt's law school. The school "had a faculty dedicated to teaching intellectual property law and seminars specifically for patent law. Those were the two factors that really influenced my decision," says Black, who holds a Ph.D. in immunology.
Now an associate in the Pittsburgh office of the Philadelphia-based law firm of Pepper Hamilton LLP, Black writes patents for innovations such as bacteria-resistant catfish, RNA drugs, and HIV vaccines. He attributes his success to the real-time experience and specialized training he received at Pitt.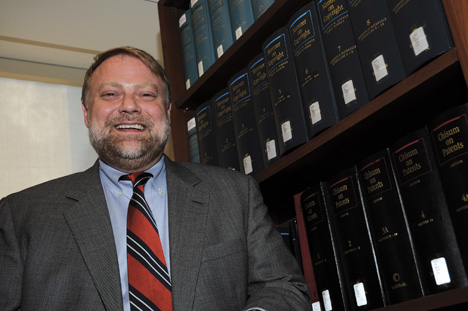 Allen Black (LAW '03) was a professor of immunology in Pitt's School of Medicine when he switched careers and enrolled in the University's law school. He is now a biotech patent lawyer in the Pittsburgh office of Pepper Hamilton LLP, which is a multipractice law firm with more than 500 lawyers in 11 offices. 
Competitive Edge
Black and Reddy, though different types of lawyers, were both attracted to Pitt's law school for two of its signature strengths: international and comparative law and intellectual property and technology law. The latter has been named in U.S. News and World Report as one of the top 30 programs of its kind for each of the past three years. In addition, Pitt's law school is well known for health law, which consistently has been recognized in U.S. News as being among the top 15 programs of its kind in the nation.
Mary Crossley, dean of Pitt's law school, says the experiences of Reddy and Black highlight the school's strategy: "While continuing to offer a broad-based curriculum, we are building on the school's distinctive strengths to attract students from across the country to come to Pitt Law."
These and other strengths have drawn more out-of-state students to apply to the law school than ever before; for example, in the fall of 2008, more than 42 percent of incoming students are from outside of Pennsylvania. At the same time, out-of-state placements for program graduates are rising—at almost 40 percent for the class of 2007—and the law school is gaining a reputation for training lawyers in the highest echelons of private practice, business, government, and the nonprofit world. In more ways than one, the school is becoming a launching pad for students hoping to meet the changing demands of today's legal profession.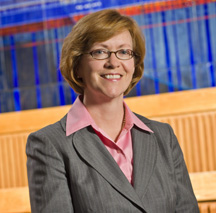 Mary Crossley
Crossley says much is required for students to be prepared for today's legal careers. Students need to develop "the foundational skills of analysis and communications" and to have "the awareness of the central role that law plays in the political, economic, and social structure. Here at Pitt, the opportunity to interact closely with world-class faculty in a variety of different fields is a strong point of the school," says Crossley. The law faculty ranks among the top 25 in the nation, according to a respected 2007 study by the University of Texas that was based on a standard objective measure of scholarly impact: the number of publication citations for all tenure-stream academic faculty members from 2000 to the present. The Pitt Law faculty's blog  (http://pittlawfaculty.net) highlights the faculty's scholarly writing and research and service activities.
"We have faculty who are engaged in high-impact service as well," says Crossley, "including those who are testifying before Congress, who have argued before the U. S. Supreme Court, and who influence the law in various other ways. Those same faculty are working with students from their first year in law school."
Those law school faculty members include Professor Jules Lobel, vice president for the U.S. Center for Constitutional Rights, who has argued before the U. S. Supreme Court; Professor Arthur Hellman, a leading national expert on the federal court system, who has been invited to testify before the U.S. House and Senate judiciary committees; Professor John Burkoff, a national expert on criminal law and legal ethics; and Professor Deborah Brake, who has testified before Congress on employment discrimination issues.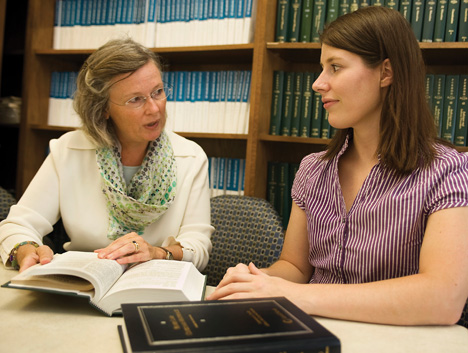 Pitt law professor Martha Mannix meets with Carly LaBuff, a third-year law student who is a certified legal intern in the law school's Elder Law Clinic. The law school operates six clinics, which pair students with clients unable to afford legal representation. Mannix is codirector of clinical programs and director of the John P. Gismondi Civil Litigation Certificate Program.
Value-Added Certificate Programs
The law school was a pioneer in specialization when it started a certificate program in health law in the 1990s. Now, almost half of all law schools offer some type of certificate. To help students tailor their studies to their interests, Pitt's law school now offers certificates in civil litigation and environmental law in addition to health, intellectual property, and international law.
Professor Alan Meisel, who began the health law program at Pitt in 1996, says the programs give students focus. "Even students who knew what they wanted didn't necessarily have the structure to be able to do that," says Meisel, the Dickie, McCamey, and Chilcote Professor of Bioethics and founder and director of Pitt's Center for Bioethics and Health Law. "This was a way to provide some focus for them as they began their careers. Most law school graduates are generalists. These students can bring something to an employer that other students can't."
A health law certificate was a logical offering for the law school, Meisel says, because of the growing need for lawyers in the field and the role of Pitt as one of the country's leading medical research institutions. Health law students can take advantage of the University's expansive medical infrastructure through internships, summer placements, and guest lectures.
"We have a huge health system here; it's a great place to get your feet wet," says Valarie Blake, a third-year law student who interned this past summer as counsel in UPMC's legal office. Blake, 25, was a premed major as a Pitt undergraduate, but she changed to health law after a hospital volunteer stint made her realize she wanted the ability to influence how the health care system was run. Blake says the Pitt program has given her a firm grasp of contemporary issues in health care that should be helpful in her career.
The law school's certificate in intellectual property law capitalizes on another local specialty: the region's growing high-tech sector. "If I want to know what's going on in computer science, bioengineering, or robotics, I have a lot of smart people in Oakland to talk to. That makes my job a lot easier," says Michael Madison, the law school's associate dean for research and professor of intellectual property law. Madison worked for a decade in the San Francisco Bay area and Silicon Valley as a business and technology lawyer, specializing in the business and science issues surrounding intellectual property law. He joined the Pitt faculty in 1998 and says he wants his students "to get engaged in building value and making stuff that people will want to buy. They need to understand the business issues because their counterparts in Silicon Valley are going to understand the business issues."
Black, the patent lawyer, is one of many intellectual property students who came to the school with science and engineering backgrounds. Legal writing is an area that Madison and other professors emphasized, Black says, adding that "99.9 percent of us are never going to stand before a judge or jury. What differentiates you as an attorney is how well you can communicate with a pen and paper."
A Global View
As is the case in many other disciplines, legal education now requires an international perspective. Pitt's Center for International Legal Education gives students a broad entrée into the world of international law.
"I don't think there's a student in law school who, in his or her lifetime, won't encounter something that crosses borders, and students are going to encounter this more and more," says Ronald Brand, professor of law and director of the center. "Borders are porous, and with the Internet there are no borders in international transactions. All the traditional practices of law that were aimed at people across the street are now aimed at people across the globe."
The center offers an LLM (Master of Laws) degree for graduates of foreign law schools. "One of the United States' most important exports is the rule of law," says Crossley. "By immersing foreign-trained lawyers in the American legal system for a year and then sending them back home, we see the LLM as a way of exporting the rule of law to developing democracies."
Because of the center's extensive international connections, Pitt law students find work across the globe, including in the UN, the U.S. Department of State, and some of the world's biggest international law firms.
Reddy, the UN legal officer in Kosovo, exemplifies how a student's opportunities in Pitt's law school can jump-start a young career. While at Pitt, Reddy participated in internships, legal programs, and legal competitions overseas. With the school's blessing, he earned an LLM from the University of Nottingham in England. In his third year, he was chosen to join an international moot team (a type of legal debate practiced before a mock tribunal of judges), where he researched and drafted legal memoranda, and presented oral arguments in Vienna. That same year, he traveled to Haiti as part of a team of law students researching the independence of Haiti's judiciary. He also landed an internship in Serbia with the UN.
Three years, five countries, and a foot in the door. Reddy says his professors gave him not only the legal skills for his demanding UN job, but also pushed him to build connections and aim high in his career: "I never would have been in this position if it weren't for the skills that Pitt law taught me."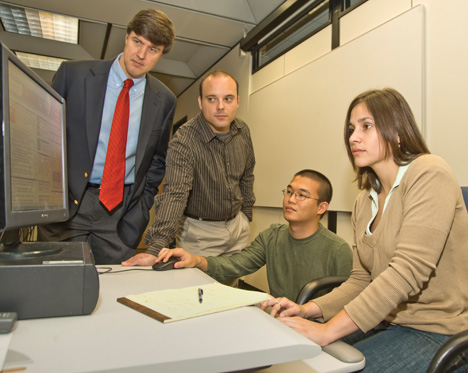 Pitt law professor Bernard Hibbitts (far left), publisher and editor in chief of JURIST, the school's online legal news service, stands with (from left) acting news director Joe Shaulis (LAW '08) and senior editors Michael Sung and Caitlin Price, both third-year law students.
The Human Touch
In addition to teaching students the theoretical skills needed for law, the law school also offers students real-world experience through its clinical programs. These clinics—in tax, environmental law, family law, community economic development, health law, and elder law—pair students with clients unable to afford representation. The students, under the supervision of Pitt faculty, meet with clients and file legal pleadings in actual cases.
"The clinics are a huge asset to the law school because they really help give students a way to practice what they've learned in courses with actual clients," says Crossley. "They also provide an invaluable public service to the community by providing pro bono legal representation to those who need it."
The clinics are a valuable bridge between the classroom and the courtroom, says Norma Scales Schmidt (LAW '07), who took the elder law clinic and now focuses on special needs and elder law in private practice.
"Reading about a situation is different from actually sitting down with someone who is telling you about a situation," says Schmidt. Her clinical experience, working on a guardianship case before the Allegheny County Orphans' Court, helped her form the techniques she uses today. "You learn things that you'll use, such as how to conduct an initial client meeting and the techniques that can make those meetings more effective," she says.
Elder law comprises many functions—preparing wills, powers of attorney, and living wills—that involve coaxing clients to divulge details about their private lives. "We're talking about something that's not always easy to talk about: end-of-life issues, how much money they have, how much debt they have. We learned how to delicately ask personal information from people," Schmidt adds.
Martha Mannix, a clinical professor of law and codirector of the school's clinical programs, says the clinics teach students the basics of "lawyering"—meeting with clients, taking depositions, handling expert witnesses, and representing clients at hearings. In 2006, students from Pitt's health law clinic, who were representing a client with severe brittle diabetes, succeeded in convincing the Medicare program to change its national policy and agree to cover solitary pancreas transplants for such patients under certain circumstances.
"Here they have to sift through facts that may be irrelevant or contradictory and figure out which ones are relevant, then frame all this in a narrative that can make a legal case for their client," Mannix says. Perhaps most importantly, by linking students with people in need of their professional help, Mannix says "the clinics remind them of why they went to law school in the first place."
Broadband Spreads the Word
JURIST (jurist.law.pitt.edu), a unique online legal news service written and edited by Pitt law student volunteers, is another valuable learning experience that serves a vital public service. Millions of readers around the world connect to the Web site to get current reports and expert analysis of breaking legal developments. Pitt law students research, write, and edit JURIST, which provides brief legal news articles and links to pertinent documents, as well as commentary by leading scholars.
JURIST was started by Pitt law professor Bernard Hibbitts in 1996 as a digital archive targeted at law professors. It has evolved into a legal news and research database that eschews sensationalism and has covered such breaking stories of wide-ranging jurisprudential import as the Clinton impeachment, the 2000 presidential recount, and the passage of terrorism laws after 9/11. The Web site ramped up in 2005, hiring a full-time professional staffer to oversee the work of the 40 or so students who research, write, and edit the site. JURIST won a "Webby" Award in 2006 and has been named among the "Top 100 Web Sites for Lawyers," by the ABA Journal, the magazine of the American Bar Association. It was flooded with readers after the execution of Saddam Hussein, and this year it took a leading role in providing in-depth coverage of demonstrations by Pakistani lawyers against the government.
Hibbitts says in addition to providing balanced, scholarly coverage of important legal events, JURIST is a useful teaching tool. "It teaches our students how to research effectively and to write clearly and succinctly under real-time pressure. When they're attorneys, they're going to be faced with mountains of information which they'll have to explain in plain English to a client or a judge."
Jeannie Shawl (LAW '05), the Web site's executive director from 2005 to 2008, said she initially joined JURIST to improve her writing skills. The unpredictable nature of writing for JURIST—on a given day, a student may write about Nigerian corruption laws, a UN war crimes tribunal, or Chinese intellectual property law—taught her how to think on her feet, she says. "You not only learn how to write quickly and concisely, but also how to handle unfamiliar material," says Shawl, who now works in the Office of General Counsel at the Pittsburgh office of K&L Gates, an international firm with more than 1,700 lawyers.
Making Key Connections
"More and more, the law interacts with economics, public policy and management, health policy, and international affairs, and attorneys who develop a multidisciplinary perspective have a crucial edge," says Crossley.
Because of the exemplary resources that are available on Pitt's campus, the law school is able to connect its students to other disciplines by offering joint degrees with the University's Graduate School of Public and International Affairs, Joseph M. Katz Graduate School of Business, School of Social Work, Graduate School of Public Health, and Center for Bioethics and Health Law. Joint degrees also are offered with two schools at Carnegie Mellon University (see degree box below).
The law school connects students in other ways as well, often by providing unique global opportunities that stem from the school's relationships with an array of faculty, alumni, and business and organizational contacts. Through the Center for International Legal Education, for example, Corin Stone (LAW '98), while still a student, obtained an internship at the Private International Law Conference in The Hague, the Netherlands, where she made connections with U.S. Department of State lawyers. Subsequently, she was hired by the Department of State and volunteered to go to Baghdad in 2004 to serve as a legal advisor to Ambassador John Negroponte at the U.S. Embassy. Now the deputy general counsel for the Office of the Director of National Intelligence, Stone says she might never have been in Baghdad had it not been for her experience in Pitt's law school.
The law school links graduates to an extensive professional network through its more than 8,500 alumni, who represent every state in the United States and 40 foreign countries and work for corporations, law firms, nonprofit organizations, and the government. The links span a wide breadth of categories and expertise, according to Crossley. "These connections are one of the important strengths we are re-emphasizing. We want to be able to help support our students' pursuit of opportunities, no matter where in the world they go or  what area of practice they choose when they graduate."

Pitt Law Employment Categories: Class of 2007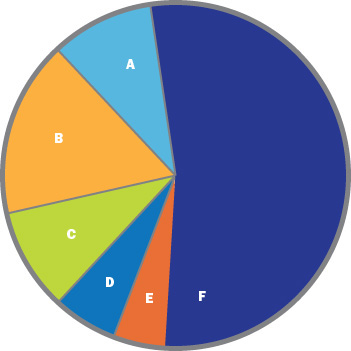 [as reported by the National Association for Legal
Career Professionals and measured nine months postgraduation]
A.  Judicial Clerk        11.1%
B.  Business                 17.3%
C.  Government           8.0%
D.  Public Interest       5.3%
E.  Academic                4.0%
F.  Private Practice   54.2%
Degree Programs Offered by the University of Pittsburgh School of Law
•  Juris Doctor (JD)
•  Master of Laws for Foreign Law Graduates (LLM)— The program provides lawyers who have obtained law degrees outside of the United States with an opportunity to study common law in a U.S. context.
•  Doctor of Jurisprudence (JSD)— The law school's most advanced law degree, the JSD is designed for aspiring legal academics who want to pursue advanced independent study, research, and writing.
• Master of Studies in Law (MSL)— The program educates students who use law—or who will use law—in their careers and who want to learn more about legal studies but who do not want to become lawyers.
Joint-degree Programs
Graduate School of Public and International Affairs
• JD/Master of Public Administration
• JD/Master of Public and International Affairs
• JD/Master of International Development
Joseph M. Katz Graduate School of Business
• JD/Master of Business Administration
Graduate School of Public Health
• JD/Master of Public Health
School of Social Work
• JD/Master of Social Work
The Center for Bioethics and Health Law
• JD/Master of Arts in Bioethics
Tepper School of Business at Carnegie Mellon University
• JD/Master of Business Administration
The Heinz School of Public Policy and Management
at Carnegie Mellon University
• JD/Master of Science in Public Policy and Management
• JD/Master of Arts Management
Certificate Programs
The John P. Gismondi Civil Litigation Certificate Program
Environmental Law, Science, and Policy
Health Law
Intellectual Property and Technology Law
International and Comparative Law
Clinics
Civil Practice Clinic – Elder Law or Health Law
Community Economic Development Clinic
Environmental Law Clinic
Family Law Clinic
Tax Clinic
Other Stories From This Issue
There are no stories for the issue at this time.
On the Freedom Road

Follow a group of Pitt students on the Returning to the Roots of Civil Rights bus tour, a nine-day, 2,300-mile journey crisscrossing five states.
Day 1: The Awakening
Day 2: Deep Impressions
Day 3: Music, Montgomery, and More
Day 4: Looking Back, Looking Forward
Day 5: Learning to Remember
Day 6: The Mountaintop
Day 7: Slavery and Beyond
Day 8: Lessons to Bring Home
Day 9: Final Lessons