Laura Zullo: Managing Pitt's Carbon Footprint
By Cristina Rouvalis
Issue Date:
September 19, 2016
Ten years ago, Laura Zullo was an engineer in the Facilities Management Division at the University of Pittsburgh. On a day like any other, her boss stopped her and asked a quick question: Can you find out what this sustainability stuff means?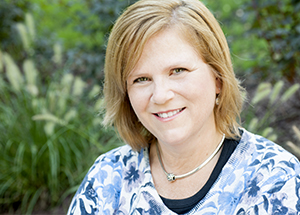 Zullo had no idea. But she didn't just do a Google search, inform her boss, and call it a day. She dug deeper and found out that sustainability was a way to save energy and money, both in the short-term and for future generations.
She wanted to take practical steps toward sustainability, so she made it her mission and threw herself into it, a decision that has influenced her career path—and the University's carbon footprint—ever since.
Zullo is now senior manager of utilities and sustainability at Pitt. On any given day, she might be analyzing data from the buildings she manages—assessing factors such as the impact of weather and building occupancy on energy consumption or looking at how conservation projects lower energy costs. She might be scooping up bottles and papers alongside students as part of a nationwide RecycleMania competition. Or she might be collecting stats to submit to the Princeton Review, which has included Pitt in its Guide to Green Colleges in the United States for four straight years.
Today, many college students value a school's green quotient as much as they do the amenities at the fitness center.
Among the improvements on the Oakland campus:
* An estimated $60 million has been saved in energy and water costs since 1996 when Zullo and her staff began tracking it. The savings came from upgrades to the lighting, building automation systems, mechanical and electrical systems, elevators, etc.
* Plastic bag use is down dramatically on the Oakland campus because of the BYO[Bag] (Bring Your Own Bag) program, started by Pitt's Housing and Dining Services in 2014. Students are charged 25 cents for every plastic bag they use when shopping at campus dining locations. The Oakland campus went from using 15,000 plastic bag each week, before the program, to just 5,465 the entire spring 2016 semester. Half of the proceeds from the bag fees and the sale of reusable bags are donated to the Pitt Green Fund.
* And the Pitt team continues to work toward even greater improvement. From the computer screens in their offices, Zullo and other members of the energy management team monitor the data that pours in from 65 educational and administrative buildings, all overseen by Facilities Management. This makes it possible to evaluate the utility usage of these sites in great detail so they can continue to improve energy efficiency. "We like to say that the most sustainable energy is the energy we never use, and if you can't measure it, you can't manage it," she said.
* Zullo is also responsible for the Carrillo Street Steam Plant, which supplies the University and the UPMC hospitals with steam for heating and other processes. The plant, which began operating in 2009, is extremely efficient and has reduced Pitt's steam-related greenhouse gas emissions by about 35 percent in six years, or by 30,000 metric tons of CO2 per year. It also saves money by reducing the cost of generating steam.
Though Zullo is in a non-teaching staff position at the University, she enjoys going into classrooms to talk to students about their ideas for making Pitt a greener place.
She visits Ward Allebach's environmental science class most semesters to help students with an assignment for a proposal to make the campus more sustainable. Students have suggested shower timers, low-flush toilets, and a rain garden at the Petersen Events Center.
"Laura is a natural teacher," said Allebach, an adjunct professor in the Department of Geology and Environmental Science. "When a student comes to her with an idea, she never shakes her head and says, 'That's not going to happen.' She is always looking for a way to make it happen."
Zullo worked with students to implement hydration stations for refilling reusable water bottles. "The students love them. The units provide a count of the equivalent number of disposable bottles avoided," she said. She estimated that count at more than a million bottles since the first units were installed several years ago.
She also has led a project with graduate students who created greenhouse gas inventories for Pitt during fiscal years 2008, 2011, and 2013. Zullo provided guidance and some information, but she said the students "did the heavy lifting" of collecting data and writing a final report. "They did a fantastic job."
"I love working with Laura," said Melissa M. Bilec, deputy director of the Mascaro Center for Sustainable Innovation, whose graduate students complete the inventories. "She is really good at building working relationships and friendships."
Immersing herself in the job of championing sustainability has made Zullo an environmentalist both at work and home. She reminds her family to recycle an errant bottle or newspaper. "I am a little crazy about recycling," she said with a laugh.
When she's not making the world around her more energy efficient, she and her husband, Tom, a Pitt graduate and staff member, are busy with their two children. She is treasurer of the Plum High Baseball Boosters, where her son Peter plays. Her daughter, Emily, is a Pitt engineering student who plays piccolo in the marching band. "We are a Pitt family," she said.
Zullo, a 1988 graduate of the Pitt Swanson School of Engineering, has spent her entire career at Pitt.
Much of the work she does—and the success she has earned—goes back to that one word…sustainability. The definition is quite clear. "Simply put, sustainability means creating a culture that considers how our actions affect current and future generations."
Other Stories From This Issue
There are no stories for the issue at this time.
On the Freedom Road

Follow a group of Pitt students on the Returning to the Roots of Civil Rights bus tour, a nine-day, 2,300-mile journey crisscrossing five states.
Day 1: The Awakening
Day 2: Deep Impressions
Day 3: Music, Montgomery, and More
Day 4: Looking Back, Looking Forward
Day 5: Learning to Remember
Day 6: The Mountaintop
Day 7: Slavery and Beyond
Day 8: Lessons to Bring Home
Day 9: Final Lessons