Learn English, Meet America
By Jill Greenwood and Cara Masset
Issue Date:
December 8, 2014
Architects-in-training. Neonatologists. University professors. These are some of the professions and callings of those who are diligently studying at the University of Pittsburgh's English Language Institute this semester to prepare for graduate school or advance their professional careers. They've come from around the globe to master a new tongue at one of the nation's premier centers for learning the idiosyncrasies of the English language.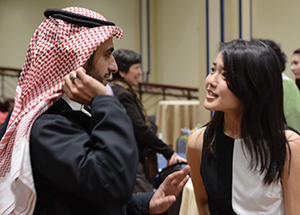 "We knew this was the right place for us," said student Haneen Shinawi, who came to the institute from Saudi Arabia with her twin sister, Rehab, so they could develop their English skills before moving on to obtain graduate degrees in architecture. "It is such a strong program, and it has so many benefits for us. It is really helping to improve our English."
Pitt's English Language Institute, part of the Department of Linguistics in the Dietrich School, is celebrating its 50th anniversary this year. Since its founding in 1964 through a $1.5 million Ford Foundation grant as part of a larger initiative to internationalize the University, more than 13,900 students from 131 countries have studied at the institute, representing some 40 native languages, including Albanian, Bulgarian, Hindi, Norwegian, Russian, Thai, Urdu, and Vietnamese. The top three countries that students have come from over the years are Saudi Arabia, Japan, and Korea.
The institute, accredited by the national Commission on English Language Program Accreditation, largely offers programs for international students (who plan to apply to universities and colleges in North America and need to get ready for intense study in an English curriculum) and professionals (who wish to improve their English abilities for career opportunities in the United States and back home). In addition, it assists students who have matriculated at Pitt and need some extra support.
Part of what makes Pitt's English Language Institute stand out from other language programs is that faculty members are leaders in the field of linguistics who conduct research on how people learn languages, says Dorolyn Smith, associate director of the institute.
Faculty members have authored 17 textbooks on the topic of English learning for speakers of other languages, with another textbook, Academic Vocabulary Building in English, scheduled to be published in 2015 in the Pitt Series in English as a Second Language at the University of Michigan Press. They also regularly present at international conferences, such as the annual gathering of Teachers of English to Speakers of Other Languages (TESOL).
For the next TESOL convention in March 2015, Pitt's institute is offering—in recognition of its 50th anniversary—a travel award for top English instructors nationwide who need financial assistance to attend. The award, which will be granted annually, was established in honor of the institute's first two directors, Edward M. Anthony (1964-69) and Christina Bratt Paulston (1969-1998), both now emeriti professors of linguistics.
Some of the data that informs the institute's scholarship is garnered in its classrooms, which these days are located in the Parkvale Building on Meyran Avenue. Through a decade-long partnership with the Pittsburgh Science of Learning Center, institute faculty and Pitt graduate students are studying the cognitive science of language learning and reading processes. In one case, they developed an online program to which students submitted homework—mostly on writing, grammar, and reading—that linguists and graduate students can analyze. They've also been using other innovative language learning software to collect data.
"We now have a database of learner language from almost 1,000 students that will enable us to study development longitudinally," said Alan Juffs, director of the English Language Institute and professor of linguistics. He established the institute's relationship with the Pittsburgh Science of Learning Center in collaboration with the learning center's co-director Charles Perfetti, also director of Pitt's Learning Research and Development Center and a Distinguished University Professor of Psychology.
Beyond the classroom and research projects, the institute aims to immerse students in American culture. Though the institute has no official motto, Smith says it does operate under the mantra "Learn English, Meet America." Students meet America during weekly fieldtrips around Pittsburgh and on road trips to nearby cities like New York and Washington, D.C. They also have the opportunity to be paired up with Pitt students for weekly conversations and small discussion groups.
Institute alumnus Pelin Duzenli, a doctor from Turkey who is now finishing a residency in psychiatry in Charleston, W. Va., said she not only learned a lot about America when she studied at the institute in 2001, but she broadened her worldview through getting to know her global classmates.
"We all had to learn together, and we had different levels of communication, education, and parts of our lives that we were in, but we needed to find a way to communicate to get our message across," said Duzenli. "We were very diverse, but together we became one."
Duzenli originated the idea of asking students from the institute to raise money for charity by cooking food from their home countries and selling the tasty goods—a tradition that still continues. That first year in 2001, students chose to submit money raised to the September 11 Victim Compensation Fund. Since then, students have had a table of food each year at the University's international and study abroad fairs and a different charity is chosen as the beneficiary.
"Our students are learning English and the American culture and traditions, but they also want to share their homeland with everyone here," Smith says.
Next year, Pitt's English Language Institute will expand abroad by establishing a location at the Sichuan University—Pittsburgh Institute in China that is scheduled to open in the fall of 2015. And the dozens of alumni who return home will share stories of their tongue-twisting achievements and the friendships they formed at Pitt.
Dana Omarova, a doctor from Kazakhstan, said her studies have exceeded her expectations. "When I come back to Kazakhstan I am going to recommend [Pitt's English Language Institute] to all of my friends."
Other Stories From This Issue
There are no stories for the issue at this time.
On the Freedom Road

Follow a group of Pitt students on the Returning to the Roots of Civil Rights bus tour, a nine-day, 2,300-mile journey crisscrossing five states.
Day 1: The Awakening
Day 2: Deep Impressions
Day 3: Music, Montgomery, and More
Day 4: Looking Back, Looking Forward
Day 5: Learning to Remember
Day 6: The Mountaintop
Day 7: Slavery and Beyond
Day 8: Lessons to Bring Home
Day 9: Final Lessons