By Sharon S. Blake
Issue Date:
January 12, 2009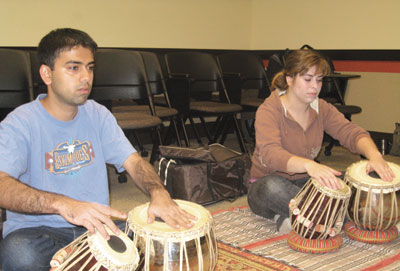 One of India's top musical virtuosos, Samir Chatterjee, joined Pitt's faculty in 2007 to codirect Pitt's Indian music program—and his presence has brought new sounds to the classroom as well as a different approach to teaching students.
Chatterjee began teaching in the fall of 2007 with a group of just six students chosen from a waiting list. Now, a little more than a year later, he has settled into his role as Pitt's instructor of tabla, a popular Indian percussion instrument that consists of a pair of small drums. His small-group courses make Pitt the first university in Western Pennsylvania to offer an Indian music program. And his students are quickly learning that playing the ancient drum rhythms is much more than a musical experience.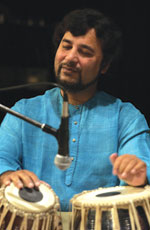 "In the West, most of today's music education has become product-oriented," explained Chatterjee, a soft-spoken man with a gentle smile. "But in the Indian tradition, it is still process-oriented. So the experience of learning, of practicing, of being in contact with the guru
. . . all of these become absorbed into your system—physically and mentally—ultimately elevating you to a higher state of consciousness. That's how it becomes a spiritual experience."
Andrew Weintraub, Pitt professor of music and codirector of the Indian music program, says playing Indian music helps students make valuable connections to that nation's culture.
"You're sitting on the floor, barefoot with an Indian master. The way your body is positioned, your legs fall asleep and your arms get tired as you practice the hand techniques over and over. Some practice 10 hours a day to become good musicians. It's very meditative," he said, "but also very rigorous."
At noon one day last month, Chatterjee's small class presented its end-of-semester recital in the Music Building. Seated on straw mats, the first handful of students drummed the basic beats of the rhythmic system called tala. Then Chatterjee introduced the soloist—his intermediate student, Ashish Yeri. The audience seemed transfixed as Yeri's fingers moved rapidly over the two drums, producing both bass and higher bell-like sounds, characteristic of the tabla.
"To study under Professor Chatterjee in India would be extremely difficult," said Yeri, a graduate student in chemical engineering, explaining that in India, one either begins playing very young or is accepted as a more advanced student. "I'm lucky to learn under him now, and Pitt is lucky have him," Yeri added.
The story behind how Chatterjee came to Pitt begins with the vision of a nonmusician who has a love for Indian classical music that runs deeper than most.
Balwant Dixit, a longtime professor of pharmacology at Pitt, had established the Center for Performing Arts of India at Pitt in the 1980s to bring leading Indian musicians to the United States to lecture and perform. Cosponsored by the Indian Council of Cultural Relations, those appearances introduced thousands of people to the beauty and mystique of Hindustani classical music, which dates back to the 12th century, with much earlier roots in Vedic chants.
But Pitt itself never had its own Indian music program. The only way to learn to play the tabla, for example, was to take private lessons.
But as Dixit approached retirement, he and Weintraub proposed to Music Department chair Mathew Rosenblum the idea of hiring Chatterjee to teach tabla at Pitt. Chatterjee had been working with Dixit for years through his own organization, Chhandayan, to help book musicians in concert venues all over the country.
"He was the perfect person," said Weintraub, calling the 53-year-old Chatterjee a "world master" instrumentalist.
His students agree.
"I'm so blessed with the opportunity to be taught by him," said music major Maria Escoriaza. "The few times that I felt distracted or distressed and frustrated with either the sounds I was getting from the tabla or with the complicated patterns, he would address the issues with such calmness that it would help me find myself again musically. It would immediately change my entire being to a tranquil state, and I was able to improve instantly."
Other institutions also benefit from this world-class musician/instructor. While based at Pitt, Chatterjee also teaches courses at the Manhattan School of Music and Yale University. Thursday afternoons he teaches private classes in Cheswick, Pa., where Dixit himself is a student.
Weintraub said Chatterjee's courses solidify Pitt's reputation as the region's leader in world music. "The courses, concerts, and colloquia we offer in the music department build on a long history of cultural and musical diversity in Pittsburgh," he said. "Our ethnomusicology program and world music ensembles—the University Gamelan, the African drumming and dance ensemble, and our new Carpathian music group—make us a center for world music."
But the tabla instructor gives much of the credit to Dixit, saying that the pharmacology professor's "relentless hard work is ultimately paying off" through Pitt's Indian music program.
"I am just here reaping the harvest," Chatterjee smiled.
More information on the Indian music program is available at 412-624-4126 or anwein@pitt.edu.
Other Stories From This Issue
There are no stories for the issue at this time.
On the Freedom Road

Follow a group of Pitt students on the Returning to the Roots of Civil Rights bus tour, a nine-day, 2,300-mile journey crisscrossing five states.
Day 1: The Awakening
Day 2: Deep Impressions
Day 3: Music, Montgomery, and More
Day 4: Looking Back, Looking Forward
Day 5: Learning to Remember
Day 6: The Mountaintop
Day 7: Slavery and Beyond
Day 8: Lessons to Bring Home
Day 9: Final Lessons