Lessons in Rust Belt Rebirth: Pitt Hosts Russian Students for a Weeklong Intensive on Public Policy
By Micaela Fox Corn
Issue Date:
March 22, 2017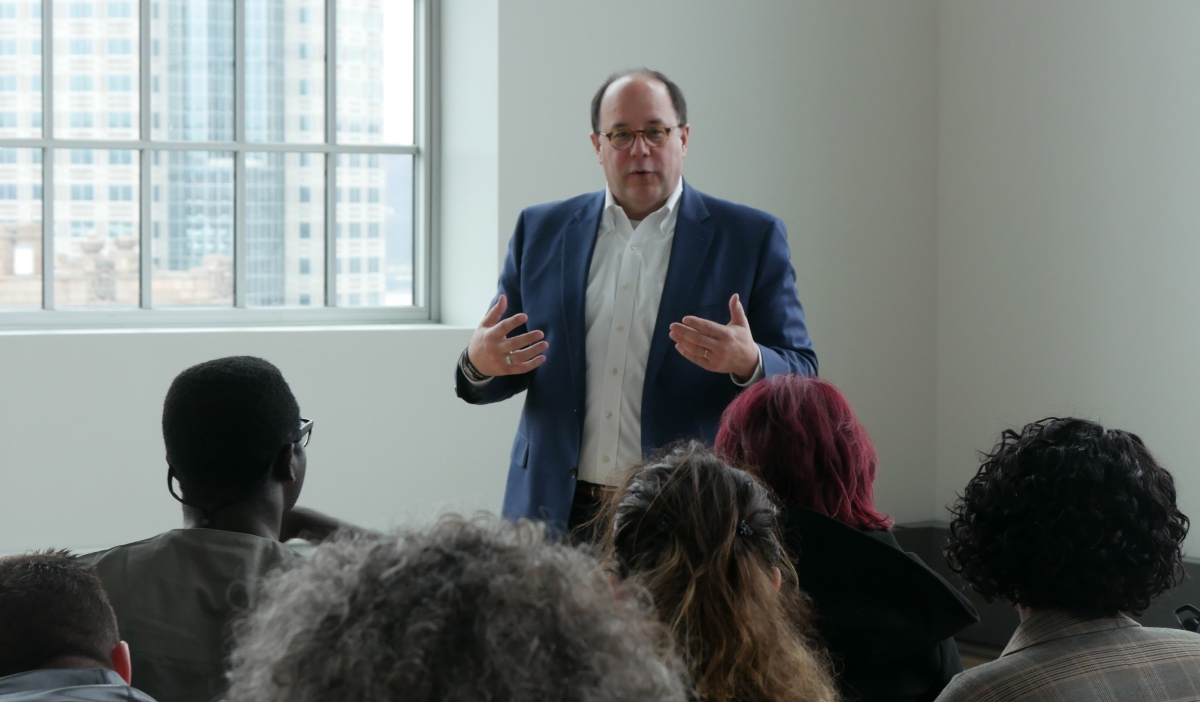 It was a whistle-stop crash course on changes in the Rust Belt: a five-day, 20-site tour illustrating Pittsburgh's innovation in medicine, education, technology and the arts as well as challenges such as gentrification, housing and transportation accessibility, and income disparity.
The audience was a dozen students from the Moscow-based Russian Presidential Academy of National Economy and Public Administration (RANEPA), the largest humanities and social studies university in Europe and Russia.
Most of these scholars are pursuing graduate degrees in global public policy, but undergrads of all stripes were here, too. They hailed from all over Russia but also from the Gambia, Jordan, Serbia, and Belarus.
The Pittsburgh visit was a long time in the making. Early discussions with RANEPA faculty and Center for Russian and Eastern European Studies (REES) director Nancy Condee began in 2015, when she was awarded the prestigious Gaidar Fellowship at the Russian Presidential Academy. Now, with enthusiastic commitments from Pitt and off-campus partners to participate in the future, REES anticipates opening up the program to other higher-education institutions in Eastern Europe, Russia and Central Asia.
The University of Pittsburgh hosted the group March 5–11. Students from the Graduate School of Public and International Affairs (GSPIA) accompanied the Moscow visitors throughout the week. Three days of their jam-packed schedule included visits to Pitt sites.
This year's group of inaugural students were welcomed by Zsuzsánna Magdó, program coordinator and assistant director of REES, which sponsored the trip. Additional funding support came from the Kenneth P. Dietrich School of Arts and Sciences and Pitt's Humanities Center. Professor David Miller, of GSPIA, gave an introduction to Pittsburgh and the American Rust Belt.
Then the group toured the WonderLab at Pitt's Falk Laboratory School. In the Hill District, the newly opened nonprofit Energy Innovation Center (EIC) provided inspiration for Kaddy Fofane, a first-year grad student. With its many community partners, the Pitt Center is developing technology, educational tools and business ventures to help support a self-sustaining clean energy market.
"I was really fascinated by that project, because where I come from in Africa we have an energy challenge," said Fofane, noting that the EIC is able to attract and maintain many funders. "If we get something similar to that in the Gambia, it will go a long way in terms of helping our skills and knowledge — and also help us with our energy issues." Fofane plans to use her global public policy master's degree and bachelor's in education to pursue a career in government in the Gambia.
The students then visited Pitt's Innovation Institute.
Paul Petrovich, assistant director of technology commercialization, explained the history and growth of the Institute and how the Pittsburgh region became friendlier for startups over time with the success of the Institute's many ventures, competitions and student programs. Accelerator programs are nothing new, noted Greg Coticchia, director of the Blast Furnace student accelerator at the Institute, but the Blast Furnace is pointedly focused on helping students pitch their ideas successfully by assessing their "product-market fit," or the demand.
"The goal for us is to stop trying to commercialize innovations that no one wants. Find out who your customer is and validate your hypothesis by getting out there, talking to people, gathering feedback."
The group went on a public-art walking tour of Pittsburgh with Drew Armstrong, director of Pitt's Architectural Studies Program. Throughout the week, the group also visited and met with representatives of ACTION-Housing, Braddock Films, City of Asylum, the Commission on Human Relations, the Office of Braddock Mayor John Fetterman and the RAND Corporation, among others. (See the full itinerary here.)
Magdó was buoyed by the students' enthusiasm. "The feedback we received has been extremely positive. Along with our Moscow visitors, Pitt students discovered Pittsburgh as an important case study for urban policy, equitable development, and community building in the global rust belt," she said.
"At a time when our two countries have little on which they can agree, these topics provide common points of engaged examination. We hope this programming will have a transformative impact on these young scholars at a key moment in their professional training."
Undergraduate Nina Smolnikova studies management and contemporary art in the RANEPA Liberal Arts program. She said she couldn't "imagine how I could combine these two areas in my future career," but seeing Pitt's campus and broadening her repertoire this week to urban policy got her thinking more creatively. "Actually, [my friends and I] thought that it would be a great place to study."
Other Stories From This Issue
There are no stories for the issue at this time.
On the Freedom Road

Follow a group of Pitt students on the Returning to the Roots of Civil Rights bus tour, a nine-day, 2,300-mile journey crisscrossing five states.
Day 1: The Awakening
Day 2: Deep Impressions
Day 3: Music, Montgomery, and More
Day 4: Looking Back, Looking Forward
Day 5: Learning to Remember
Day 6: The Mountaintop
Day 7: Slavery and Beyond
Day 8: Lessons to Bring Home
Day 9: Final Lessons