Lindsay C. Page: The "Summer Melt" Phenomenon
Issue Date:
October 20, 2014
Lindsay C. Page is a Pitt assistant professor of education and the coauthor of Summer Melt: Supporting Low-Income Students Through the Transition to College (Harvard Education Press), set for release on Oct. 21. The book examines what Page and her coauthor, Ben Castleman, refer to as "summer melt"—when high-school seniors who have committed to a college or university end up not enrolling. According to Page's research, anywhere from 10 to 20 percent of recent graduates presumed to be entering college fail to matriculate at any postsecondary institution in the fall semester after high school. Further, these rates can be even higher among students from low-income backgrounds and among those who would be the first in their families to attend college.
Before joining Pitt in 2013, Page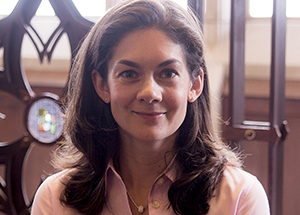 was a senior research manager in Harvard University's Center for Education Policy Research. She earned three graduate degrees from Harvard: an EdD in quantitative policy analysis in education; a Master of Arts degree in statistics; and a Master of Education in administration, policy, and social planning. She received her Bachelor of Arts degree from Dartmouth College.
Page's research on summer melt was cited in a January 2014 White House report on improving educational opportunities within low-income communities. It has also been featured in such national news outlets as NPR's Morning Edition and Marketplace, The Chronicle of Higher Education, U.S. News & World Report, and The Washington Post.
The Pitt Chronicle's Anthony M. Moore recently interviewed Page about her book and her future endeavors at Pitt.
Q: What do you hope to accomplish through this book?
I hope that the book provides a more comprehensive picture of why the transition to college can create such challenges for students—and how low-cost, scalable solutions can help to improve outcomes for students. Prior to the book, the majority of my writing on summer melt had been in the form of academic papers. These papers are important in terms of enlarging a base of knowledge, but I often worry that the findings from research studies may not make it to those who need the information the most—parents, school administrators, and organizations seeking to improve college access within low-income communities.
Q: How did you get involved in this field of research?
I've always been interested in issues related to education transitions and decision points in students' educational trajectories. And my graduate school training focused on quantitative education policy research. Also, it was in grad school that I met my colleague and friend [Summer Melt coauthor] Ben Castleman. We shared mutual interests in matters related to college access, and he had actually dealt with the issue of summer melt firsthand as a high-school administrator. Together, we were interested in understanding the extent to which summer melt was a broadly generalizable phenomenon and what steps could be taken to mitigate this leak in the college pipeline.
Q: What can be done to combat the problem of summer melt?
Over the past several years, we have designed and implemented a number of interventions aimed at mitigating summer melt and improving students' access to and success in college. These interventions have included proactive outreach to students by high-school counselors, financial aid advisors, and even college-aged peers. In addition, we have designed and implemented a text-based system of outreach where college-intending students receive text messages customized to their college plans. These messages provide students with information about required pre-matriculation tasks, web links that facilitate task completion directly from a student's phone, and the offer of individualized follow-up support from a counselor.
Q: What do such interventions cost?
These interventions have actually been relatively inexpensive, ranging from less than $10 per student for the text-based outreach to about $150 per student for the counselor-based outreach. Encouragingly, all of these interventions have led to improvements in timely enrollment and college persistence, where we have been able to follow students for several semesters into college.
Q: Tell us about some of your other research and interests.
I'm engaged in a variety of studies that span the preschool-to-college spectrum. I'm working to explore whether and how the strategies that we employed to mitigate summer melt can be applied at other stages in students' educational careers. In addition, I've been working with colleagues in Pitt's Office of Child Development to explore how similar strategies can be used to give students a better start in their education: to improve timely kindergarten enrollment and encourage strong school attendance right from the start. Most importantly, in addition to doing rigorous research, I'd like to integrate my work into the Pittsburgh community to invest in improving educational experiences and outcomes for the children and young adults of this area.
Other Stories From This Issue
There are no stories for the issue at this time.
On the Freedom Road

Follow a group of Pitt students on the Returning to the Roots of Civil Rights bus tour, a nine-day, 2,300-mile journey crisscrossing five states.
Day 1: The Awakening
Day 2: Deep Impressions
Day 3: Music, Montgomery, and More
Day 4: Looking Back, Looking Forward
Day 5: Learning to Remember
Day 6: The Mountaintop
Day 7: Slavery and Beyond
Day 8: Lessons to Bring Home
Day 9: Final Lessons