A Litchfield Towers Proposal Wins High-Energy Student Contest
By Emily O'Donnell
Issue Date:
October 6, 2014
The ideas covered a lot of ground—and sky.
Solar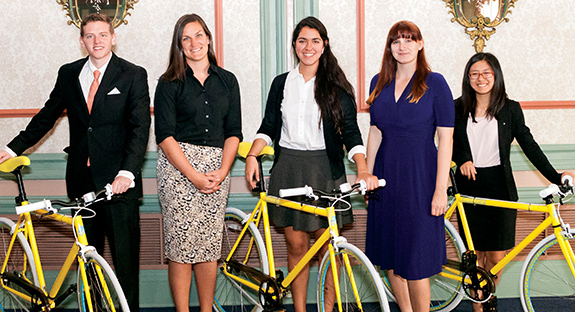 canopies to power outdoor workstations for students. Revolving doors for the Cathedral of Learning to generate electricity. Solar-powered trash compactors decorated like monsters. An interactive Web site for sustainability resources. And an energy-saving plan for Litchfield Towers.
All were proposals created for Pitt's 2014 Sustainable Solutions Competition, sponsored by the Office of Student Affairs and launched Sept. 21. The five participating teams had one week to develop their proposals, which were judged Sept. 27 by an 11-member panel in the William Pitt Union.
"Project Towers" took first place, offering estimated savings of $40,000 in Litchfield Tower energy costs over four years. The "Big Belly" trash compactors proposal was named runner-up.
The 4-member Project Towers team will receive $25,000 to implement their ideas, and each team member received a new bike for a sustainable mode of transportation.
While Pitt hadn't planned on awarding a second-place prize, Vice Provost and Dean of Students Kathy Humphrey announced at the end of judging that the University will purchase three solar-powered trash compactors for the Oakland campus, affirming the work of the runner-up "Big Belly" team.
"We were very pleased with the student response to our first sustainability competition," Humphrey said. "I continue to be amazed at the great ideas and action plans that our students have to support sustainability on campus. I was impressed with the thoughtful analysis of the impact these new approaches will have, including the consolidation of resources and financial savings."
The Project Towers proposal envisions a multipoint plan for reducing energy consumption in the Pittsburgh campus' largest residential complex. "We asked ourselves: 'What's the most popular place on campus—where do people walk through every day?' The answer was Litchfield Towers," making it a ripe target for capturing large savings of money and energy, explained team member Nuria Marquez, a junior majoring in chemistry and English writing.
The plan calls for installing: dual-flush toilets to save 54,000 gallons of water a year; a hydration station in the lobby, which has no water fountain; solar window shades to reduce heating and cooling costs; and for replacing fluorescent lights with energy-efficient LED bulbs. The group said it is excited to involve other students in campus sustainability with a design competition to create a new Pitt Panther statue from recycled materials.
Other Project Towers team members included Ken Arble, a senior environmental studies major; Nicholas Hufnagel, a senior French and urban studies major; and Bailey Lien, a sophomore chemistry and neuroscience major.
The Big Belly team proposed that Pitt purchase and place on campus solar-powered trash compactors—made by Newton, Mass.-based BigBelly Solar—to reduce waste and emissions. Team members said they would like to get students involved with a design competition for the three compactors that will be bought. Team members included Joe Brown, a sophomore civil engineering major; Aly Yingst, a junior biology major; Miguel Pelino, a senior majoring in civil and environmental engineering; and freshman Kimberley Yearwood, who is on a pre-physical therapy track.
Other Stories From This Issue
There are no stories for the issue at this time.
On the Freedom Road

Follow a group of Pitt students on the Returning to the Roots of Civil Rights bus tour, a nine-day, 2,300-mile journey crisscrossing five states.
Day 1: The Awakening
Day 2: Deep Impressions
Day 3: Music, Montgomery, and More
Day 4: Looking Back, Looking Forward
Day 5: Learning to Remember
Day 6: The Mountaintop
Day 7: Slavery and Beyond
Day 8: Lessons to Bring Home
Day 9: Final Lessons