By Amy Whipple
Issue Date:
November 17, 2014
Remember that scene in Willy Wonka and the Chocolate Factory when one of the brightly colored machines chunks, wunks, and squishes before pushing out an Everlasting Gobstopper? Now, imagine if such a contraption made books instead of infinite treats.
Oh, wait. You don't have to imagine that at all—just walk down to the University Store on Fifth and head back to the Book Printing Services counter. Not only will there be an Espresso Book Machine (EBM) delivering books into the world, but you can watch the magic happen. No golden ticket required.
"This is really high tech, but it's making books, so it's new technology and old technology coming together," says Greg Sciulli, a Pitt alumnus and print coordinator at the University Store.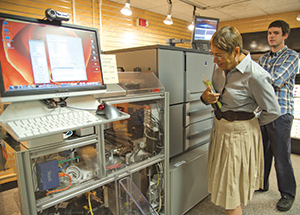 So how does it work? Anyone in the Pitt or local community can email two PDFs (one of the book's cover and one of its contents) to Sciulli, who fires up the machine. (It takes 45 minutes to reach binding temperature, so if you want to watch your book being printed, make sure to let him know ahead of time.) The EBM's printers start firing and the machine presses all of the pages into the cover's spine, which is filled with a lot of hot, smelly glue. The bound book glides across blades that cut it down to size, and then clunk, the book falls down the chute. If the machine is already at binding temperature, the print-to-hand process takes about as long as getting a cup of coffee, hence the espresso name.
Now, the universe of what can be printed is where the possibilities really start to expand. Users can self-publish anything for which they own the copyright—novels, poems, dissertations, family cookbooks. EBM is also linked to EspressNet, which contains nearly one million preformatted book titles—some of which are out-of-print, but still under copyright and include a copyright fee, and some of which are in the public domain. Users also can print titles from the University of Pittsburgh Press.
"It's really been a game changer for keeping older scholarly titles available," says Joel Coggins, design and production editor at University of Pittsburgh Press.
And at least one local press, Braddock Avenue Books, uses EBM for some of its printing in an effort to keep money and talent local.
Pitt marked the arrival of EBM in 2010, four years after it was first launched by On Demand Books. Pitt is one of just 23 college bookstores in the United States and Canada to house the technology.
Books can be printed for as little as 3 cents per interior page (35 cents for color) and either $2 or $4 for covers (matte and glossy, respectively). They can be as small as 4.5" x 5"—a popular size among art students—and as big as 8.25" x 10.75"—the perfect size for an elementary school classroom keepsake. Interior pages are printed on archival quality paper and covers on cardstock. While Sciulli can take larger orders, he said the average is about 30 copies, and there is no minimum.
As Sciulli has tinkered with getting to know EBM as well as different formatting and design software, he's tried his skills on titles from Project Gutenberg—an online clearinghouse for books that have lapsed into public domain—and created purchasable copies of frequently assigned classics such as Charlotte Perkins Gilman's "The Yellow Wallpaper." He's also able to help customers design and format their self-published items.
EBM gives Sciulli (A&S '07) hope for the art of the physical object in a digital world: "There's always going to be people who want books."
Other Stories From This Issue
There are no stories for the issue at this time.
On the Freedom Road

Follow a group of Pitt students on the Returning to the Roots of Civil Rights bus tour, a nine-day, 2,300-mile journey crisscrossing five states.
Day 1: The Awakening
Day 2: Deep Impressions
Day 3: Music, Montgomery, and More
Day 4: Looking Back, Looking Forward
Day 5: Learning to Remember
Day 6: The Mountaintop
Day 7: Slavery and Beyond
Day 8: Lessons to Bring Home
Day 9: Final Lessons