Long-term Commitment, Sherman Watson Jr. gives his all—and 49 years of service—to Pitt's School of Dental Medicine
Issue Date:
February 16, 2009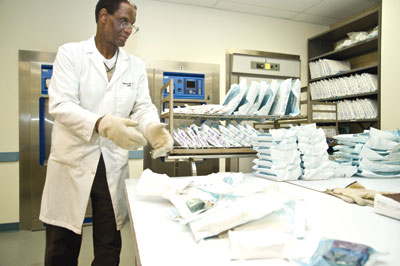 For Sherman G. Watson Jr., finding satisfaction in a job well done is one of life's greatest pleasures. The Churchill, Pa., resident is driven by a "no excuses" work ethic that inspires him to perform all tasks to the best of his ability.
This devotion has been an asset to the University of Pittsburgh's School of Dental Medicine, where Watson works as an outpatient service assistant. He is one of nine professionals responsible for sterilizing the dental school's tools and equipment.
The various duties that Watson performs on a daily basis play a vital role in the dental school's operations, yet the job lends itself to few public accolades. Nevertheless, Watson says he understands the importance of his work and takes great pride in delivering safe materials to the school's doctors and patients. And this sense of pride has only grown over the past 49 years.
That's right—49 years.
It was May of 1960. Dwight D. Eisenhower was president of the United States, Elvis Presley's Stuck On You was the No. 1 record in the country, and a tall, soft-spoken young man named Sherman Watson Jr. walked into the University's Salk Hall for the first day of the only job of his adult life. Like most recent high school graduates, Sherman was unsure of his future, but he knew that hard work and dedication were the only reliable paths toward success.
"I don't think anyone ever knows for sure how his life will turn out, but when you pray for the best and you work hard at everything you do, things usually work themselves out," says Watson, whose original post-high school aspirations of serving in the military were derailed by a severe asthma condition. "You can't think about what could have been or what would have been if this, that, or the other had happened. A man has to do the best with what he's been given and take advantage of the gifts that life gives him."
For Watson, among the greatest gifts life gave him were the working-class values passed down from his parents, Maria and Sherman G. Watson Sr. As a first-generation Pittsburgher growing up in Homewood, Watson recalls his father often working multiple jobs in order to provide his family with food and shelter.
"My mother was a housewife, so she was always around. My father was a little bit of a different story." As a youngster, Watson recalls his father working as a porter, a crane worker, and a furnace operator, among many other positions. "My father wasn't there as much, but we all understood he was working hard for the good of the family."
Watson says that his father taught by example, and it was through watching his father's sacrifices that he developed his own "no excuses" approach toward life and work.
For Watson, the opportunity to work for the University of Pittsburgh also stemmed from his father, who, at that time, worked with the University's lab animals. According to Watson, his father was able to convince officials in Salk Hall that his son was as hard a worker as he was. Watson has been working ever since to prove his father right.
At the time, Watson was one of the few African Americans to be found in Salk Hall, not that such a thing mattered to him. While he says he believes that it is impossible to ignore race, Watson feels that a strong work ethic is far more powerful than any racially hostile beliefs harbored by others.
"If there were any attitudes of prejudice expressed against me, I didn't feel them. I wouldn't have allowed myself to feel them. I had a job to do, and I wasn't going to allow any of that nonsense to get in the way of my job," says Watson. "People are going to say things about you and think all kinds of things of you, but as long as you know yourself and have faith in God, there aren't too many people who can get to you."
Watson's dedication does not go unnoticed within Salk Hall. Kenneth R. Etzel, associate dean for student services and admissions and a professor in the School of Dental Medicine, has known Watson for 23 years. "Sherman epitomizes the type of individual work ethic that we hold dear around here. I don't think anyone works harder than or takes as much pride in his or her work as Sherman."
Today, Watson still regards himself as the same hardworking, disciplined young man who walked into Salk Hall nearly 49 years ago, even though the world has undergone much change. Technological advancements have made his daily tasks much more efficient. An equipment sterilization process that once took 12 machines more than five hours, for example, is now done with two machines in two hours. But some of the biggest changes he has witnessed are in the region's economy and in Pitt itself.
Watson says he takes great satisfaction in the role that Pitt and UPMC have played in helping to transform Southwestern Pennsylvania's economy following the decline of the steel industry. Pitt's schools of the health sciences have trained countless doctors, dentists, nurses, and other health care professionals.
"I think we've done a lot of good work for the people of Pittsburgh. Nobody chooses to get sick, but if it happens, you want to be close to doctors who can get you well and keep you in good shape," says Watson, who credits UPMC doctors with saving his own life during a bout with pneumonia seven years ago. "I can't think of a better place for health care than right here with some of the best and the brightest doctors in America."
Watson notes that the faces of those doctors have also come to mirror the people of America more closely. "I've seen bright young men and women of every race, religion, and background come and go," says Watson. "That's a major accomplishment and something we all can be proud of. It shows how much can be accomplished by someone willing to put in the level of work that is required."
As he reflects on his career at Pitt, Watson readily admits that it doesn't feel like he's been at the dental school for 49 years. He says he continues to love what he does, and he has no plans of retiring from the only job he has ever known.
"I suppose there will come a time when I'm no longer useful to the University, but I plan on working every day until that time comes."
Other Stories From This Issue
There are no stories for the issue at this time.
On the Freedom Road

Follow a group of Pitt students on the Returning to the Roots of Civil Rights bus tour, a nine-day, 2,300-mile journey crisscrossing five states.
Day 1: The Awakening
Day 2: Deep Impressions
Day 3: Music, Montgomery, and More
Day 4: Looking Back, Looking Forward
Day 5: Learning to Remember
Day 6: The Mountaintop
Day 7: Slavery and Beyond
Day 8: Lessons to Bring Home
Day 9: Final Lessons