Issue Date:
November 5, 2007
OCHESTER HONORED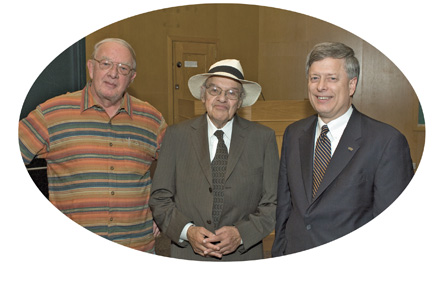 The University of Pittsburgh Press honored Ed Ochester during a program held Oct. 3 in Pitt's Parran Hall Auditorium. Pictured from left are Ochester, Pitt professor emeritus of English and editor of Pitt Press's Poetry Series since 1977; Pitt alumnus Gerald Stern (CAS '47), award-winning poet and Pittsburgh native; and Pitt Chancellor Mark A. Nordenberg. Since leaving Pitt's English department in 1999, Ochester has published several books of poetry, including Snow White Horses: Selected Poems (Autumn House Press, 2000) and The Land of Cockaigne (Story Line Press, 2001). Ochester also has served as a core faculty member in Bennington College's MFA program and had residencies at artist communities Yaddo and the MacDowell Colony.
. . .
SENATE PLENARY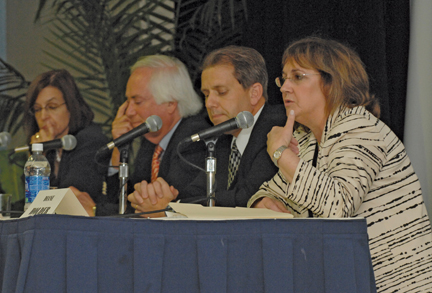 Americans need to take charge of improving and maintaining their health, said speakers at Pitt's fall 2007 Senate Plenary session, held Oct. 17 in the Assembly Room of the William Pitt Union.
Pitt Chancellor Mark A. Nordenberg delivered welcoming remarks, and Senate President John J. Baker, professor of dental medicine, opened the session, titled "Embracing Fitness for Life: Taking an Active Role in Improving Your Health."
Above, participants in a panel discussion included, from left, Elizabeth Venditti, Pitt assistant professor of psychiatry; Bruce Rabin, Pitt professor of pathology and psychiatry; John Jakicic, chair of Pitt's Department of Health and Physical Activity; and Diane Holder, executive vice president of the University of Pittsburgh Medical Center and president of UPMC Health Plan and UPMC's Health Insurance Division. Holder also delivered the keynote address. Not shown is the moderator, Michael R. Pinsky, professor in Pitt's Department of Critical Care Medicine.
Pitt Provost and Senior Vice Chancellor James V. Maher delivered closing remarks.
. . .
ACHIEVERS HONORED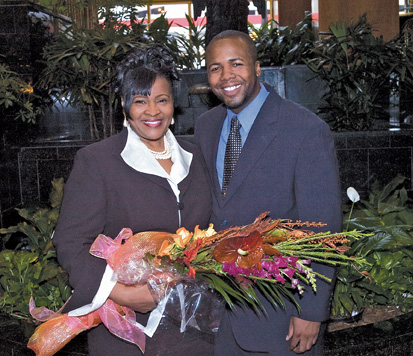 Pitt Vice Provost and Dean of Students Kathy W. Humphrey (above left) and Honors College and School of Engineering senior Benjamin O. Gordon (above right), a 2007 Goldwater Scholar, were among five people honored with Minority Achiever Awards at a luncheon Oct. 26.
The awards were presented by Pittsburgh-based Minority Opinion magazine during a ceremony at the Wyndham Garden Hotel, Oakland. The keynote speaker was Ralph Proctor, vice president and chief diversity officer of the Community College of Allegheny County.
Also honored were Todd Allen, communications professor at Geneva College, Beaver Falls, Pa.; Carlos Mamani, study abroad coordinator for Gannon University, Erie, Pa.; and Michelle Cheeks-Nowlin of Citizens Bank.
. . .
GLASCO LECTURE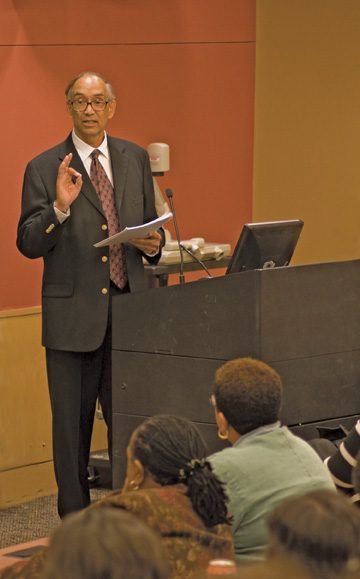 Laurence Glasco, Pitt professor of history, kicked off this year's speaker series for the Center for Africanamerican Urban Studies and the Economy (CAUSE) at Carnegie Mellon University. Glasco's talk, delivered Oct. 12 in Baker Hall on the Carnegie Mellon campus, was titled "K. Leroy Irvis and Barack Obama: The Sources of Success."
Irvis (LAW '54) was a member of the Pennsylvania House of Representatives and in 1977 became the first African American to serve as speaker of the house in any state legislature since Reconstruction.
Glasco's speech discussed how Irvis' appeal crossed racial lines, and how his career shares several characteristics with that of Obama, a U.S. senator from Illinois running for the Democratic nomination for president.
Additional information about the CAUSE speaker series may be found at www.hss.cmu.edu/cause.
Other Stories From This Issue
There are no stories for the issue at this time.
On the Freedom Road

Follow a group of Pitt students on the Returning to the Roots of Civil Rights bus tour, a nine-day, 2,300-mile journey crisscrossing five states.
Day 1: The Awakening
Day 2: Deep Impressions
Day 3: Music, Montgomery, and More
Day 4: Looking Back, Looking Forward
Day 5: Learning to Remember
Day 6: The Mountaintop
Day 7: Slavery and Beyond
Day 8: Lessons to Bring Home
Day 9: Final Lessons