Issue Date:
October 29, 2007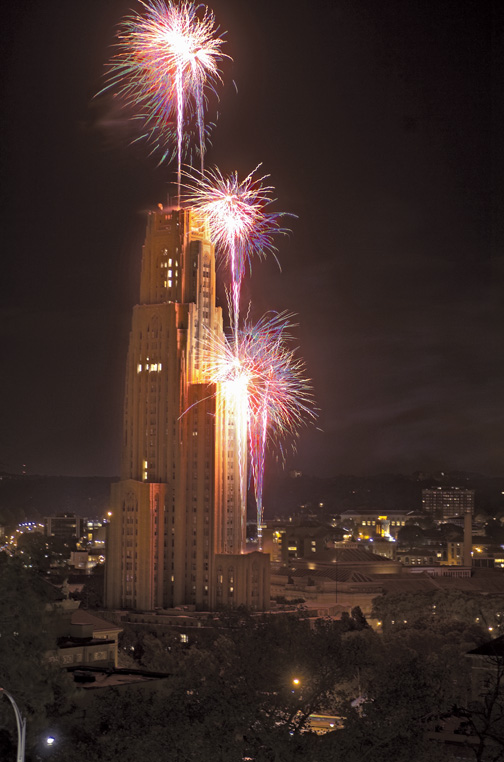 The University of Pittsburgh celebrated Homecoming 2007 from Oct. 18 to 21 in grand style, with fireworks, alumni receptions, events for students, and an upset win by the Pitt Panthers football team at Heinz Field.
Above, fireworks light the newly restored exterior of the Cathedral of Learning on Oct. 19. (Photo by Joe Kapelewski/CIDDE)
. . .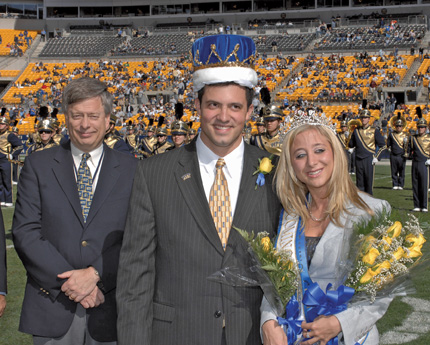 Pitt Chancellor Mark A. Nordenberg looks on as mechanical engineering major Nicholas Andes and psychology major Mia Dragoslovich, both seniors, are crowned king and queen of the homecoming court. (Photo by Mike Drazdzinski/CIDDE)
. . .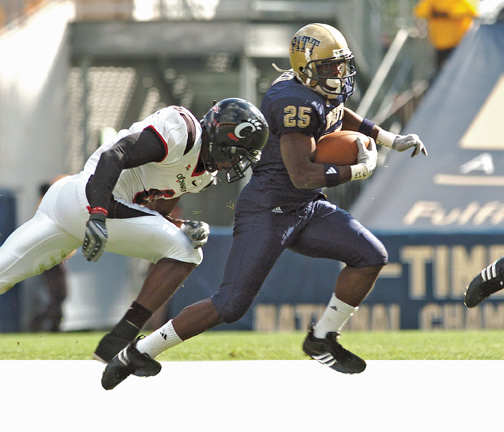 Pitt running back LeSean McCoy, an Arts and Sciences freshman, evades a University of Cincinnati defender during the Panthers' 24-17 victory. McCoy rushed for 137 yards during the Oct. 20 game. (Photo by Mike Drazdzinski/CIDDE)
. . .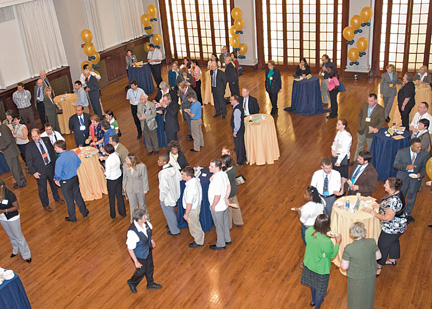 On Oct. 18, current students mingled with Pitt alumni at a career networking event, "Pathway to Professions," held from 6 to 8 p.m. in the Connolly Ballroom at Alumni Hall. (Photo by Joe Kapelewski/CIDDE)
. . .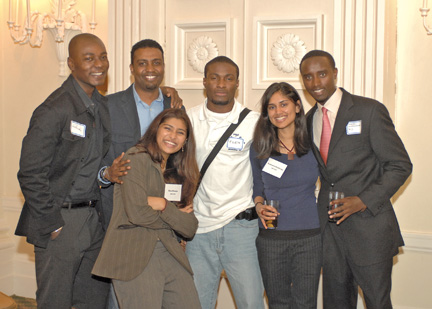 Pitt's Graduate School of Public and International Affairs sponsored a reception for alumni and current students on Oct. 19 at the Pittsburgh Athletic Association. From left are Patrick Freeman, Shakir Mohammed, Elsa Kwaja, Onyema Ezeh, Sameera Pochiraju, and Thierry Uwamahoro. All are current GSPIA students except Mohammed. Other schools also sponsored special events for alumni and students. (Photo by Joe Kapelewski/CIDDE)
. . .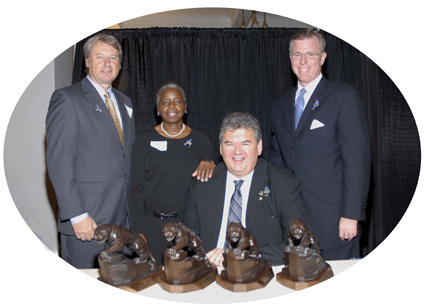 The Pitt Varsity Letter Club honored six former letter-winners as 2007 "Awardees of Distinction" during the club's 47th Annual Awards Dinner on Oct. 19 in Alumni Hall's Connolly Ballroom.
From left are Daniel W. Rullo (CAS '74), three-time football letter winner from 1971-73; Debbie Lewis (CAS '82, DEN '88), letter-winner in women's basketball who scored 548 points in a single season; Bill Sulkowski (CAS '73, DEN '78), three-year letter winner for the men's basketball team from 1971-73; and Thomas E. Richards (CAS '76), four-year starter on the men's basketball team who ranked 11th on Pitt's all-time scoring list when he graduated from the University.
Not shown are Mark May (CAS '81), two-time All-American offensive lineman on Pitt's football team and a member of the College Football Hall of Fame; and Melanie Joan Nickerson (CAS '82), who lettered in track and cross country. (Photo by Mike Drazdzinski/CIDDE)
Other Stories From This Issue
There are no stories for the issue at this time.
On the Freedom Road

Follow a group of Pitt students on the Returning to the Roots of Civil Rights bus tour, a nine-day, 2,300-mile journey crisscrossing five states.
Day 1: The Awakening
Day 2: Deep Impressions
Day 3: Music, Montgomery, and More
Day 4: Looking Back, Looking Forward
Day 5: Learning to Remember
Day 6: The Mountaintop
Day 7: Slavery and Beyond
Day 8: Lessons to Bring Home
Day 9: Final Lessons