Look: Honoring the Fly Boys
Issue Date:
February 11, 2008
Pitt sponsors world premiere screening of Fly Boys documentary, the inaugural event of the K. Leroy Irvis Black History Month program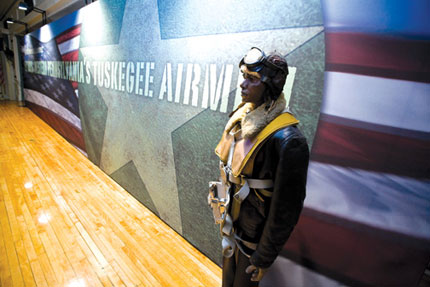 An estimated 1,100 people gathered at Soldiers and Sailors Military Museum and Memorial on Feb. 1 to pay tribute to the remarkable history of the Tuskegee Airmen, who were America's first Black military flyers. They provided tenacious and ferocious escort cover to American bomber planes, helping the United States win World War II. After fighting for their country, they fought segregation and discrimination upon their return home.
The evening featured the world premiere screening of Fly Boys: Western Pennsylvania's Tuskegee Airmen, produced by WQED Multimedia and funded by the University of Pittsburgh, with additional support from the Alcoa and Pittsburgh foundations. The screening launched the University's K. Leroy Irvis Black History Month Program, named for the legendary Pennsylvania legislative leader, Pitt law alumnus and former trustee.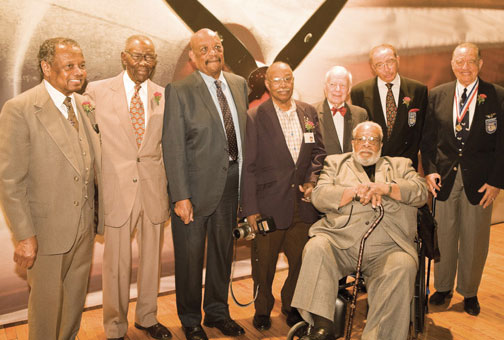 Tuskegee Airmen (from left) Ed Harris, William Hicks, Sam Broadnax, Rafael Lee, Wendell Freeland, Robert Higginbotham, Mitchell Higginbotham, and Calvin Smith (seated).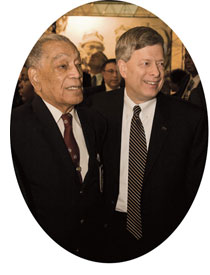 Lee Archer (left), a Tuskegee Airman, and Pitt Chancellor Mark A. Nordenberg enjoy the Feb. 1 celebration honoring the airmen at Soldiers and Sailors Military Museum and Memorial. Archer, the airmen's only confirmed ace, completed a finance certificate program at Pitt. Of the 71 Tuskegee Airmen known to have ties to Western Pennsylvania, 26 are Pitt alumni.
Below, from left: Richard Pittman, Pitt sophomore; Sheila Isong, Pitt senior and Black Action Society president; Amira D. Rahim, Pitt junior and Freedom Honor Society vice president; and Mennie Eldridge, Pitt junior and BASICS Committee cochair.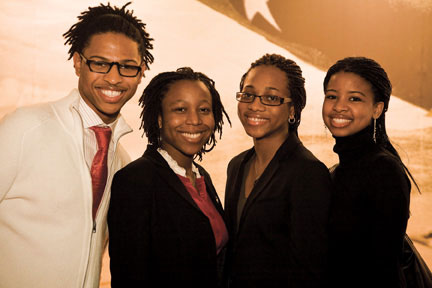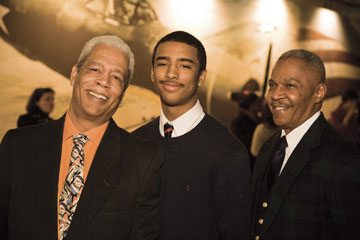 From left: William Curtis III with his son, Kyle Curtis (center), a Pitt freshman. Kyle's grandfather, William J. Curtis Jr., was a Tuskegee Airman and was cocaptain of Pitt's track and field team. Kyle's great-grandfather, William Curtis, was also a Pitt alum. At right is Robert Hill, Pitt vice chancellor for public affairs.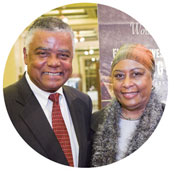 At left, William Truehart, retired Pittsburgh Foundation president and a Pitt trustee; Velma Monteiro-Tribble, Alcoa Foundation chief operating officer.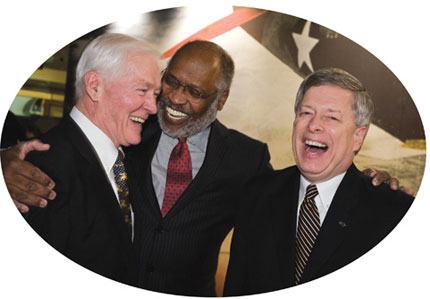 From left: Thomas G. Bigley, a Pitt trustee and alumnus; WQED Multimedia President and CEO George Miles, who is also a Pitt trustee; and Pitt Chancellor Mark A. Nordenberg.
Other Stories From This Issue
There are no stories for the issue at this time.
On the Freedom Road

Follow a group of Pitt students on the Returning to the Roots of Civil Rights bus tour, a nine-day, 2,300-mile journey crisscrossing five states.
Day 1: The Awakening
Day 2: Deep Impressions
Day 3: Music, Montgomery, and More
Day 4: Looking Back, Looking Forward
Day 5: Learning to Remember
Day 6: The Mountaintop
Day 7: Slavery and Beyond
Day 8: Lessons to Bring Home
Day 9: Final Lessons