Issue Date:
June 23, 2008
HEALTH ISSUES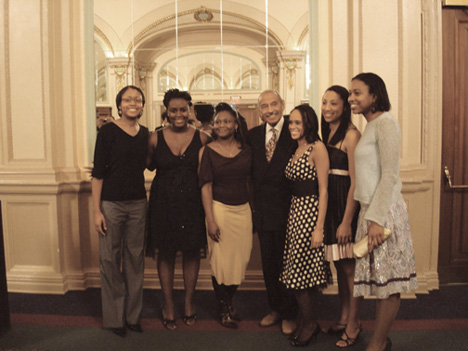 U.S. Congressman John Conyers of Michigan (center) spoke to Pitt medical students at a Black History Month banquet March 5, sponsored by Pitt's chapter of the Student National Medical Association. Earlier this year, Conyers introduced a bill before Congress, the National Health Insurance Act, which would ensure all Americans access to high-quality, affordable health care. Pictured with Conyers are Pitt medical students (from left) Latoia A. Bryant, Veronica T. Jarido, Patrice Thorpe-Jamison, Raquel C. Jones, Tara K. Miller, and Adrienne N. Clark.
ASPIRING DOCS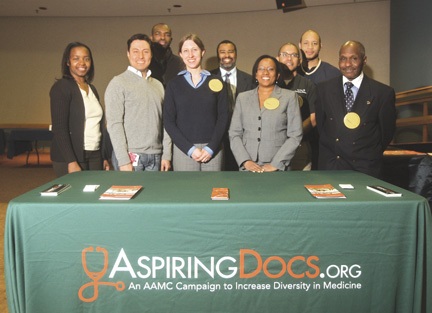 Students from Pitt's School of Medicine spoke about their particular specialty with practicing physicians during the Specialty Fair organized by AspiringDocs.org, a pilot program of the Association of American Medical Colleges (AAMC) designed to attract physicians from more diverse backgrounds to serve the growing health needs of culturally diverse communities. Pitt is one of four universities participating in the campaign. Pictured from left are: Cheryl Lynch, a research associate in the Pitt School of Medicine's Division of General Internal Medicine; J. Mauricio Del Rio, chief resident of anesthesiology at UPMC; Peter Harewood, a general internal medicine intern at UPMC; AspiringDocs.org campaign coordinator Amy Addams; Rodney Williams, a medical resident in Pitt's Department of Psychiatry; Paula Davis, assistant vice chancellor in Pitt's Office of Health Sciences Diversity; Erik Holt, an emergency medicine physician at UPMC Shadyside; second-year Pitt medical student Kahleb Graham; and Chenits Pettigrew, assistant dean of student affairs and director of diversity programs in Pitt's medical school.
SLAVE SHIP SYMPOSIUM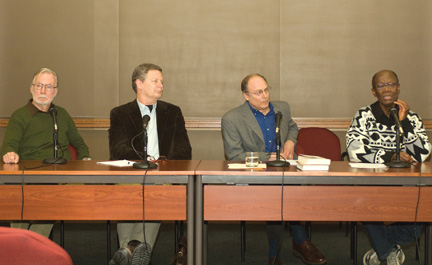 Pitt's Department of History and School of Arts and Sciences marked the 200th anniversary of the United States' abolition of the Atlantic slave trade, in 1808, with an April 2 symposium titled The Slave Ship in History and Literature. Participants explored the meanings and legacy of the slave trade in history and literature, past and present. Panelists included (from left) Barry Unsworth, author of the Booker Prize-winning novel Sacred Hunger, an epic of the slave trade; Marcus Rediker, Pitt professor of history and author of the prize-winning book The Slave Ship: A Human History; Reid Andrews, Pitt Distinguished Professor of History; and Joseph Adjaye, professor of African history and culture in the University's Department of Africana Studies.
SOCIALLY RESPONSIBLE INVESTMENTS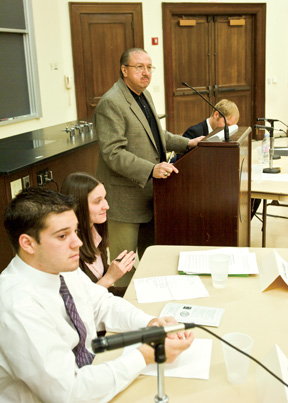 Jay Sukits (standing), professor of business administration in Pitt's Joseph M. Katz Graduate School of Business and College of Business Administration, and Michael Goodhart (partially obscured), professor of political science in Pitt's Department of Political Science, were forum panelists at the Feb. 21 William Pitt Debating Union (WPDU) public debate on socially responsible investing. Joining Sukits and Goodhart were WPDU student debaters Paul Masters, a sophomore in the School of Arts and Sciences, and Lissa Geiger, a junior in Arts and Sciences.
FAMILY WELLNESS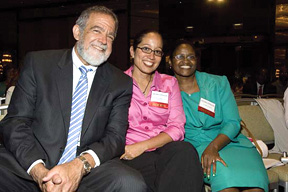 Pitt's Office of Child Development (OCD) was just one of a number of cosponsors of the Fifth Annual Family Support Conference at the Westin Convention Center Hotel, Downtown, June 4, where participants discussed the best ways for families to prepare their children for academic success. Moderators included (from left) Robert Nelkin, president and CEO of the United Way of Allegheny County; Gloria Rodriguez-Ransom, a parent leader/advocate for Wilkinsburg Family Support Center; and L. Twila Davis, a parent leader/advocate for East Liberty Family Support Center.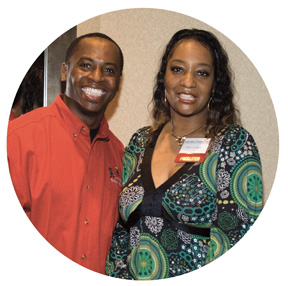 Keynote speaker Adolph Brown III, founder of The Wellness Group, Inc., with Sheila Beasley, OCD outreach director at Pitt.
NELLIE LEADERSHIP AWARDS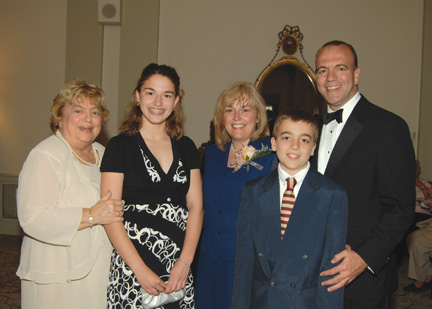 Allegheny County Chief Executive and Pitt Trustee Dan Onorato (LAW '89) (far right) poses with members of his family at the reception for the Three Rivers Youth's Nellie Leadership Awards, held April 30 at the Twentieth Century Club in Oakland. Pictured with Onorato are (from left) his mother Vivian, daughter Emily, wife Shelly (GSPH '88), and son Danny.
Other Stories From This Issue
There are no stories for the issue at this time.
On the Freedom Road

Follow a group of Pitt students on the Returning to the Roots of Civil Rights bus tour, a nine-day, 2,300-mile journey crisscrossing five states.
Day 1: The Awakening
Day 2: Deep Impressions
Day 3: Music, Montgomery, and More
Day 4: Looking Back, Looking Forward
Day 5: Learning to Remember
Day 6: The Mountaintop
Day 7: Slavery and Beyond
Day 8: Lessons to Bring Home
Day 9: Final Lessons